If you're even remotely active in the everyday carry community, you've probably heard of Bellroy – at least in passing. This Australian brand has solidified themselves amongst the highest tier of brands for their dedication to the distinct combination of high quality and signature style. And while their catalogue is ever-expanding, their expertise is certainly in the realm of cash and card carriers.
We were lucky enough to get our hands on one of their more unique options: their Hide & Seek wallet. This interesting take on the classic bifold features all of Bellroy's signature styling cues and features, as well as some only found in this particular wallet. In the following hands-on review, we hope to take a look at these and more.
First Impressions
At A Glance
Upon removing this wallet from its packaging for the first time, we were notably impressed by its size. You see, in spite of the fact that the Hide & Seek is a bifold – meaning its one-piece design collapses in half for pocket storage – it's remarkably slim. Unloaded, it is literally only a few millimeters thick. [pull_qupte]You might say this is about as close to a minimalist wallet as a fully-featured bifold will ever get.[/pull_quote]Granted, it doesn't stay quite so thin when fully-loaded, but it's notable nonetheless. You might say this is about as close to a minimalist wallet as a fully-featured bifold will ever get.
It's also worth noting that this slimness is a byproduct of Bellroy's "naked" approach. The idea behind it is this: the brand has designed their products with the specific intention of using the littlest amount of material possible without sacrificing overall quality. And, we must say, in this particular wallet the effort doesn't go unnoticed. The best part is, despite the overall lack of bulk, the Hide & Seek doesn't feel the slightest bit flimsy – a testament to the materials used in its construction.
Tough But Tender
Strong & Smart
As the construction materials of a wallet are of the utmost importance both to its overall structure and longevity, it's worth taking a look at them in this case – no matter how spartan. The exterior (and the inner-fold) of the Hide & Seek is made from a full-grain vegetable-tanned leather. Just touching it with bare hands, the high quality of the cowhide can be gleaned.Just touching it with bare hands, the high quality of the cowhide can be gleaned. It is soft, but not fragile, sturdy but not stiff. And the addition of a metal rivet on the front in the shape of the brand's owl logo is an excellent stylistic touch.
The lining on the inside of the cash pocket is of equal quality, and the pattern upon it is a nice added bit of flair. It's worth pointing out, however, that the lining feels a bit rough – like the nylon you might find on a tactical backpack or jacket. It would have been nice if the interior were, say, lined with plush microfiber, though this is hardly necessary and would probably result in a somewhat bulkier wallet with a shorter lifespan. In any case, it's our only gripe in regards to the wallet's construction.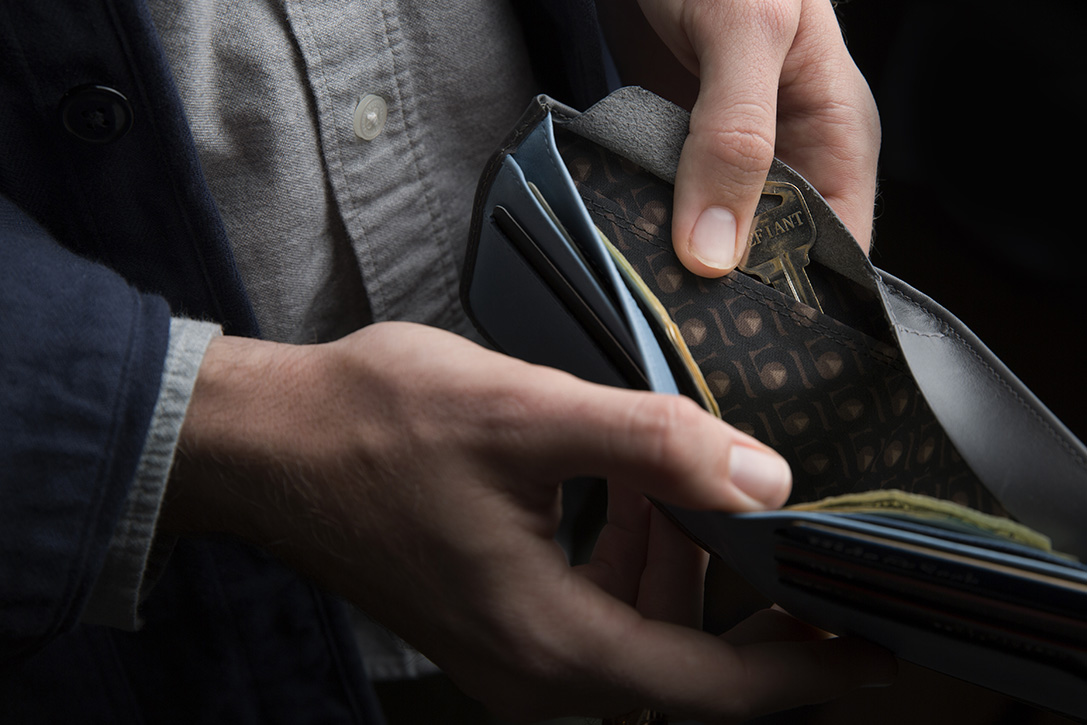 Secret Stash
Handy Hideaway
The capacity of this wallet – or rather how the capacity is spread across its form – is what really gets us excited. As the Hide & Seek is laid out basically like a traditional bifold, it features two main ways in which to store your cash and cards. On the inside of the fold, there are 5 card slots, which – when pushed to their limits – can actually hold up to 12 cards. Though, stretching them far enough to stash that many cards will likely mean it will become loose when any fewer are kept within. The real highlight, however, can be found on the backside of the cash pouch.There's also a large cash pocket that could easily fit a large number of bills. There's even a tiny pouch in the cash pocket ideal for storing an SD card, which is certainly a welcome, if unnecessary, inclusion.
The real highlight (and the feature by which the Hide & Seek garners its name), however, can be found on the backside of the cash pouch. Hidden by a leather drop-down flap, the bifold has another storage area roughly the same size as the main cash pouch. This secondary slot allows the user to keep hidden a number of emergency or extra bills from prying eyes. There's also a small item pouch on the back of this pouch that's the perfect size for coins or a house key. All told, this secret stash is brilliantly executed and gives the wallet a huge advantage over similarly styled offerings from competitors.
Final Thoughts
The Verdict
If the Hide & Seek were just a regular bifold wallet, its quality of construction, incredibly slim profile, and comprehensive capacity would be enough to make it a noteworthy everyday carry option. Its hideaway pouch, however, elevates it into a realm of its own. This cleverness, we believe, is a necessity in a world in which classically style wallets are a dying breed. The Hide & Seek has more than enough features – pared into a superb and surprisingly minimalist format – to make it stand out against the crowd, while still fitting in with more modern options. Whether you're a traditionalist looking for a new spin on a old standard or you're an early adopter of the new and unusual, Bellroy's Hide & Seek wallet is certainly worth your time.
© Photography by HiConsumption
50 Best Wallets For Men
Although Bellroy's Hide & Seek is one of our personal favorites, there's still plenty of other options to explore on our list of the 50 Best Men's Wallets.