Apart from perhaps only wood and stone, there is one substance that we, as a species, have been using longer than any other: leather. Animal hide has served humanity as a functional material since before recorded time and there are some very good reasons for that. It's durable, reliable, flexible, long-lasting, and easily cared for – making it tremendously versatile, as well. In fact, leather might just be the best all-around material ever discovered.
From clothes, to tools, to accessories, to upholstery – and so on – animal hide can be usefully adapted as a part of just about every facet of daily life. That makes it an incredibly worthwhile consideration in the world of everyday carry. And while you might be able to find yourself something crafted from space-age materials whose structural benefits far outweigh those of leather, it will almost certainly end up costing you much more and probably won't look as good either as it gets older. So if you're looking for handsome, relatively inexpensive, and tremendously dependable additions to your EDC gear, consider these 15 items that all contain leather in their construction.
Opinel No. 8 Trekking Knife
While the Opinel No. 8 Trekking Knife may not be crafted from the finest materials available, there's no questioning it's functional value. Simply put, you will not find a better knife for the same price – not by a long shot. With a simple handle made from beechwood and a 12C27 Sandvik stainless steel blade, this folding knife is the perfect addition to your camping gear and can be depended upon through heavy use. And the included leather lanyard can make the No. 8 more easily pulled from your pocket, or can be tied to your hiking pack to free up storage space elsewhere.
Crazy Horse Craft Leather Key Holder
This simple pouch, from Crazy Horse Craft, is handmade in Lithuania from gorgeous premium leather. And it's an excellent vessel in which to keep your keys that will both stop them from jingling and make them easier to grab when you need them. This single piece of animal hide is fitted with a single snap button fastener, can hold up to 6 keys on your keychain of choice, and promises only to look better with age.
Bull & Stash Travel Stash
If you ignore the fact that technology is, at times, completely unreliable, there are still some big reasons you should carry around an actual notebook. Namely, things that you physically write down are far more likely remembered than things punched into your electronics. And there are few notebooks as handsome as this offering from Bull & Stash in which to scribe your musings, doodles, to-dos, and so forth. Each Travel Stash comes with a high-quality brown oiled leather cover, metal binding hardware, and 50 pages of 60-pound bleed-resistant paper. And this USA made notebook is refillable, so it can last for years and years.
Defy Bags Key Chain
While you could dump your keys in an awkward lump in the depths of one of your pockets, you'd do far better in regards to pocket space management if you were to attach them instead to the Defy Bags Key Chain. Not only would you free-up valuable pocket real estate for useful gear (like a sturdy multitool), but you'll be saving your wardrobe from excess friction and potential tearing. These American made keychains are constructed from Horween tanned leather and feature a matte black military-grade gun clip that's sure to keep your keys handy and secure.
Bradley Mountain Utility Roll
Tool chests are valuable items, but they aren't always practical or necessary. Instead of trying to lug around a heavy container and possibly a number of things you won't use, pick up this Utility Roll from Bradley Mountain and load it only with what you need. Not only will this Martexin heavy waxed canvas pouch keep your gear well-organized, but the oiled leather strap will ensure that it will only come unrolled when you need to get into it. And this handy gear carrier was made right here in the USA.
Orbitkey Premium Leather
Traditional key rings have been proven time and time again to work just fine. But, just because something works, doesn't mean it can't be improved. And Orbitkey has taken it upon themselves to prove that point. Their genuine leather keyring alternative can store up to seven keys in a format that is both more organized and jingle-free. And, in the case that your car requires a key fob, it comes with a special attachment.
686 Original Snow Tool Belt
Belts are great tools for keeping up one's pants, but who's to say that they can't be more than that? Without sacrificing functionality or adding a bunch of unnecessary weight or gaudy attachments, 686 has designed something that's equal parts belt and multitool. A helpful and wearable originally intended for snowboarders, this clever full-grain waterproof leather belt is excellent even as an everyday carry option. The buckle is equipped to function as a flathead driver, a Phillips driver, a hex driver, and even a bottle opener – you know, to celebrate a job well done.
Graf & Lantz Kawabon Tray
While you probably want to keep all of your EDC gear on your person whenever you're out and about, you might not be so eager to keep your pockets loaded up once you get home or while you're at work. Well, instead of dumping your stuff haphazardly onto a countertop somewhere, keep it safe and organized in this stylish Kawabon Tray from Graf & Lantz. Made from a combination of Italian leather and bonded German merino wool felt, this gorgeous valet tray was handmade in the USA and is the perfect desk or countertop addition into which you can deposit your precious gear.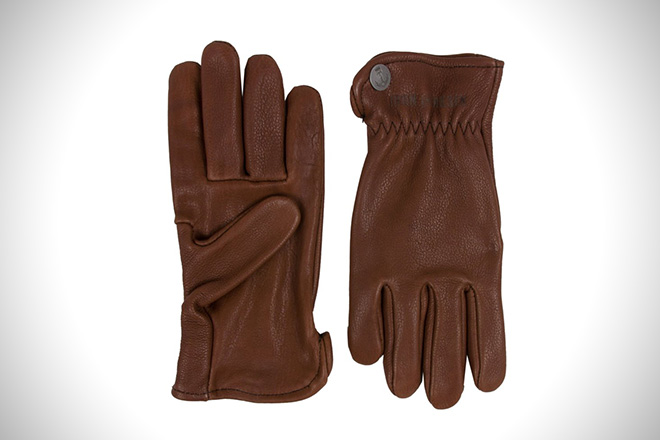 Iron & Resin Buffalo Bobber Glove
Whether you are a daily motorcycle rider or you just spend a decent amount of time outside during the colder months, a pair of sturdy gloves can be a necessary item to carry with you every day – lest you want to risk discomfort and the chance of frostbite. They'll keep your hands warm in the cold and can protect your hands from any cuts or abrasions, as well. And these Buffalo hide leather gloves from Iron & Resin are some of the best. These handsome hand accessories will resist tearing and continue to look good for years to come.
Bellroy Note Sleeve
Your wallet is home to some of your most important carry items. Sure, your credit cards and cash aren't going to be much use if you need to illuminate the dark or loosen a bolt, but you'll be hard-pressed to garner any goods or services with a tactical flashlight or a comprehensive multitool. Keep your money safe and secure in this full-grain vegetable-tanned leather bifold from Bellroy – you won't be sorry. And with an 11 card capacity, a currency pouch for bills, 3 quick-access slots, a note section, and a coin pocket, you'll be able to keep everything you need together in one stylish unobtrusive package.
Form Function Form Field Notes Wallet
If you're keen on carrying around a notebook, but you want something with a little more functionality, you might want to pick up the Form Function Form Field Notes Wallet. A hybrid notebook-wallet, this single-piece, hand-stitched, Horween Horsefront leather accessory carries in it a Field Notes sized notebook, comes with a Fisher Space Pen for note taking, and can fit up to three cards in its easy-access slots. This American made wallet even has a catch-all slot for receipts, cash, or otherwise.
Grovemade Walnut & Leather iPhone Case
There are hundreds of options for dressing up your iPhone nowadays, but few of them are as handsome, well-made, and reliable as the Walnut & Leather case from Grovemade. This stellar phone case is made in the USA from Oregon Claro Walnut and domestically sourced vegetable-tanned leather. Even the actuated volume and power buttons are crafted from wood. And your camera, lightning port, and headphone jack (if you have one) remain unobstructed. Whether you have an SE or any iteration of the iPhone 6 or 7, there's one that will fit your phone.
Jack Mason A101 Aviator Watch
Out of the Deep Ellum neighborhood in Dallas, Texas, the Jack Mason Brand makes some of the best looking and most high-quality men's watches available. Their A101 Aviator is proof positive of that fact. Inspired by the instrument gauges aboard an aircraft, this stylish watch features a Japanese quartz movement, a 42mm stainless steel case, 3 Super Luminova hands, a date window, a brown Italian leather band, and a scratch resistant mineral crystal viewing window. It's also water resistant up to 100 meters and weighs just 2.5 ounces.
Northern Lights Optic NL 6
While your classic aviator glasses might do you well in the summer months, they aren't going to function as well when the weather gets colder – especially if you like to spend time on the trails. Unless you want to sport a pair of bulky snow goggles, these NL 6 sunglasses from Nother Lights Optic will do you right. The luxury quality custom wireframes are sturdy and the category 3 Aurora CR39 lenses will protect your eyes from the sun (whether it's high overhead or if the light is reflecting off the snow). And the genuine leather side shields will block the glare and prevent the wind from drying your eyes as well.
Whipping Post The Military Duffel
There's a reason that the top-load military style duffel bag is still around today: it's easy, functional, and rugged. And those qualities are what Whipping Post incorporated into their version of the classic pack. They also made some off-the-field improvements, like crafting it from 100% vegetable tanned leather, including a large leather luggage tag, and sizing it down to make it a more appropriate weekender. Not only will this bag serve you well when carrying around your gear; it will also probably outlast most of the stuff that you keep inside it – and will be there for your next generation of gear and the generation after that.