Presented by
The American Frontier period is an integral moment in the nation's history, and so is the case from both a geographical and cultural standpoint. As far as the latter is concerned, its ethos of exploration has inspired the likes of countless western films, ultimately providing us with a pre-designated image of the typical cowboy. This particular figure of Americana still serves as an emblematic element of the country's roots, and the cowboy's unmistakable getup still has a hold on American style. After all, why else would brands continue to sell cowboy hats and cowboy boots? We reckon you saddle up because we've compiled an array of pieces inspired by the Old West in this edition of our Style Guide series.
Taylor Stitch The Short-Sleeve Western Shirt
Kicking off this list is not only a top fit for any cowboy but for any occasion. The San Francisco-bred brand's take on the iconic Western silhouette primarily keeps true to form, right down to the quintessential pair of snap chest pockets. With a lightweight, organic cotton composition, this Short Sleeve Western remains impressively breathable, making it an ideal pick-up for the spring and summer.
Druthers Organic & Recycled Cotton Tie Dye Yarn Socks
Druthers' cozy-looking socks pull no gimmicks when it comes to construction. Serving as another sustainable choice, the colorful accessory is composed of organic cotton, polyester, and a touch of elastane for longevity's sake. These mid-weight crew socks place durability at the forefront, assuring you that these will last as long as you need them to.
West: The American Cowboy
If you're more a visual learner than a Western dresser, this beautifully composed coffee table book by the award-winning Anouk Masson Krantz is sure to provide you with the authentic feel of the open range. Filled with 264 pages' worth of stunning photography, this is sure to garner some attention at your next dinner party.
Stetson Route 66 Hat
As one of the more quintessential brands this subculture has to offer, the Texas-bred clothiers at Stetson manufacture a premier cowboy hat by all means. The crushable Route 66 is rounded out with a welt-edge, a fur felt makeup, and a Drilex sweatband to get you through those sweltering southwestern forecasts.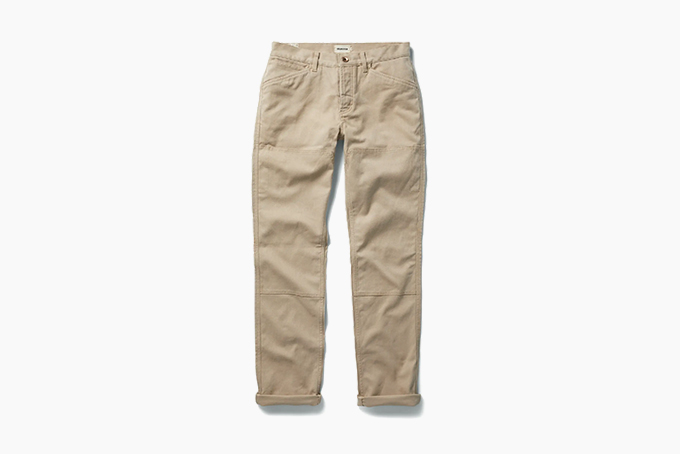 Taylor Stitch The Chore Pant
We're ringing in Taylor Stitch yet again for an ideal pair of bottoms to match its Western shirt. The label's Chore Pant boasts a pair of reinforced knees and front slash pockets for enhanced wear and easy accessibility. Crafted from Boss Duck — the brand's toughest, hardest-working fabric ever — the pants boast an overall makeup of 54% hemp, 30% recycled polyester, 14% organic cotton, and 2% spandex. You'll grow to realize just how much the latter ingredient will come in handy when feeling how incredibly comfortable these planet-friendly pants are — even during a long day working at the ranch.
D.S. & DURGA Cowboy Grass
If you want to channel a cowboy, you're going to want to smell the part, and D.S. & DURGA knows just what to bring to the table. The revered fragrance house blends top notes of rosewood, wild thyme, and bergamot with heart notes of American sagebrush, basil, and rose otto to make for a scent that encapsulates the Wild West in every sense. Let alone that, it is also the particular fragrance that brought the buzzworthy New York-based perfumer to greater fame.
White's Boots 350 Cruiser-MV Roughout Boots
When you're in the bootmaking game for over 150 years, it's safe to say you're doing something right, leaving us with no choice but to trust White's. The rugged brand's handcrafted 350 Cruiser-MV silhouette has been around since the 1930s and has received some notable upgrades since, like a Vibram 430 outsole for added durability and a buttery smooth upper composed of water-resistant full-grain leather. This particular Huckberry exclusive comes in a pair of limited colors, but the boot remains timeless.
Jacques Marie Mage Thundercloud Sunglasses
Few brands boast exuberance and prestige that parallel Jacques Marie Mage, and its streamlined Thundercloud shades are simply one reason why. As the sole pair that appears in JMM's 'The Last Frontier' collection, the rectangular sunglasses are rounded out with a flat-top design and boast a sturdy, tension-secured 9-barrel hinge. To finish it off, they are embellished with a decorative art-deco thunderbird with turquoise inlays for authenticity's sake. You may need to hang a horseshoe in your house to build up enough luck to get your hands on a pair, though, as they are limited to a mere 150 examples.