Presented by

Summer is right around the corner. And this warm-weather season is going to mean a lot more to most of us than ever before, since the coronavirus pandemic pretty much ruined last summer by shutting everything down for far longer than anyone initially thought necessary. That extended shutdown also means the gear you had is potentially getting a little old and ratty, and it could probably use replacing — at least to a degree.
Well, just as you've been looking forward to getting yourself stocked up for summer adventures, Huckberry has been readying their stock to assist in that endeavor. To help in your search (read: to make it more manageable), we've done the hard work of scouring through Huckberry's impressively deep catalog to put together this hiking and camping-ready collection of gear that's sure to serve you well. So get ready, gear up, and get the hell back out there!
Sendero Camper 5-Panel Hat
The sun is a harsh mistress, and the risk of sunburn is a serious concern that could potentially lead to cancer. While you should always wear sunscreen, donning a hat — like this stylish 5-panel option from Sendero — is also a great idea. Inspired by the wild west, this cap is constructed from sturdy cotton, has a leather strapback closure, and was made for adventure.
Teva Original Universal Sandal
Especially when the mercury rises and there's a chance of heading down to the river, lake, or even beach, Teva's Original Universal Sandal is a great, grippy alternative to close-toed shoes and boots. The outsole was designed for superb traction on any surface, the EVA foam midsole will help keep them comfortable, and the straps are fully adjustable for the perfect fit. Furthermore, they're entirely vegan and cruelty-free — which also means they're more sustainable than animal-based alternatives.
Flint and Tinder 365 Shorts
Finding a pair of shorts that look great while also performing well is a surprisingly difficult task, unless you've stumbled upon the Flint and Tinder 365 Shorts. As the name suggests, these are built so well that you could literally wear them every day. They're crafted from a cotton and spandex blend that gives them a chino-like appearance but they're also stretchy, breathable, and tough. Best of all, they're even made sustainably.
Whiskey Peaks The Rockies Rocks Glass Set
Not every outing needs to be action all the time. Sometimes, you just want to sit around a campground or your backyard, relax, and toss a few back. And that's much more manageable, especially with friends, with this Whiskey Peaks Rockies Rocks Glass Set. Each tumbler features a molding of an iconic peak in the Rocky Mountains, they're all made from lightweight 100% lead-free handblown glass, and this particular set is exclusive to Huckberry.
Proof 72-Hour Merino Tee
A staple of year-round wear, classic T-shirts are in just about every man's wardrobe. But the Proof 72-Hour Merino Tee isn't like other shirts — rather, you might just want to replace all your existing ones with these. That's because they look great, they're built from premium moisture-wicking fabric that's also odor-resistant, and they're reinforced with nylon to keep them sturdy through wear after wear. And they're available in a whopping 12 different handsome colorways.
Koshu Origami Leather Wallet
Everyone needs a wallet, but that doesn't mean you have to carry the same wallet as everyone else. If you're in the market for something a little more interesting and unique, then the Koshu Origami Leather Wallet might be right up your alley. It's compact enough for front-pocket carry, but roomy enough for your daily cards and cash. But what really makes this precision-cut, handmade, cash and card carrier unique is its folded, one-piece construction.
Eva Solo Succulent Glass Vase
The simple addition of a houseplant can help spruce up any room, give a little pop of color, and even make the space feel more welcoming. Of course, some plants are more high maintenance than others, which is why this vase was designed specifically for easy-to-care-for succulents. In fact, its odd shape was crafted specifically to aid in the care and life of succulents, offering the optimal conditions for growth. Of course, you could also use it as a simple vase for any other flora you might have or get.
Mystery Ranch In & Out Packable Backpack
Even if you're only going on a short hike, you're still going to want to bring along things like water, perhaps a snack, and maybe a few other incidentals or pieces of emergency gear — like a first-aid kit and/or a personal water filter. And if you're going to be carrying all that, you might need a backpack, like the Mystery Ranch In & Out you see here. On top of being tough enough for hiking, it's also packable — meaning it's super easy to collapse down and stash between adventures — and has hydration bladder compatibility.
Pacifico Optical Buckler Sunglasses
If you think your skin is at risk from the sun, your eyes are even more fragile — and, yes, they can definitely get burned and damaged from UV rays. However, you can keep them protected and make those bright summer days a bit easier to witness with the Pacifico Optical Buckler Sunglasses. Their handcrafted Italian acetate frames are ultra-stylish, but the CR-39 polymer lenses are shatterproof, lightweight and provide UV6 400 protection. And, with four colorways to choose from, that's a double-whammy you can't go wrong with.
Alsta Nautoscaph Superautomatic Watch
The timepiece worn by Richard Dreyfuss in Jaws is one of the most iconic movie watches of all time. This version is similar to that '70s offering, but it's been updated for the modern day. This version is good for depths of up to 300m; it's built from sturdy stainless steel; has an automatic movement; and boasts water, shock, and magnetic resistance. As far as summer watches go, this one is tough to beat.
Scoured: The Best Gear On Huckberry - April 2021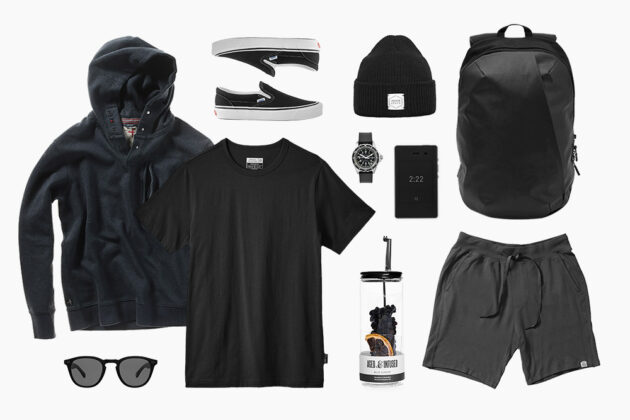 For those who are of the mind that everything is better in black, last month's guide to the best gear on Huckberry might be more your speed. But it's still ready for all those summer adventures you're going to have.