Presented by

Winter is coming to a close, but that doesn't mean the cold weather is ready to let up just yet — especially for those living in the northern latitudes. However, as the temperatures rise, you're probably not going to want to stay wrapped up in your thickest winter wear. Rather, it might be the time to transition to some gear and apparel that's still warm, but not quite as cumbersome and thick.
If that sounds like a pretty great prospect to you, then you've found yourself in the right place. That's because we've combed through Huckberry's comprehensive catalog to put together this collection of items inspired by the northern American coastal regions. For that odd time between winter and spring, this is the best gear on Huckberry.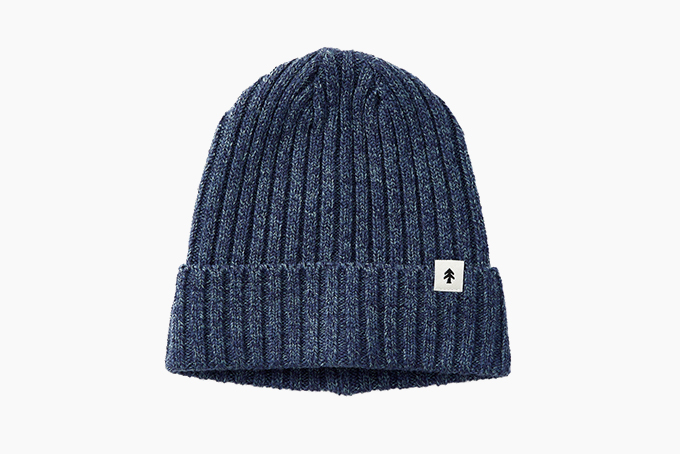 Huckberry Beanie
Warm, snug, and stylishly timeless, Huckberry's take on the iconic fisherman's beanie is a superb piece of cold-weather headwear. It's also made in Japan from a combination of acrylic, wool, nylon, and spandex for comfort all-day-long. Of course, if you're not into the deep blue of this one, it also comes in six other colorways.
Mystery Ranch Bindle
Perfect as a grab-and-go bag for day-to-day errands, quick jaunts into the outdoors, or whatever else, the Mystery Ranch Bindle tote won't let you down. It helps that it has both a shoulder and briefcase straps, a super durable waxed canvas construction, secure snap-button closures, and plenty of internal room for a weekend's worth of gear.
Acorn Slouch Boot
Slotting perfectly between an indoor slipper and casual outdoor footwear, the Acord Slouch Boot boasts a cloth slip-in upper crafted from a cozy and warm ragg wool blend, a durable rubber outsole, sidewalls to repel water and filth, and a premium multi-layer Cloud Cushion footbed for all-day comfort and then some. These sock boots are perfect for home, backyard, and/or campfire use.
Messermeister Adventure Chef Folding Fillet Knife
One of the potential joys of camping is in harvesting and preparing your own campfire cuisine. Of course, if you're going to be doing any kind of knife work, that can be troublesome — unless you have the Messermeister Adventure Chef Folding Fillet Knife. Not only does this knife have a sturdy carbon steel blade and a grippy Micarta handle, but it also folds in half, has a liner locking mechanism for security, and it comes with a lifetime guarantee.
Upstate Stock Melange Ragg Wool Scarf
Your beanie and jacket aren't going to do you much good if your throat is exposed to the elements. Fix that problem by adding the Upstate Stock Melange Ragg Wool Scarf to your outfit. It's made in America from USA-sourced ragg wool and nylon, has removable labels, and will even wick away moisture to keep you toasty warm.
Flint and Tinder Lightweight Stretch Chinos
A brilliant reimagining of a business casual staple, the Flint and Tinder Lightweight Stretch Chinos look as slick as you could want, but they wear much more comfortably. This is thanks to its built-in stretch, breathable cotton construction, and modern cut. It doesn't hurt that they were made in the USA, either.
Mollusk Andover Sweater
Knit from cool and comfortable cotton, the Mollusk Andover Sweater is a great cold-weather top that will keep you cozy without suffocating you. Its exceptional appearance is also owed to its Peruvian origin, yarn-dyed wool, henley placket, and ribbed cuffs and hem.
Tivoli Audio Revive Speaker and Charger
A gorgeous piece of modern technology wrapped up in a mid-century modern package, the Tivoli Audio Revive is a combination speaker and charger with wireless capabilities, Bluetooth connectivity, a pivoting speaker for directional sound, and its own built-in LED lamp. For those limited on space, this multi-functional device is truly an exceptional pick.
Taylor Stitch The Longshore Jacket
Inspired by one of the toughest coastal professions, this handsome and versatile coat is constructed from Halley Stevensons organic waxed cotton canvas, its water- and wind-repellent, it has plenty of pocket space for your everyday carry gear, and it will only get better the more you wear it.
YETI Trailhead Camp Chair
Sometimes you just need to sit a spell, but not just any throne will do. Not, at least, if you're a discerning outdoorsman. For those in the know, there are few better options than the YETI Trail Head Camp Chair, which is absurdly durable, comfortable and welcoming, capable of withstanding up to 500lbs, and even UV-resistant to prevent sun damage. Of course, it also has an integrated cupholder for your beverage of choice.
Scoured: The Best Gear On Huckberry - February 2021
Coastal colors not your thing? You might be drawn more to last month's OD green and earthy brown guide to the best gear on Huckberry.