Presented by

Believe it or not, we've only just made it through the first month of 2021. And while it feels like it's been a whole year, it's really just beginning. But that also means, speaking less socio-politically, that other things are fast approaching — like springtime. And, as we all know, springtime is a pretty great time to get your gear in order.
Of course, spring cleaning isn't solely about getting rid of stuff you no longer want, need, or can use. It's also an opportunity to take an inventory on what it is that needs replacing or that you're missing. This means now is also the perfect time to pick up some fresh, new, exciting gear of all kinds. Whether that means a fancy new chef knife for your kitchen or, more simply, a lightweight jacket for when the mercury starts to rise, you'll find it all here on this month's guide to the best gear on Huckberry.
Todder DIY Hand Sewn Horween Leather Bifold Wallet
If you want a piece of EDC gear that will also inspire a sense of pride in your own craftsmanship, we suggest picking up Todder's DIY wallet kit you see here. It comes with everything you need to craft your own heritage-level bifold wallet — including Horween leather, Ritza Tiger thread, and more. And all the parts of this roughly 3-hour project are made in the USA.
HMM Japanese Ceramic Mug
For those who are particular about their morning brew, utilizing the proper vessel is also an important part. You wouldn't want to drink artisanal coffee out of a styrofoam cup, after all. Well, with the HMM Japanese Ceramic Mug you won't have to. Handmade by Taiwanese artists, this cup includes a beautiful walnut handle and is the perfect companion to your coveted cup o' joe.
Proof Rover Pant
While a first glance might make you think that the Proof Rover Pant is simply another in a long line of sturdy work pants, it actually has some hidden talents. Yes, it's durable enough for everyday wear — even if your every day takes place in a workshop or factory. However, now they're made from breathable, stretchy canvas — making them more comfortable than ever before and lending credence to their ability to function as a true everyday pant.
World Whiskey Book
Whiskey is much more than just a beverage; it's an experience with a history that ties directly into the evolution of civilization as we know it. And much of that story can be told through the whiskey itself, which is documented in this exceptional leatherbound book. Boasting over 700 varieties of award-winning spirits, this book also includes tasting notes, information on production practices, distillery secrets, and so much more. For whiskey lovers, this might be the ultimate coffee table book.
Roka Halsey 2.0 Sunglasses
While these glasses might, on the surface, look like a pretty typical pair of stylish wayfarers, they actually have a much more impressive pedigree just waiting to be discovered. You see, these are actually performance shades in disguise — the same kind worn by IronMan champions and gold medal Olympians. They're ultralight, fit comfortably in any conditions (even when you're sweating), and they're resistant to just about anything you might throw at them. They're even polarized for good measure.
VSSL Java Handheld Coffee Grinder
Getting a good cup of coffee while out on the trails can be a touch difficult to manage — especially if you want freshly-ground beans. But the folks at VSSL have made it worlds simpler with the Java handheld coffee grinder. Compact enough to stash in your hiking backpack, this device will give you a cafe-quality grind across a whopping 30 different settings. Pair that with a handle that doubles as a carabiner, an aerospace-grade aluminum construction, and more and you can see why this is such a desirable trail tool for coffee fanatics.
Mystery Ranch Urban Assault Backpack
Combining some of the best elements of modern, city-going design and tactical, military-inspired functionality, the Mystery Ranch Urban Assault Backpack is definitely a best-of-both-worlds situation. It's sleek enough for everyday carry, but the internal organization and triple-zipper closure make it ideal for speedy off-grid ops. Furthermore, it boasts a tough Cordura exterior, 15″ laptop sleeve, and a lifetime warranty.
Rhodes Footwear Huxley Boot
A solid Chelsea Boot should be in every man's wardrobe. However, some are built much more impressively than the rest. Rhodes' Huxley is one such offering with its premium calf leather uppers, Texon insole (which offers both thermal insulation and shock-resistance), and handcrafted quality. This is the kind of boot you could wear confidently into the boardroom, but it would also perform beautifully out on the trails — if that was, for some reason, necessary.
SharpEdge Bunka Chef Knife
If we've said it once, we've said it a thousand times: a chef knife is the absolute most important piece of kitchen gear anyone can own. And that makes it much more reasonable to invest some serious money into a quality offering, like the SharpEdge Bunka Chef Knife you see here. This Japanese kitchen cutting tool is gorgeous, sturdy, reliable, ergonomic, and more. Just make sure you take proper care of it and it will serve you beautifully for years and years.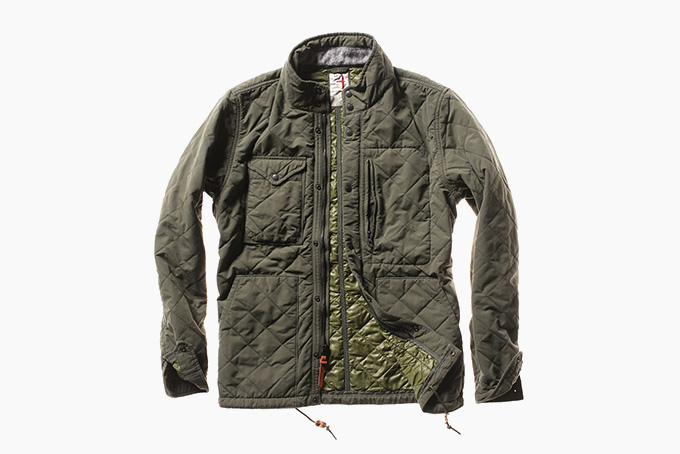 Relwen Quilted Tanker Jacket
Spring is quickly approaching, but more days that are brisk and moist are definitely yet to come. Thankfully, the Relwen Quilted Tanker jacket is up to the task with its water-resistant outer shell, recycled polyester insulation, an array of EDC-friendly pockets, and so much more. This stylish piece of outerwear is sure to become one of your go-to style pieces — but it's also got plenty of functionality built into it.
Scoured: The Best Gear On Huckberry - January 2021
The above is only a small sampling of the expansive catalog this online retailer has to offer. For those looking for even more variety than presented here, last month's guide to the best gear on Huckberry opens up that range by double.