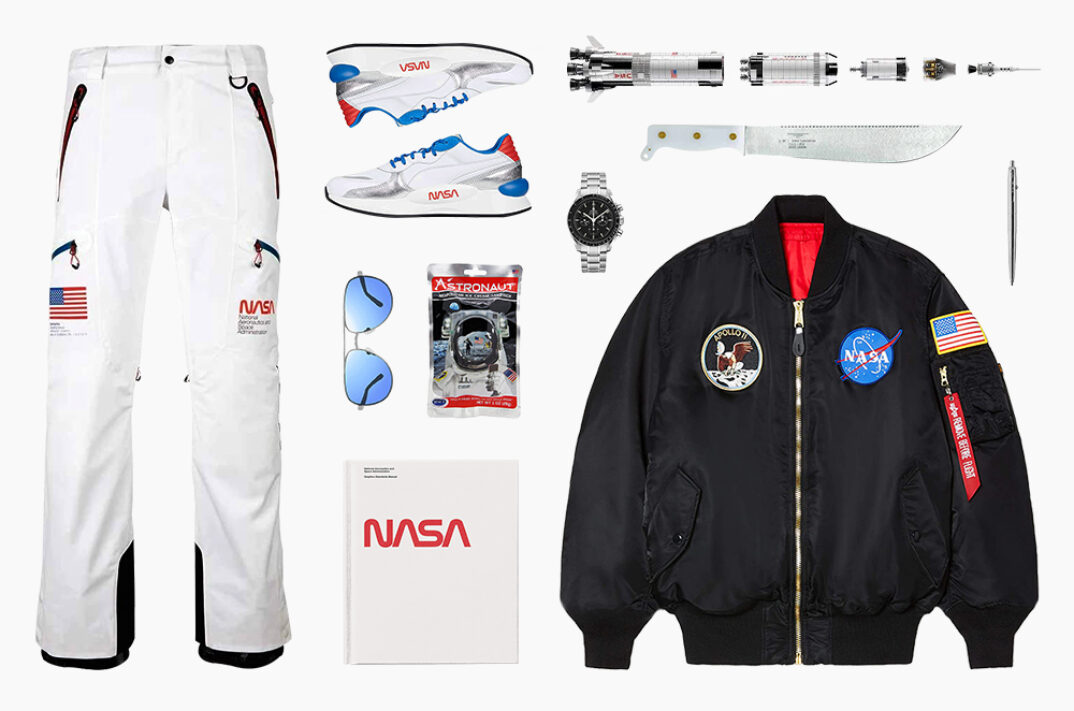 In case you weren't paying attention, NASA just passed a pretty major milestone: their Perseverance rover landed safe and sound on the surface of Mars, marking the start of a groundbreaking new mission that has already elicited stupendous results — including the first-ever audio recording taken on the red planet. The rover, which also houses a flying drone (the first helicopter on Mars), has been tasked with "[seeking] signs of ancient life and [collecting] samples of rock and regolith (broken rock and soil) for possible return to Earth." And it looks to be well on its way to helping us better understand our celestial neighbor.
To celebrate this momentous occasion, we've hunted through the pages of online retail giant Amazon to put together a collection of gear, some of which comprises actual NASA-used spacefaring tools and the rest serving to honor the National Aeronautics and Space Administration and their achievements. This is the best gear on Amazon for the month of March 2021.
Astronaut Freeze-Dried Ice Cream
Yes, you can actually buy the same freeze-dried food products consumed by real NASA astronauts out in space — including perhaps the biggest novelty, ice cream sandwiches. It might be something you only try once, but if you're a fan of outer space, it's a treat you'll certainly remember.
Fisher Space AG7 Original Astronaut Pen
Anyone who has seen Seinfeld should be familiar with the pen that can write upside-down, underwater, or in zero gravity. Well, as it turns out, it's a very real pen and, yes, it is actually given to astronauts and has been since 1966. However, you can actually pick up the very same pen for yourself down here on solid ground in the form of the Fisher Space AG7 Original Astronaut Pen.
National Aeronautics and Space Administration Graphics Standards Manual
For NASA fans who consider themselves design-minded, the National Aeronautics and Space Administration Graphics Standards Manual is almost a compulsory purchase. This coffee table book is loaded from cover to cover with scans of the original manual, reproductions of the original NASA 35mm slides, and scans of the Managers Guide — a follow-up booklet distributed by NASA. It even comes in special anti-static packaging, which is a clever and cool bonus.
PUMA RS 9.8 NASA Sneakers
While there's a wealth of footwear on the market done up with NASA's signature graphics and colors, we're partial to these PUMA sneakers for their clever integration of metallic silver detailing — a throwback to the organization's use of Mylar, an aluminum-coated plastic that reflects light and heat, on every manned space mission and thousands of satellites.
LEGO Ideas NASA Apollo Saturn V Rocket
While nobody will ever own the actual rocket that took astronauts to the moon, you can get your hands on an accurate scale model you can build yourself in the LEGO Ideas NASA Apollo Saturn V Rocket set you see here. Cleverly constructed from 1969 pieces (the same year humans first landed on the moon), this 1:110 scale model even includes a tiny recreation of the Lunar Lander and a pair of astronaut minifigures.
Case M-1 Astronaut Knife
Complete with a lifetime warranty, this made-in-USA knife is a genuine recreation of the same blade Case made at the behest of NASA for their astronauts' survival pack on every Apollo and Gemini mission — yes, including the ones that went to the moon. Measuring up at a whopping 17 inches in total, this high-carbon machete will make quick work of just about any cutting task — especially when survival is a concern.
Alpha Industries Apollo MA-1 Flight Jacket
While the Apollo astronauts didn't wear Alpha Industries' flight jackets, these stylish coats do feature genuine graphics — in the form of a collection of patches on the front and back — from the missions. It's also reversible, made from 100% ultra-durable nylon, and even has a bit of polyester stuffing for warmth.
Revo Conrad Aviator Sunglasses
While Neil Armstrong and Buzz Aldrin get all the attention, Pete Conrad — the third man to walk on the lunar surface — deserves far more recognition than he's been given. If you're of a similar mind, you might be interested in his signature Revo aviator sunglasses. An ode to Conrad, who also happened to be Revo's first ambassador, these shades are polarized, lightweight, glare-reducing, and they look spectacular.
686 NASA Exploration Snow/Ski Pant
Inspired directly by NASA and emblazoned with the organization's logo, these waterproof snow pants are perfect for your next snowy winter adventures. They also offer BOA-compatible lining — which is printed with images of the space shuttle — and, if you're not into the all-white look, they're also offered in a black version.
OMEGA Speedmaster Professional Moonwatch
Since 1965, NASA has given its astronauts just one chronograph watch to wear during missions: the OMEGA Speedmaster Professional Moonwatch. And you can own the exact same one that's been on the wrist of Neil Armstrong, Buzz Aldrin, Jim Lovell (Apollo 13), John Glenn, Sally Ride, etc. This is about as iconic as watches get and it has a rich history to boot.
Scoured: The Best Gear On Amazon - February 2021
For more earthbound adventures, especially those in the great outdoors, a more suitable loadout can be found in last month's guide to the best gear on Amazon.