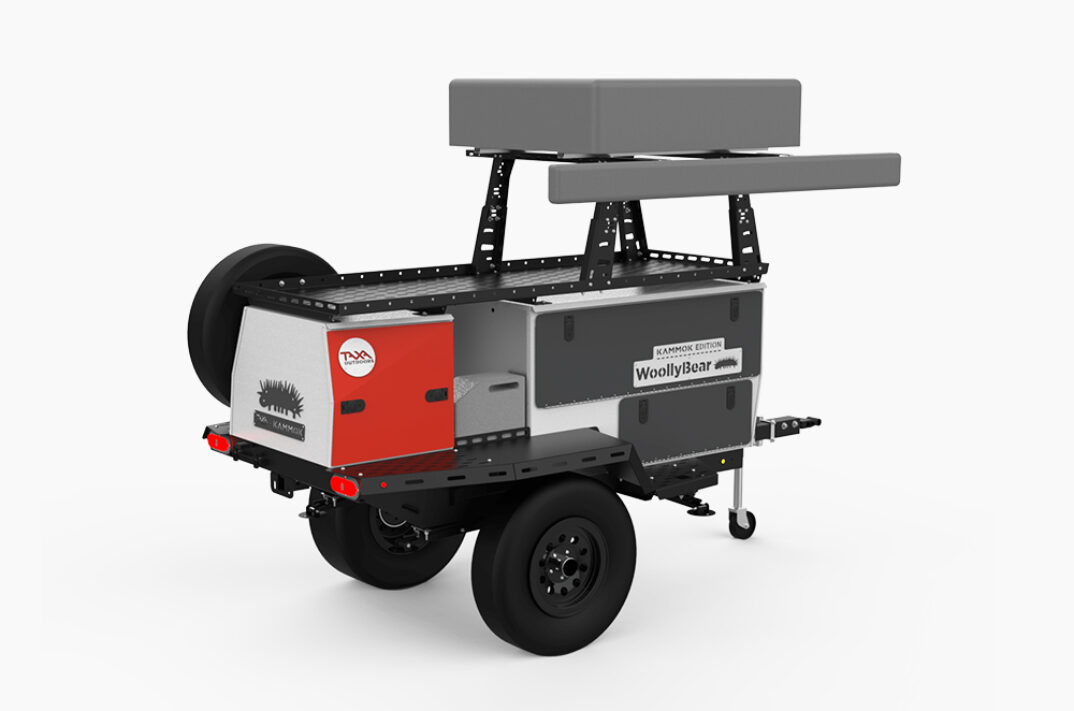 It's a good time to be an outdoorsman. The camping space is seeing innovation the likes of which it's never seen before. In particular, camper trailers are becoming increasingly sophisticated as companies continue to pour their resources into making the greatest, most versatile products they can. One company that is making waves with their unique approach to camper design is Taxa Outdoors, who recently teamed up with hammock icon Kammok to make a limited-edition, Kammok-themed Woolly Bear trailer.
If there were an adage that could capture the awesomeness of the Kammok Edition Woolly Bear, it would have to be "big things come in small packages". The Kammok Edition Woolly Bear may be small in size, but it's about as stacked with gear, storage, and features that a gear hauler can be. For starters, it features include a full-size, integrated outdoor kitchen with birch plywood kitchen organizers and a stainless steel countertop. As far as storage is concerned, the Kammok Edition Woolly Bear boasts a pull-out drawer that fits most large coolers and a laser-cut, powder-coated steel cargo deck that can hold up to 600lb of additional gear. Moreover, the camper comes with adjustable risers that create either more space for gear storage or a higher platform for a rooftop tent. Speaking of rooftop tents, the elevated platform accommodates most 2-to-3-person tents, which gives campers even more options for off-grid adventures. Of course, the Kammok Edition Woolly Bear couldn't have such an esteemed name if it didn't offer a killer hammock feature. Thankfully, this camper comes with an outpost hammock stand and Kammok's famous Roo double hammock, which is perfect for all things relaxing.
While the Kammok Edition Wooly Bear is chock full of preset amenities, Taxa is also giving buyers the option to purchase additional add-ons such as a 6ft awning, mosquito net room, and propane package. The Kammok Edition Woolly Bear is available for purchase starting at $13,715.