While there are plenty of metrics that determine a vehicle's overall performance prowess, few elements directly correlate to raw speed and performance quite like brake horsepower output. And though today's most potent production cars tend to get the lion's share of attention and press coverage, there's another crop of late-model automotive offerings that stand above the rest for affording the best performance capabilities relative to their MSRPs. Below, we'll be exploring this particular group of vehicles in this guide to the most powerful cars for the money.
Every entry on this list of high-performance vehicles has been selected based on each model's respective horsepower output being coupled with their price tags (aka dividing the MSRP by total horsepower). Using this basic formula, we've calculated the automotive industry's cars with the best horsepower to dollar ratios. What's more, we'll also be delving into each entry's engine configuration and torque output for a more robust look at this unique group of rides.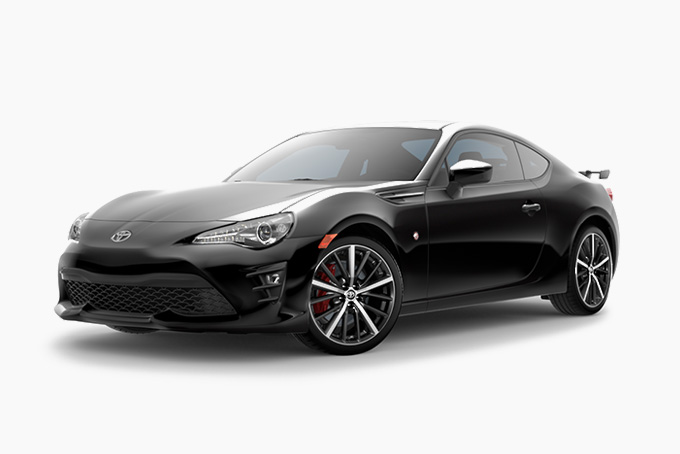 The Toyota 86 is a high-performance two-door that was co-developed by Toyota and Suburu. Good for speeds of around 140mph, the car comes dressed in reinforced unibody construction bodywork, complimented via projector headlights supplemented via daytime running lights, a dual chrome-tipped exhaust setup, a front splitter, and an optional wing and aerodynamic underbody panel. The 86's interior is surprisingly well-appointed, with the Toyota's cabin decked out with a 7" touchscreen infotainment display, Granlux suede-like material accents, and door-mounted knee support cushions for particularly spirited motoring. Sport-tuned independent MacPherson strut front suspension comes on the base model, though there's an option for higher-spec Brembo brakes and Sachs dampers. And with a standard manual, six-speed transmission, and a Torsen 85 limited-slip differential, the front-engined rear-wheel drive makes for a fantastic drift car, while also being more than conducive to everyday commuting or days at the race track.
Engine: 2.0L DOHC Four-Cylinder Boxer
Horsepower: 205hp
Torque: 156ft-lbs
2021 Honda Civic Type R
$123/hp
Since the launch of the first Civic Type R in 1997, the Japanese sport compact has been a bonafide staple in tuner car circles, and the latest generation of the Type R takes things even further with a turbocharged and inter-cooled 2.0-liter VTEC engine housed in an all-aluminum chassis and outfitted with decidedly high-performance componentry. BBS forged-aluminum wheels, Brembo calipers biting two-piece rotors, a helical limited-slip differential, triple pipe exhaust, and an advanced suspension setup with dual-axis MacPherson front struts and an adaptive damper system all come standard on the 2021 model. The latest Type R also gets a host of high-tech goodies such as Honda's LogR onboard datalogger, multiple ride modes including a track-ready +R setting, and a customizable digital display denoting boot pressure, G-forces, lap times, revs, and throttle and brake inputs.
Engine: Turbocharged 2.0L DOHC VTEC Inline-Four
Horsepower: 306hp
Torque: 295ft-lbs
2021 Chevy Corvette C8
$120/hp
With a base MSRP just south of $60,000, the Stingray might not seem like one of the best-value sportscars currently on the market, but with its naturally-aspirated 6.2L LT2 V8 engine, the C8 offers an impressive $120 per horsepower. Capable of sub-three-second 0-60mph times and a 200mph top speed, the American mid-engined supercar features carbon fiber accents as standard inside and out and boasts a jet fighter-inspired interior with Mulan leather GT1 racing seats, a flat-bottomed, paddle-shifter-equipped leather-wrapped steering wheel, and an 8" infotainment screen and an optional Performance Data Recorder and color Head-Up Display. And though previous generations of the Stingray often failed to measure-up to Chevy's German and Italian-made supercar competitors, the same can't be said for the 2021 Corvette C8 as its highly-refined and expertly-tuned chassis, brakes, and suspension platforms collectively make for an incredibly capable track day vehicle—and a plush and sporty commuter.
Engine: 6.2L OHV V8 DI
Horsepower: 490hp
Torque: 470ft-lbs
2021 Hyundai Veloster N
$117/hp
While the Hyundai name probably doesn't spring to mind when discussing high-performance hot hatches, the company's N-spec Veloster is more than worthy of consideration if shopping in the segment. With 275hp and 260ft-lbs of torque fed through a manual six-speed transmission with rev-matching, electronically controlled suspension, and an N Corner Carving (electronic) limited-slip differential, the Veloster N offers serious behind-the-wheel thrills while still making for a genuinely practical everyday driver. And while it does feature a less swanky interior than some of its higher-priced competitors, the Veloster N is still outfitted with sport bucket seats, a 4.2" N gauge cluster, an 8" color touchscreen GPS navigation display, an Infiniti speaker setup, and aluminum alloy sport pedals and a leather steering wheel and shift knob.
Engine: Turbocharged 2.0L GDI Inline-Four
Horsepower: 275hp
Torque: 260ft-lbs
2021 Tesla Model 3 Long Range
$104/hp
Despite being one of the higher-specced variants of the Model 3, the Long Range AWD actually offers the best bang for your buck in terms of performance with 450 horses, 471 instantly-accessible foot-pounds of torque, and a sub-$50K price tag. The Model 3's dual AWD motors respond in realtime to changing road conditions every 10 milliseconds while a carbon fiber spoiler, lowered performance suspension bolster stability while at higher speeds. In addition to boasting a massive panoramic glass roof and a 15" touchscreen display, the Tesla's battery is good for a range of more than 350 miles, plus a 15-minute charge yields an additional 175 miles of autonomy. The fully electric Model 3 also features impeccable safety ratings, seating for five, a generous 15 cubic feet of cargo space, and is protected by a standard four-year warranty.
Engine: Dual Synchronous PMAC Motors
Horsepower: 450hp
Torque: 471ft-lbs
2021 Chevy Camaro ZL1
$98.5/hp
Take a modern American muscle car platform with a 62" stance, a 110.7" wheelbase, and a svelte curb weight of just 3,900lbs, drop in a massive supercharged 6.2L V8 engine with 650hp and ft-lbs of torque and you know you're in for a treat. The ZL1's roughly $64K MSRP gets you an insanely potent platform with Recaro racing seats, a heads up display, Brembo six-pot calipers, customizable launch control, track-tuned adaptive suspension, a performance data recorder, drive mode selector, and a full aero kit with a front air dam, splitter, carbon-fiber hood extractor, and a large rear wing. All that power and technology enable the menacing ZL1-spec Camaro to clock 3.5-second 0-6mph runs and a top speed of 198mph.
Engine: Supercharged 6.2L V8 DI
Horsepower: 650hp
Torque: 650ft-lbs
2020 Ford Mustang Shelby GT500
$95.2/hp
The latest turnkey track weapon created through the historic partnership through Ford and Carroll Shelby, the 2020 Mustang Shelby GT500 is a thoroughly upgraded version of the iconic muscle car that's been gifted a slew of racetrack-ready appointments. The car's enormous 5.2-liter supercharged Cross Plane Crank V8 is fitted with a TORSEN limited-slip rear axle and a TREMEC seven-speed dual-clutch transmission that's banged through via a set of paddle shifters on the Mustang's leather and Alcantara-adorned steering wheel and is brought to a stop by a set of six-piston Brembo calipers. Electronic line lock, launch control, adaptive suspension with MagneRide damping, a vented hood, rear spoiler, quad-tipped dual exhaust, and rear diffuser, 12" LCD instrument display, and leather-trimmed Miko suede Sport seats all clearly reinforce this model's focus on the race track.
Engine: Supercharged 5.2L Cross-Plane Crank V8
Horsepower: 760hp
Torque: 625ft-lbs
2021 Chevy Camaro
$94.5/hp
The base model Camaro may admittedly be down on power compared to some of the higher-performance versions in the lineup, though it nonetheless offers an enormous amount of value with each of its 275hp costing less than $95 a piece. The fact a six-speed manual transmission comes as standard on this front-engined rear-wheel-drive model also makes the base-spec, even more, a driver's car. Your roughly $26K MSRP also gets you a few unexpected amenities and features such as a drive mode selector, a limited-slip rear differential, and Chevy's StabiliTrak electronic stability control and traction control systems. The manufacturer also offers a wide range of optional add-ons, and the popularity of the current generation of Camara has also given rise to an enormous aftermarket parts and upgrades market.
Engine: Turbocharged 2.0L Inline-Four
Horsepower: 275hp
Torque: 295ft-lbs
2020 Nissan 370Z
$90.6/hp
Tuner and project car circles have been singing the praises of the mighty Nissan Z range for the better part of the last century, and the latest iteration of the Japanese-made coupe doesn't disappoint with even more advanced chassis and powertrain configurations. The 370Z is powered by the brand's VQ V6 engine—the world's first available rev-matching manual transmission on a production model—and is controlled through a race-inspired cockpit with a set of magnesium paddle shifters. Other premium materials are also present on the base model of the 370Z, such as carbon fiber — which is used extensively throughout the model, including its radiator support structure and driveshaft. And though it doesn't offer quite the same value as the base model, we'd argue it's well worth shelling out the additional $6.5K for Nissan's 50th Anniversary Edition model, though for those looking for even more performance there's the NISMO-spec, though it comes at a $15K premium.
Engine: 3.7L DOHC V6
Horsepower: 332hp
Torque: 270ft-lbs
2021 Dodge Charger Scat Pack
$84.7/hp
First debuting in 1966, the Dodge Charger is an American muscle car icon, still revered by enthusiasts and collectors today, and though 55 years have gone by since its initial release, the Charger continues resonating with drivers to this day, as proven by Dodge's wildly successful modern incarnation of the Charger. Spurred on by ongoing and repeated demand from the public, the American manufacturer now offers a handful of performance-focused model variants such as the 6.4L naturally-aspirated HEMI V8-powered Charger Scat Pack package. With 485hp and 475ft-lbs of torque, the Scat Pack package arguably produces more oomph than any driver reasonably needs, though we can't for a second try to deny the grin-inducing nature of the model's tire-shredding powertrain.
Engine: 6.4L HEMI V8
Horsepower: 485hp
Torque: 475ft-lbs
2021 Dodge Challenger R/T Scat Pack
$82.5/hp
Powered by the same license-jeopardizing 485hp HEMI V8 as its Charger sibling while costing $1,100 less, the Challenger R/T Scat Pack offers a similar driving experience to that of the Charger and comes standard with many of the same bells and whistles like an onboard Dyno, G-Force sensors, and data logging, Brembo brakes, and a TREMEC six-speed manual transmission. Even more so than the Charger, the Challenger R/T Scat Pack—which offers best-in-class horsepower output in the sub-$40,000 class—offers an industrial design that combines modern and retro visual themes, bestowing the boxy 1960s muscle car with smoother lines, a more aggressive front fascia, and an overall streamlined appearance. Even the interior boasts nods to muscle cars of yesteryear with a vintage-inspired digital gauge cluster.
Engine: 6.4L HEMI V8
Horsepower: 485hp
Torque: 475ft-lbs
2021 Dodge Challenger SRT Hellcat
$82.3/hp
With an approximately $60,000 price tag, Dodge's Challenger SRT Hellcat might not come cheap, though your considerable chunk of change gets you a whole lot of car with a whole lot of performance and an equally-generous helping of thoroughly modern technology. This 200mph production model is decorated inside and out in SRT Hellcat badging and comes with widebody fenders and a low-profile rear spoiler. Brembo brakes and performance-tuned suspension help to keep the car's massive power output in check, though because the American auto manufacturer is well-aware of the SRT Hellcat's otherworldly power, the car is sold with two key fobs, a black fob that restricts horsepower output to 500, and a red fob that unlocks all 717 of the Challenger's available horses. And at $82.3 per horsepower, this very model offers the best dollar-to-hp ratio of any vehicle currently produced by Dodge.
Engine: Supercharged 6.2L HEMI V8
Horsepower: 717hp
Torque: 656ft-lbs
2020 Ford Mustang GT Fastback
$78/hp
The Mustang GT Fastback offers a stellar balance of practicality and utility, and performance and thrills, with enough power and prowess to make for an exhilarating day at the track or in the canyons, and enough comfort and amenities to allow for a solid commuter vehicle. The car's outward appearance is decidedly sporty, yet understated, and the onboard digital display includes a computer for recording G-Forces, acceleration, lap-times, and more. Most of the Fastback's up-specced performance is owed to Ford's GT Performance package that includes 19" black machined aluminum wheels, Brembo six-pot calipers, a performance rear wing, a TORSEN differential, a larger rear sway bar, and an upgraded radiator, just to name a few. And, though it only costs half the price of the Shelby GT500, the Fastback still gets multiple ride modes, launch control, electronic line lock, and Ford's MagneRide damping system.
Engine: 5.0L Ti-VCT V8
Horsepower: 460hp
Torque: 420ft-lbs
2021 Chevy Camaro LT1
$76.9/hp
The Camaro LT1 can probably best be described as a more budget-friendly alternative to the legendary SS-spec, retaining the SS's 455hp 6.2L V8 engine, limited-slip differential, Brembo brakes, and manual six-speed transmission, though the LT1 lacks magnetic ride control and has a more spartan interior with a smaller 7" touchscreen and clothe seats replacing the SS's leather-upholstered items. It is crucial to note the LT1 offers genuinely phenomenal handling and can still fire off 0-60mph runs in four seconds flat. Track days, long-distance touring, or daily commuting, the LT1-spec Camaro truly is capable of excelling in just about any automotive application imaginable. And at around $75 per horsepower, the Camaro LT1 almost certainly offers the best bang for your buck of any car currently in production.
Engine: 6.2L V8
Horsepower: 455hp
Torque: 455ft-lbs
The 20 Most Powerful Cars You Can Buy
Want to check out a list of the straight-up most powerful models currently in production? Then head over to our guide to the most powerful cars you can buy for an extensive list of ultra-high-output super and hypercars.