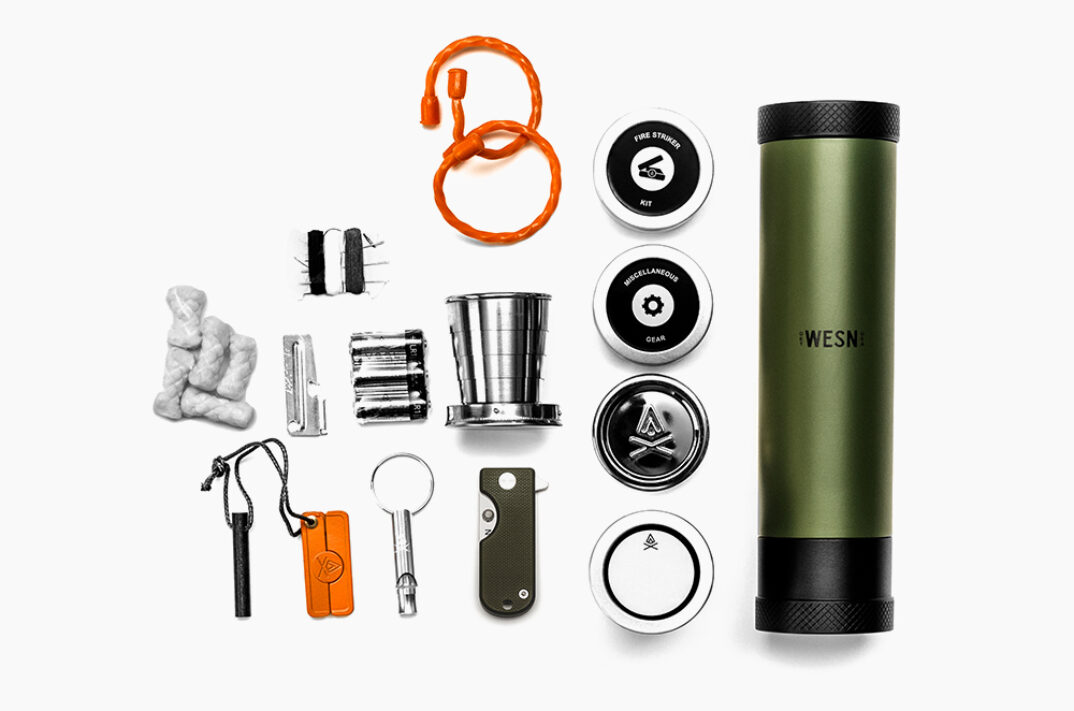 This year for the Christmas season, WESN has debuted what the company is calling its "Holiday Drops" — seven limited-edition items and collabs released every few days over the month of December. And after previously revealing a WESN x Bellwether Supply Co Ghost Camo Microblade sheath, a WESN x Bradley Mountain Candle, and a Henry Gift Box, the Detroit-based knifemaker has now announced that it's partnered with VSSL to deliver a limited-edition version of the firm's survival kit.
The WESN x VSSL Kit is comprised of one of VSSL's waterproof, indestructible military-grade aluminum cylinders which, in addition to being capped off with a 200-lumen LED flashlight on one end and a precision compass on the other, now comes adorned in WESN branding and a unique OD green finish — matching the OD green-handled WESN Microblade that's included in the release. Joining the knife inside the 9.375" L x 2" D cylinder are a matchless fire starter kit, a collapsible shot glass, and a miscellaneous wilderness gear kit — all three of which come neatly stacked in aluminum tins.
Available now, the WESN x VSSL Kit is priced at $175. Limited to only 25 units in total, this release is being sold exclusively through WESN's website. And be sure to check the WESN website over the next two weeks for the final trio of releases from this year's Holiday Drops.