If you grew up in the 1990s, R.L. Stine's Goosebumps books were unavoidable. Even if you weren't much of a reader, the iconic covers by artist Tim Jacobus were collector's items in and of themselves, many of which have been ingrained into the nostalgic recesses of our memory to this very day. Beginning in 1992 with Welcome to Dead House, the original 62-book children's horror series ran for five years, but transcended the realm of literature to the likes of film, television, and merchandise… lots of merchandise. Throughout its run, we saw things such as Goosebumps bedding, office supplies, clothing, and pinball machines. If you wanted to, you could have surrounded your entire life with the Goosebumps spirit (no pun intended). That's exactly what we aim to do with this roundup of color-themed EDC items. Calling to mind classic covers such as Stay Out of the Basement, Say Cheese and Die… Again!, and The Werewolf of Fever Swamp, we chose the famous green and purple colorway that not only came to define the Goosebumps series but lined the zeitgeist of the decade as a whole.
Olight Open Pro Pen
A good pen is always a crucial piece to add to your EDC rotation. And few brands know and understand that ethos of everyday carry like Olight. Perfect for jotting down any ideas when they come to you, even in the dark, this purple pen doubles as a broad-beam flashlight, sporting four brightness levels ranging from 5 to 120 lumens, triggered by an L-type bolt action button. Lasting up to 8 hours on the lithium-polymer battery which can be fully recharged in one hour, the pen also has a green single-point laser beam built-in, as well as a clip that's positioned so the light isn't blocked when attached to your pocket or hat.
G-Shock GA-2100-1A3 Watch
G-SHOCK has no shortage of retro designs in its vast catalog. This neon green-accented version of the octagonal "CasiOak" watch sports an understated matte black design with phosphorescent-painted hour and minute hands. Shock-resistant and water-resistant up to 200m, this timepiece has a dual digital display for stopwatch and timer capabilities, as well as a subdial that displays the day of the week. Even more impressive, the hands are able to shift out of the way if blocking the digital content.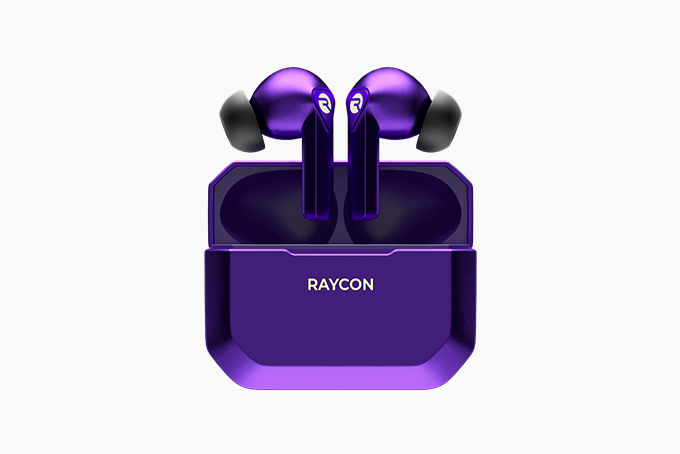 Raycon The Gaming Earbuds
Raycon is simply one of the most reliable and consistent earbud brands on the market. Its wireless Gaming Earbuds ensure a low latency with HyperSync Technology and 31 hours of battery life so you can play for several days without needing to recharge them. With three different audio preferences, the water-resistant monitors can be curated depending on what type of game you're playing. These buds are also equipped with a high-quality microphone for communicating with your squad or for trash-talking your opponents.
Oakley Frogskins Custom Sunglasses
Oakley's customizable sunglasses option is an incredible way to express your own unique style right across your face. This original design of the brand's Frogskin model features a black frame with complementary green streaks surrounding the black polarized lenses, and the brand's name is inscribed across the temples. A cultural mainstay in the sunglasses world, Oakley has been making the Frogskin model since the mid-'80s and the style has come to evoke nostalgia for a particular era while maintaining a design that will never become outdated.
Demko AD-15MG Folding Knife
The AD-15MG is one of Demko's most accessible models. This colorway of the drop point knife sports a handle made up of a purple anodized titanium lock bar and green G-10 scales. The straight-edged blade is made from CPM S35VN steel for long-lasting performance and is given a stonewashed finish. 8.5″ at full length — with 3.75 of those inches coming from the blade itself — the knife features Demko's own Scorpion lock, which takes a traditional lockback and integrates it into the handle with the addition of a stop pin for added safety. What's more, this folding knife is made for ambidextrous use with a reversible pocket clip.