Presented by

June is almost certainly the most significant month of the year when it comes to new knife releases. This is primarily owed to the fact that the annual Blade Show – the biggest knife trade show in the world — is held in early June each year, attracting more than 900 exhibitors from all around the globe, from small boutique knifemakers to big-name brands and practically everything in between. With so many novel offerings having been released over the last few weeks, we thought we'd carve out some time to deliver a handpicked selection of our favorite freshly-released blades in this guide to the best new everyday carry knives of the month.
SOG Aegis AT XR Indigo/Acid Yellow
An affordable yet thoroughly rugged and utilitarian workhorse of an EDC folder, SOG's Aegis AT XR is an assisted-opening knife that's pieced together around a set of G-10 scales that cloak an XR Lock-equipped glass-reinforced nylon handle. The knife's 3.25" tanto-style blade is made from a cryo-treated D2 steel and sports a black titanium nitride finish. This version of the Aegis AT XR features a special colorway that sees the blacked-out blade and indigo G-10 scales contrasted via acid yellow accents on the lanyard loop, back-spacer, thumb-stud, and lock slide.
Blade: D2
Handle: G-10
Blade Length: 3.25"
Total Length: 8.1256"
Lock Type: XR Lock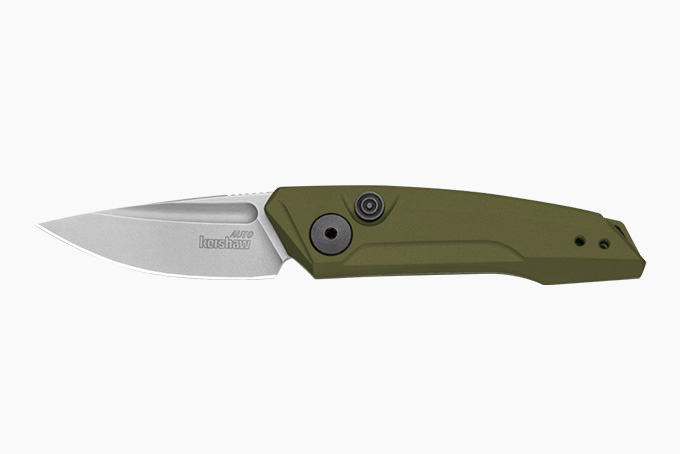 Kershaw Launch 9
Weighing only 1.50oz, the Kershaw Launch 9 is a pocketable, tactically-inspired automatic EDC knife that punches well above its weight. The knife features an OD green-anodized aluminum handle with a push-button lock and auto-deployment, as well as a tip-up, deep-carry pocket clip. The Launch 9's drop point blade is composed of CPM 154 blade steel and, because it only measures 1.8" in length, is legal to carry in California (and other regions that limit auto knives to under 2"). Despite it's accessible MSRP, this automatic knife is also made entirely in America.
Blade: CPM 154
Handle: Aluminum
Blade Length: 1.80"
Total Length: 5.00"
Lock Type: Button Lock
Spyderco Native 5 Exclusive M4 LW
The Native has long been a staple in the Spyderco lineup, first debuting in 1997 and now in its fifth generation. Tipping the scales at under 2.5oz, the Native 5 boasts many of Spyderco's hallmark features such as its ambidextrous thumb hole opener, four-position reversible pocket clip, patented bi-directional Volcano handle texturing, and an absolute workhorse of a drop point blade. Exclusively available through Blade HQ, this particular version of the Native 5 also packs a black-finished 3.00" CPM M4 steel blade and mint green fiberglass-reinforced nylon scales that are contrasted via a blacked-out Lockback mechanism, pocket clip, and hardware.
Blade: CPM M4
Handle: Polymer
Blade Length: 3.00"
Total Length: 7.00"
Lock Type: Lockback
LionSteel x Emerson L.E.One
Born out of a recent collaboration between American knifemaker Emerson and boutique Italian firm LionSteel, the L.E.One is a folding karambit knife that's been outfitted with numerous signature and proprietary features from both brands. This includes LionSteel's removable flipper tab and Emerson's Wave opener — though the knife's 3.25" hawkbill MagnaCut blade can also be deployed via a thumb hole opening. What really sets this model apart from other karambit knives, however, is its textured mono-construction handle — an integral item that's been CNC-machined from a single solid block of aluminum before being fortified via a black-anodized finish. Considering the fact this is a full-size integral knife with a billet handle and a CPM MagnaCut blade, the L.E.One's price is shockingly accessible.
Blade: CPM MagnaCut
Handle: Aluminum Billet
Blade Length: 3.25"
Total Length: 8.25"
Lock Type: Framelock
Tactile Knife Co. Bexar Slip Joint
The Tactile Knife Co. Bexar is a contemporary take on a classic non-locking slipjoint pocket knife that merges vintage designs and modern materials. Starting with the handle, the Bexar's scales have been precision-machined from grade 5 titanium and sport a grip-bolstering, lightly-grooved textured pattern that also affords some additional visual flare. Weighing in at exactly 2.0oz, the Bexar also features a non-locking, dual nail nick-opening, 2.875" clip point blade that's composed of top-shelf CPM MagnaCut steel. Measuring 6.75" with its blade deployed, this knife is also sold with an included black paracord lanyard.
Blade: CPM MagnaCut
Handle: Titanium
Blade Length: 2.875″
Total Length: 6.75"
Lock Type: Slipjoint
The 5 Best New EDC Knives of May 2022
This month's selection of new blades not quite doing it for you? If so, be sure to check out last month's guide to the best new everyday carry knives of May 2022 for an additional handpicked selection of freshly-released EDC options.