Presented by

So you waited until just a few days before Father's Day to get your gift shopping done. With so little time left, is it even possible to get the perfect present and have it arrive in time? Lucky for you, the answer is a resounding "yes" — you just need to know where to look.
And the fact that you're here is a pretty good sign, as the exact purpose of this guide is to help you find a superb Father's Day offering that's available now, will arrive before the gift-giving commences, and will still impress your dad and/or any other father figure(s) in your life. So what are you waiting for? Kick that procrastination streak to the curb and get to shopping!
lululemon Core Backpack 2.0
Ideal for stashing all your everyday carry gear, office supplies, and even some gym gear while on the go, lululemon's Core Backpack 2.0 is a handy hauler by any measure. That's bolstered by the fact that it features a weatherproof, water-repellant exterior along with a respectable 20L capacity and numerous handy organizational pouches and pockets inside and out. If you're looking to upgrade your EDC hauler, this handsome, handy hauler will do the trick.
Bushcraft 101: A Field Guide to the Art of Wilderness Survival
If your dad has ever watched an episode of Survivorman and/or Man vs. Wild, only to scoff and proclaim: "I could do that," this is the perfect gift for you. That's because Bushcraft 101 is chock-full of all the knowledge a man needs to make it out of the wilderness relatively unscathed after an undisclosed period of time. Get this for your dad and he'll be telling the truth the next time he boasts about his own chances of survival from the safety of his couch.
Stanley Master Flask
A good adventure requires a proper celebration, but you don't have to wait until you get back to civilization to say cheers to time well-spent, so long as you pick up the Stanley Master Flask. This durable, leakproof, food-safe stainless steel flask was made to travel alongside you through your hiking, camping, and general outdoor exploits — all while carrying eight ounces of precious liquor.
King C. Gillette Complete Beard Care Kit
Whether your dad is already acquainted with the importance of grooming practices or you're hoping to give him a heavy-handed hint, you can do no wrong with the King C. Gillette Complete Beard Care Kit. Including a safety razor, shave gel, beard balm, beard oil, and face wash, this kit includes all you need to keep your dad looking his best at all times.
Xtratuf Homer Sneaker
Dad works hard, so — at the end of the day — he probably wants to take a load off and relax. And swapping those work boots for a pair of Xtratuf Homer sneaker-slippers is a pretty spectacular first step. These cozy slip-ons look smart, but they're lined with a faux-shearling lining that feels like walking on clouds — all while still having a grippy outsole that will keep dad from taking a spill when he goes out to grab the newspaper.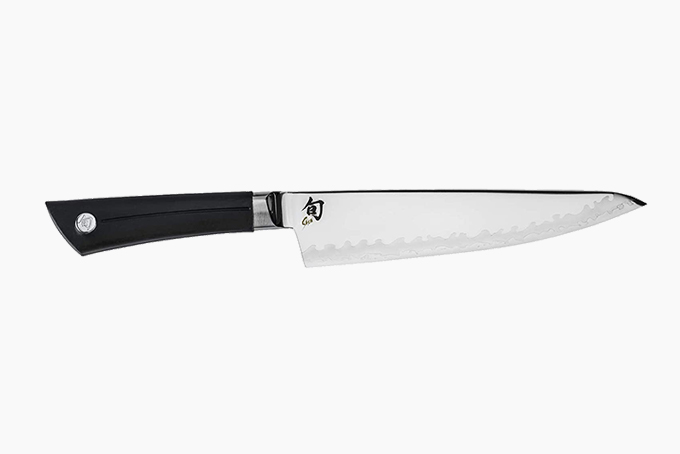 Shun Sora Chef's Knife
Any chef, professional or amateur, knows that the most important tool one can have in the kitchen is a chef knife. So maybe it's time to give dad an upgrade for Father's Day in the form of the 8″ Shun Sora you see here. This knife is beautifully balanced between a composite blade (made with a VG-10 core and 420J blade upper) and a textured PP/TPE boasting a traditional Japanese design. And it cuts just as beautiful as it looks.
ENO JungleNest Hammock
Father's Day happens to fall on the day right before summer starts this year, and it always hovers around that same time. And that makes it the perfect occasion to get your dad the ENO JungleNest Hammock, as he'll be able to set it up and enjoy outdoor relaxation almost immediately. What's even better is that this hammock has a built-in bug shield, it packs down to about the size of a beer can, and it is extremely lightweight.
LEGO Technic Land Rover Defender
Whether your dad likes to take on little creative projects and/or he's a longtime automotive fanatic, he'll love the LEGO Technic Land Rover Defender. This faithful recreation of one of the most iconic 4×4 vehicles of all time is comprised of 2,573 pieces, measures up at 16″ on its longest side, and it even includes additions like a roof rack, a functional suspension with a steering wheel that actually turns its wheels, and a detailed 6-cylinder engine. Plus, it was actually made with help from Land Rover.
Flaviar Membership
For the dads that like to partake in a tipple or two, a Flaviar membership is an unrivaled gift. This is because it will give your dad quarterly access to a trio of special spirits catered to his preferences, a full premium bottle of liquor, and detailed guided tasting notes. Your dad doesn't have to be a liquor snob to enjoy Flaviar, but even the snootiest of whiskey fanatics will find it enjoyable.
Seiko Prospex 'Arnie' PADI Solar Dive Watch
Seiko makes some of the best watches to come out of Japan, but this Prospex PADI solar dive watch is all the more special thanks to its connection to pop culture. You see, this timepiece is actually a version of the same model worn by Arnold Schwarzenegger in both Predator and Commando, two of his most action-packed films. That combined with its excellent construction and reliability makes this a perfect Father's Day gift, even for procrastinators.
DJI Mavic Air 2 Drone
Drones are all the rage right now, and nobody makes them quite like DJI. If your dad wants to get into the quad-copter scene, you can do no wrong by picking him up the Mavic Air 2 drone with its 48MP camera array, ability to shoot video in 4K, 34-minute flight time, and 42mph top speed. And those are just a few of this flying machine's spectacular features.
The 30 Best Father's Day Gifts
While this last-minute guide is your best bet for getting this gear delivered on time for Father's Day gift-giving, it's far from the only collection of options. Have a gander at our list of the best Father's Day gifts and you'll find a much deeper selection — so long as you're okay with being a few days late…