Way back in 1939, the cinematic world was forever changed when audiences were, for the first time, introduced to technicolor images projected on the silver screen. To this day, The Wizard of Oz is still widely considered a movie masterpiece and marks one of the most important achievements of cinematography. And while there were plenty of vibrant hues throughout the flick (like those ruby-red slippers), the image that probably sticks with most people is that of the yellow brick road leading up to the grandiose and aptly-named Emerald City. This week's everyday carry pocket dump takes direct inspiration from that green-and-gold imagery and suits anyone with a penchant for flair and useful, functional gear. Now, that's a horse of a different color!
Word Pocket Notebook
Made in the USA, this three-pack of 48-page pocket notebooks is perfect for anyone who knows the value of the written word. Whether for notes, ideas, to-do lists, doodles, or whatever else, stashing one of these bad boys in your pocket (along with your favorite pen) makes keeping track of everything you need to remember a cinch.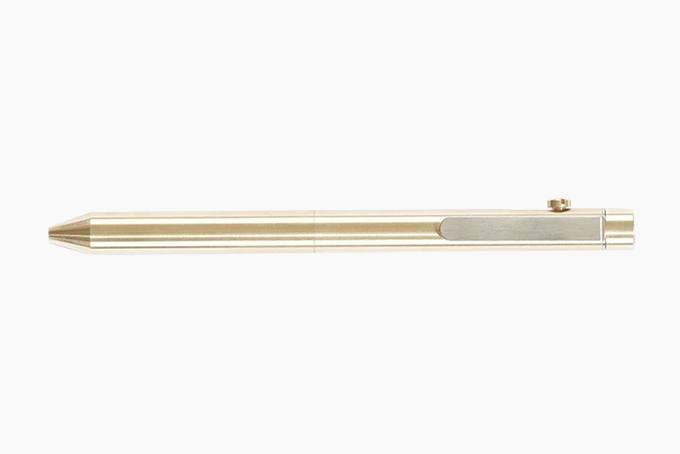 Inventery Bolt Action Pen
A gorgeous and unique take on a classic everyday carry pen, this precision-machined brass writing utensil boasts a sturdy construction, a pleasant deployment mechanism, and is compatible with the popular G2 ink cartridge refills.
Master & Dynamic MW07 Plus True Wireless Earphones
Ideal for city exploration and/or keeping concentrated while you are working from home, Master & Dynamic's MW07 Plus True Wireless Earphones are compact, gorgeously rendered in acetate, have a 100-foot Bluetooth range, can play for 10 hours straight (and up to 40 with the included charging case), are IPX5 water-resistant, and even boast active noise-canceling tech built-in.
Rado True Thinline Nature Watch
Inspired directly by the beauty of the natural world, Rado's award-winning True Thinline Nature Watch features a gorgeous green-and-gold colorway, a "high-tech" ceramic bracelet, an anti-reflective sapphire crystal, 30m water-resistance, and a reliable quartz movement. For a pop of color to your wardrobe, this timepiece is perfect.