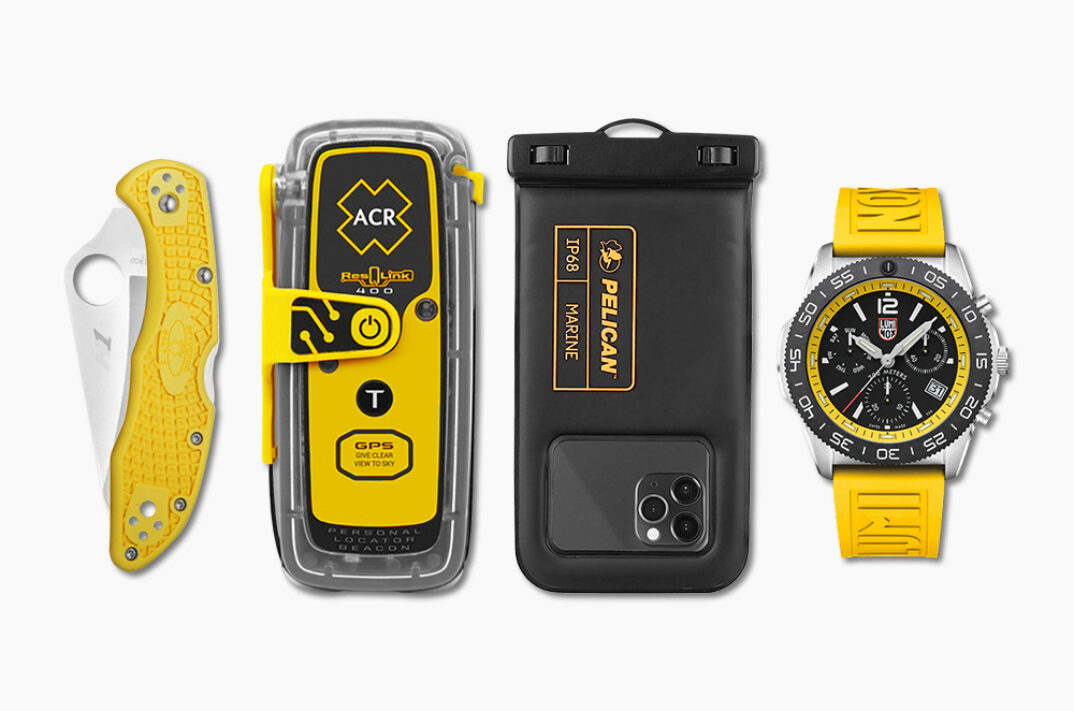 Presented by

Whether you're going on a full-blown scuba expedition or merely taking part in some skin diving or snorkeling, making sure you're outfitted with the appropriate waterproof and water-resistant gear is of the utmost importance. And while many of us everyday carry an adventure-ready collection of gear as it is, we're probably not prepared to go splashing into the ocean at a moment's notice. So to change that, we've gone ahead and built out an adventure-ready ensemble of pocketable gear that will come in handy the next time you head out on the water for a deep-diving adventure.
Luminox Pacific Diver Chronograph
Speaking of adventure, Luminox knows a thing or two about making rugged products that are ready for anything — this is the brand that makes the official Navy SEAL watch, after all. The watchmaker's Pacific Diver Chronograph is especially suited to maritime excursions, as it's powered by a Swiss Quartz movement and offers an impressive 200m of water resistance, ensuring it will work flawlessly no matter how low you go (you're not diving deeper than 300m, trust us). The watch features a robust 44mm stainless steel case, always on Luminox light technology to keep things visible underwater, and a unidirectional dive time bezel in the brand's lightweight CARBONOX material. Lastly, it is equipped with a customizable rubber strap that can be cut to your liking, so it's a perfect choice for any wrist.
Pelican Marine Waterproof Floating Pouch
If you want to keep your more sensitive gear — i.e., your phone — safe at sea, then you'll need something more secure than your average phone case, and that's where this mini dry bag from Pelican comes in. The ubiquitous case-maker's Floating Phone Pouch is 1PX8-rated and can be submerged to depths as low as one meter for up to half an hour while staying watertight, plus it has enough room to work with any phone you have on hand.
Spyderco Salt 2
Part of Spyderco's water-ready Marine line, Spyderco's Salt 2 is based on the brand's flagship Delica 4 but boasts a rustproof, nitrogen-based H-1 stainless steel blade, deeming it the perfect choice to take on your seafaring expeditions. The water-loving knife also swaps out the Delica's stainless steel liner lock for handle components molded from solid FRN, with all metal components on the knife — like the titanium four-position pocket clip — being crafted from special non-rusting alloys.
ACR Electronics ResQLink 400 Personal Locator Beacon
The most important part of any adventure is staying safe, which is especially true when you're out in the middle of the ocean. Built to withstand harsh conditions and boasting 10m of water resistance, the ResQLink 400 is operable in any environment, whether you're at sea, on land, or in the air. Its high-tech capabilities allow it to relay your location to an array of satellites around the world, ultimately assuring you will be found in the state of an emergency. The personal locator beacon is also remarkably user-friendly, as it only takes two steps to send out your coordinates: just deploy the antenna and press "ON." It couldn't get much easier than that, which is why this will surely come in handy on your next diving expedition.