As a guy, there aren't a ton of unordinary options when it comes to low-profile winter wear, especially in the case of sweaters. There are, however, a handful of notable styles that have become an essential part of the menswear community over time, making it inherently easy to outline the must-have, must-know staples of the season. Luckily, the sweater space is plentiful, with great-looking, iconic examples that will take your cold-weather wardrobe up a notch.
It goes without saying that we're huge fans of the men's outerwear space, and as such, we implore you to maintain a firm grasp of the six essential sweater styles that every guy should know. From casual crew and v-neck offerings, all the way to the illustrious world of the classy cardigan, and smartly-tuned half-zip, there's a cornucopia of companies who trade in the outfit of the fashion-forward man. Below, we'll outline a few of our favorites, and give you an idea of why it is that they've become undeniably classic.
The Cardigan
Capable and Suave
Todd Snyder Italian Merino
Todd Snyder's elaborate menswear collections are a must-have for any fashionable guy, but certain styles have — and will continue to — reign supreme. The cardigan is one such style, boasting a refined look that's been passed down through the generations as a preppy, high-society take on the traditional sweater. The company's Italian Merino variant is nothing short of magnificent, especially since it's crafted with only the finest materials from Tollegno, a renowned mill that's become famous for its sustainable manufacturing practices and high-quality goods. Dual front welt pockets, horn buttons, and Lycra cuffs keep the great-looking cardigan ideal for those chilly days outside, or in the office, bridging the gap between formal attire and a more relaxed fit.
Entire World Big Cardi
Entire World's Big Cardi is yet another style staple that's sustainably-focused, but insanely fashionable. This quintessential cardigan boasts a thick-stitched, felted Superfine wool fabric, oversized stature, and boxy fit, making it a bit less "dressy" than its Todd Snyder counterpart. But what it lacks in class, it more than makes up for in contemporary style, calling upon a suite of buttons crafted from recycled paper, a handful of eye-popping colors, and a pleasing feel that's second to none.
The Crew Neck
A Simplistic Icon
J.Crew Everyday Cashmere Crew
J.Crew's Everyday Cashmere Crew sweater might be an entry-level offering, but it doesn't skimp when it comes to quality and comfort. This soft, supple variant is one of the brand's best-selling items, and after you've put one on, you'll see why. As part of the Sustainable Fibre Alliance (SFA), a nonprofit working to support efforts in the welfare of herding communities and their animals, restore grasslands, and reduce the global manufacturing footprint, J.Crew's consciously-manufactured garment utilizes only the finest cashmere fabric, straight from the source, making it overtly simple, structured, and stylish.
Taylor Stitch Lodge Crew
Taylor Stitch trades in the creation, and curation of timeless men's essentials, and with the Lodge Crew sweater, it's safe to say that they've nailed one of history's most iconic variants. This lightweight garment calls upon a classic cut, heathered colors, ultra-soft yak wool, and an unparalleled warmth-to-weight ratio to put it in a class all its own. Better yet, each example places an emphasis on environmental impact, turning to a more sustainable process than traditional cashmere construction, and furthering Taylor Stitch's devotion to the path-less-traveled.
The Half-Zip
A Night On The Town, Anyone?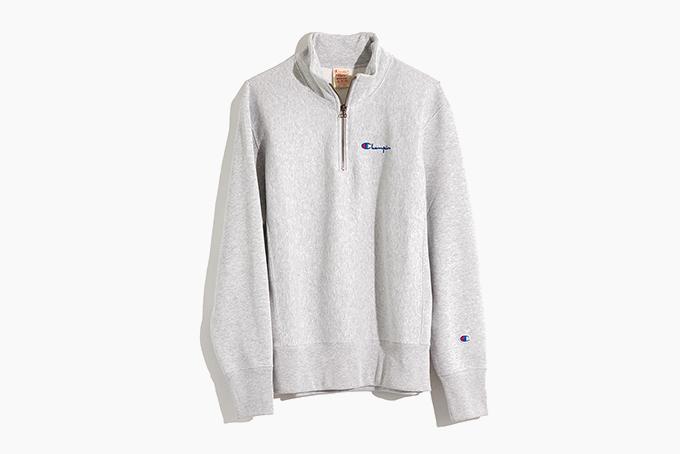 Champion Men's Half-Zip
Champion's Men's Half-Zip takes the idea of a high-end style piece and places it into a great-looking, affordable package. To keep the garment relatively low-key, a proprietary cotton/poly blend constitutes its overarching feel, harkening back to the inherently minimalistic staples of early-era sweaters. The result? A fashionable, functional piece that looks equally as handsome off the court, as it does on. And thanks to Champion's subtle branding, which arrives courtesy of a small appliqued logo on the chest, you'll never have to worry about mistaking the Half-Zip for something less iconic.
Reiss Blackhall Half-Zip
Reiss' Blackhall Half-Zip is a luxurious take on the refined zip-up style, incorporating high-end Merino wool, an ultra-soft feel, and a smart funnel neck that complements virtually any outfit with ease. The company's renowned manufacturing methods and attention to detail reign supreme here, offering buyers a subtle, but sociable garment that's been built to complement your wardrobe's most applicable clothing, and enhance it in unassuming ways. Layer this with an off-kilter color or different shades of grey for a surprising revelation.
The Turtleneck
Refined Elegance
Uniqlo Heattech Turtleneck
Turtleneck sweaters are an iconic piece of menswear history, and they aren't going anywhere for a long while. Uniqlo's modernized take on the stylish staple might not break any rules, or innovate upon the original's recognizable design, but fixing what isn't broken has never been their forte. Instead, this HEATTECH-imbued turtleneck is thick, sturdy, and preferable for those who hope to brazenly brave the harsh wintertime weather in style, calling upon self-deodorizing threads, moisture-wicking fabric, and a shortened sleeve length to keep everything looking cleanly constructed.
Rag & Bone Aldon Turtleneck
The Aldon Turtleneck is one of the most stylish options on the market today, and with a company as revered as Rag & Bone at its back, it's a surefire acquisition for any fashion-oriented fellow. This rollable, loose-neck variant is crafted with insanely-comfortable cashmere and boasts above-average heat retention thanks to its rib-knit structure. For the Aldon, subtlety is key, calling upon a brandless exterior that's devoid of any appliques or text, aside from a small Rag & Bone logo on the cuff.
The Roll Neck
The Turtleneck's Not-So-Distant Cousin
Topman White Roll Neck
The difference between a roll-neck sweater and its turtled counterpart are slim, but Topman's White Roll Neck sets a standard for the relaxed genre to abide by. This classic garment features a minimalistic design principle that calls upon a subtly-rolled neckline, a twisted, 100% cotton construction, and long sleeves to provide coverage foor essential areas during the coldest days of winter. As a result, this stylish staple is sure to accent any ensemble with ease, acting as the perfect mid, or base layer to pair with a slick overcoat, peacoat, or blazer.
Allsaints Mast Funnel Neck
Allsaints' Mast is yet another garment that meets the company's highest standard, focusing on attention to detail and uncompromising construction to create something a bit more refined than its competitors. Each long-sleeve pullover is crafted with chunky-knit wool, a waffle-stitch structure, and a nostalgic, utilitarian design to draw a parallel to its militaristic counterparts, incorporating an intrinsically-warm textile blend and rolled funnel neck to keep its wearer warm when exposed to harsh winter weather.
The V-Neck
Blending Style and Structure
Ami V-Neck
Ami Paris' V-Neck is a deep-set style essential that's a comfortable cross between a button-up cardigan, and a soft, suitable crew-neck sweater. This virgin wool variant boasts some of the company's most well-rounded style cues, including its simplistic embroidery, a defined, but relaxed fit, and a ribbed knit that remains subtle enough to look smoothe from a distance. Like the company's other sweaters, the V-Neck variant looks to fill a niche for men's wintertime essentials, calling upon dropped shoulders and a classically-contrived straight hem to keep things intuitive, but interesting.
Canada Goose Black Label V-Neck
Canada Goose is known far and wide for its contributions to the outerwear realm, but the brand's Black Label segment is entirely devoted to the creation of high-class menswear. As you might expect, the outfit's inherent appeal doesn't fall short when it comes to the creation of more refined garments, including the Black Label V-Neck, which you see here. This 100% merino wool garment is expertly crafted and features a utilitarian style complete with nylon panels, thermal mapping technology, and an Arctic Program patch to annotate the company's technical history. Plus, each example is made to exacting standards in Italy, where water-resistant characteristics, anti-abrasive textiles, and ultra-comfortable construction are placed at the forefront.
The 20 Best Sweaters For Men
Now that you've brushed up on the must-have sweater styles for the winter season, head over to our guide on the best men's sweaters to take a more in-depth dive into the world of cozy knitwear.