Presented by

We don't think there is anyone out there that would disagree with the fact that Rolex might just be the most recognizable and iconic watch brand in the history of the world. After all, we're talking about a watchmaker lauded far beyond the stretch of its own industry. Unfortunately, for people looking to purchase one, that (paired with their tremendous engineering and design) means buying a Rolex can get very expensive very quickly. There are, however, other options.
Whether you're a first-timer looking to finally pick up the watch of your dreams or you're a longtime collector looking for a specific addition to your collection, eBay has made it simpler and safer than ever to pick one up used (and at a discount). Better still, there is a wide variety of iterations and styles to choose from — all backed by eBay's Authenticity Guarantee. To help simplify your search, we've rounded up eight of our favorites for the following guide to the best used Rolex watches you can buy on eBay right now.
Why You Should Buy From eBay
Authenticity Guaranteed
Put simply: buying a used watch from an independent seller can be a risky venture. After all, the watch world is fraught with imitators and conmen looking to take advantage of the uninformed. And spotting the difference between the real deal and the fakes out there can be difficult, even for a seasoned professional. Thankfully, the folks at eBay have taken the guesswork and — more importantly — the risk out of buying genuine timepieces with their Authenticity Guarantee.
The way it works is thus: whenever you buy something on eBay (be that a vintage Rolex or a pair of your favorite Jordans) marked with the checkmark Authenticity Guarantee logo, the product will be sent directly to a crack team of professional authenticators who put said product through a multi-point inspection ensuring not only that it is genuine but that it also meets the description in the listing. If the product passes all the tests, it is then securely shipped directly to you for your enjoyment. It's as simple as that and, best of all, it's essentially effortless on the part of the buyer.
Disclaimer: The listed starting prices represent the lowest-cost options for complete, functional watches that are backed by eBay's Authenticity Guarantee.
Rolex Cosmograph Daytona
One of the most legendary racing-inspired driver's watches of all time, the original Rolex Cosmograph Daytona was introduced back in 1963 and has been a staple of the automotive world ever since. Beautifully balancing style and substance — including a tachymeter bezel, automatic chronograph movement, and striking stylistic contrasts — this automatic timepiece is practical perfection for those with an appreciation for the smell of gasoline and the sound of burning rubber.
Rolex Datejust
You know that handy little window often found on watch dials that displays the date? Well, the Rolex Datejust, introduced in 1945, was the very first watch ever to utilize that technology with an automatic rollover at midnight. And, wouldn't you know it, it's also still one of the best semi-simplified timekeepers around. Available in a wide variety of sizes, metals, finishes, colors, etc. this is a classic timepiece you can always depend upon — especially if you want a watch that's relatively pared-down and minimalist.
Rolex Day-Date
Also called the "President" or (in very rare cases) "Presidential" for its long association with the office of POTUS, the Rolex Day-Date was first introduced to the world in 1956. It also happens to be the first waterproof, automatic chronometer with a full-day readout, rather than just a simple date window. And that makes this one of the more historically-significant Rolex watches out there — and one anyone would be lucky to own. If you're looking for a watch with some Commander in Chief-level elegance, go no further than the Rolex Day-Date.
Rolex Explorer
Don't let its apparent minimalism or simplicity fool you, the Rolex Explorer is a force to be reckoned with. In fact, when Sir Edmund Hillary and Tenzig Norgay ascended to the peak of Mt. Everest, making them the first people to complete the feat, they were accompanied by a version of this very watch. Even modern versions of this historically-significant watch are still made with rugged durability in mind and that makes this the ideal watch for anyone with adventure in their blood. If you want a Rolex that can take a beating and keep right on ticking, this is it.
Rolex GMT-Master
Now widely considered the gold standard for travel watches, the Rolex GMT-Master has a heritage that is inextricable from the world of flight — as it was commissioned by and built for the now-defunct Pan American World Airways (Pan Am, for short). Of course, while the organization it was made for is long gone, Rolex's GMT-Master is still one of the most sought-after watches on the market, especially in the varieties equipped with the now-legendary blue-and-red "Pepsi" or black-and-blue "Batman" bezels. Truly, the Rolex GMT-Master is perhaps second only to the Submariner in how iconic it is.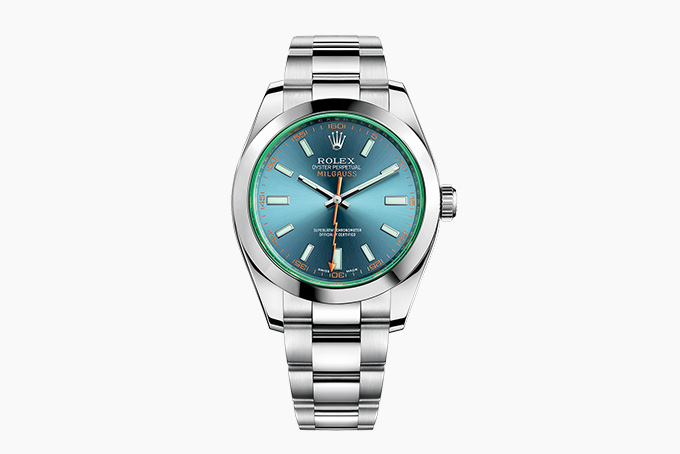 Rolex Milgauss
The Rolex Milgauss isn't as instantly recognizable as some of its brethren, but that does make it a bit of a sleeper hit for those in the know. You see, the Milgauss is Rolex's take on a classic engineer's watch. That is to say, it was designed with anti-magnetic properties, ensuring that it stays ticking right on time even when faced with significant disruption from electromagnetic fields. It also boasts some clever design cues not seen elsewhere in Rolex's lineup — like its orange lightning bolt-inspired seconds hand and striking green crystal made from virtually-scratchproof synthetic sapphire.
Rolex Submariner
There's reason to suggest that the Rolex Submariner is the most iconic watch of all time. At the very least, it's in the top five. And that makes it one of the most sought-after timepieces you can purchase and, thankfully, also means the resale market is quite active. So, prospective owners seeking out this spectacular automatic dive watch — which works just as well in business-focused formal and active/casual settings — shouldn't have too much trouble picking a gorgeous, slightly-used one up for a decent discount.
Rolex Yacht-Master
While the Submariner is undoubtedly the most recognizable ocean-going Rolex, it certainly isn't the only one worth your time and money — as proven by the existence of the Yacht-Master. Inspired by the shared heritage between the brand and the world of sailing, this chronometer is ideal for those who take to the seas at high speeds — or for anyone who can appreciate killer good looks, a superb reliable construction, and a design that stands apart from other more played-out silhouettes.
How To Remove Scratches From Watch Crystal
Nothing sullies the look of a classic, vintage Rolex quite like imperfections on the crystal. Thankfully, there are a few quick and easy fixes you can turn to in order to remedy them, as outlined on our guide covering how to remove scratches from watch crystal.