Subscription boxes are having a moment. While the practice of having food, gear, clothes, and alcohol delivered hassle-free to your door every month was already gaining steam thanks to its convenience, the pandemic-fueled shut-in year that was 2020 certainly heightened the desire to have everything delivered without having to leave the house. As a result, subscription services are better than they've ever been, and the best subscription boxes for men offer really great value and even better goods.
We looked at the subscription box industry as it stands today across four distinct verticals — gear, food, vices, and style & grooming — and selected five services from each category to come up with our list of the best subscription boxes for men. You're likely to see a few old favorites here who have perfected their craft over their many years in the business, as well as a few newcomers that have some great stuff to offer you on a monthly basis (or however often you decide to receive their goods). All prices listed in the guide below are monthly unless otherwise noted, so figure out which packages you'd most like to receive in the mail by checking out the best men's subscription boxes below.
Whether you're a collector of pop culture oddities or you've got a rotating loadout of everyday gear you're constantly trying to bolster, these subscription boxes will suit your pursuits.
Lootcrate
If you're a culture vulture, then Lootcrate is the box for you. The brand has cultivated relationships with practically every pop culture brand, from Marvel to Harry Potter to Rick & Morty and plenty more. You can choose to receive crates from a specific franchise, a genre (like sci-fi or horror), or hand the keys over to Lootcrate and get a mixed bag every month with their choices from across the board. Each delivery contains a fun array of toys and memorabilia, allowing you ample ways to indulge your fandom.
BattlBox
If you consider yourself an outdoorsman, then you really ought to make yourself familiar with BattlBox. This subscription service offers loads of outdoor and survival gear in four tiers of monthly boxes. At the $30/month Basic level, you'll find things like survival manuals and small tools, while the top-tier Pro Plus Battlbox at $160/month includes serious gear from great brands like Kershaw, Spyderco, CRKT, Gerber, and more. Can't decide what to get? Then you can check out the series Southern Survival on Netflix, where the BattlBox team tests out their gear for your enjoyment.
Gainz Box
Home gyms have become increasingly popular, and they show no signs of losing steam anytime soon. And if you're exercising at home, you're going to need some gear to help you get the most out of your workouts. That's where Gainz comes in. This fitness-themed subscription service outfits you with high protein snacks, athletic apparel, and even equipment for working out and recovery. Each month contains 4 to 6 new items for a flat rate of $32/month.
Cairn
If BattlBox seems a little intense for you, then you may want to check out this kinder, gentler outdoor box from the folks at Outdoor Magazine. Expect lots of camping, hiking, and outdoor sports gear from top brands, with items like hammocks, healthy snacks, backpacks, sleeping bags, apparel, and water bottles. All of the products are full-sized and have been curated and tested by professionals, so you're guaranteed not to receive any junk.
Bespoke Post
Arguably the leader in the space and the best-known subscription box for men around, Bespoke Post offers just about every type of men's gear there is. Every month offers a vast array of themed boxes, and you get advance notice so you can make sure you get the box you want. Maybe one month you'll select a cigar box, the next you'll choose camping gear, and then perhaps you'll go on a three-month run of fashion boxes. All of that and more is possible with Bespoke Post thanks to their massive selection of curated products.
Since perishables are in constant need of replenishment — hopefully because you've chowed down on all you have and not because things hit their expiration date — subscription boxes geared toward foodstuffs and food-adjacent items can be ideal, especially for those that like a bit of rotating variety.
Trade
There are a lot of coffee subscription services out there, but Trade offers the best bang for your buck — along with the best coffee. When you sign up, you'll first take a quiz to nail down your tastes and coffee preferences. Then, Trade will recommend a coffee they think you'll like from one of over 400 U.S. roasters. Don't like their recommendation? Then you can pick your own beans from their selection. You'll get a new bag to try out every month, for prices that are around what you'd pay at the grocery store.
Fuego Box
How much hot sauce does a person really need? If your answer is "all of the hot sauce," then you should check out Fuego Box. With a subscription, you'll receive a brand new bottle of hot sauce every month to try from their wide selection. Their sauces feature an unfathomable assortment of peppers and flavors, and you're pretty much guaranteed to never have boring food again. And if one bottle of sauce a month isn't enough for you, then simply up your subscription to their two- or three-bottle boxes for a hot sauce overload.
Carnivore Club
If you fancy yourself a meat eater, then you should consider joining up with this aptly named collective. Carnivore Club is one of the longer-tenured services on this list, and they know their way around animal-based grub. They exclusively distribute premium artisanal meats, so whatever box you end up with, you know you'll be getting some quality cuts. They offer several different box options, from the jerky-filled Snack Box to the Classic Box that's brimming with salamis, prosciuttos, bacon, and other delicious cured meats, so pick your poison and get carving.
Murray's Cheese Of The Month
Murray's is a New York City institution, and they absolutely eat, sleep, and breathe cheese (for the record, we only recommend eating it). Their cheeses are top-notch, and they have a ton of them on offer every month with their various subscription boxes. The subscriptions aren't cheap, with the least expensive monthly option clocking in at $63 for 3-to-4 beginner-friendly cheeses. But it's worth it if you're really into cheese, as you'll not only be treated to excellent dairy selections every month, but you'll gain an education thanks to information cards about the cheeses in every box.
Goldbelly
If you're a true foodie, then consider this your Holy Grail of subscription boxes. Goldbelly works with the best restaurants across the country to ship their top dishes directly to your door, allowing you the chance to stay on top of the food scene. In other words, if some fancy new dish in New York or LA goes viral, you can bet Goldbelly will offer it. They offer subscriptions for specific foods like pizza, ice cream, and pie, as well as city-based subscriptions that offer the best from certain locales. But we recommend the "Best of Goldbelly" subscription, as it offers the greatest variety of goods from across the country at the best value.
Style & Grooming
Always Look Your Best
As Jerry Seinfeld once said, if your body were a car you'd never buy it… too much maintenance. From cleansing to moisturizing to replacing worn-out clothes, trying to maintain your appearance every day is a hassle. But the following five boxes make it a whole lot easier.
Birchbox
Easily the biggest name in the grooming subscription box space, Birchbox will have you looking like a million bucks for only ten. The service sends out a monthly supply of five deluxe samples of goods from top brands. You can expect things like moisturizers, toothpaste, deodorants, soap, hair products, and more, from great brands like Jack Black, Hanz De Fuko, Kiehl's, Anthony, and Baxter of California. And if you really dig any of the products, then you can order a full-size version directly from Birchbox. Easy peasy.
ScentBird
Fragrances are expensive, and in most cases, not terribly versatile. So how can you build a collection of fragrances to suit your mood and environment without dropping serious coin on a bunch of bottles that take up all the space on your dresser? With ScentBird, of course. For $16/month, ScentBird sends you a new 8 mL fragrance sample every month, which should easily last you until your next shipment. You pick which fragrance you'll receive (their quiz will help you decide), and you'll have great brands to choose from like Prada, D&G, Acqua Di Parma, and more.
Dollar Shave Club
There's no way around it, Dollar Shave Club is massive. The company completely revolutionized the way guys think of shaving by supplying replacement razor cartridges for considerably less than retail. These days, DSC offers a whole suite of grooming products beyond razors, but you can still of course subscribe to their core business of getting cheap razors delivered to your door every month. If you're new and need a razor handle and shave cream as well as razors, then expect to pay about 18 bucks to get started.
SprezzaBox
When you want to look your best but have no clue how to go about doing so, then SprezzaBox is your best friend. This fashion-forward subscription service tends to favor a more professional look, with clothes like ties, socks, and watches along with select grooming goods and gear on offer every month. You have the option of choosing between fashion, lifestyle, and grooming boxes, and for what you're getting, it's almost unbelievably affordable with plans starting at just $20/month if you commit to a year.
Trunk Club
OK, Trunk Club isn't technically a subscription service as there is no commitment. But since you can still schedule yourself to receive trunks monthly, bimonthly, or however often you like, we're including it anyway. The clothes you receive are seriously high quality, as they're coming directly from Nordstrom, and you only pay for the items you want to keep — plus a $25 styling fee. Everything else you can send back free of charge as you await your next box of designer duds.
Look: sometimes you just need something to take the edge off. We get it. And having your indulgences sent to you automatically is a relaxing way to get the most out of whatever vice you're into. So whether your preferred poison is beer, whiskey, cocktails, wine, or even cigars, you'll find a box full of it below.
Flaviar
If you're looking for a subscription box that will leave you in good spirits, then you should get a subscription box that's filled with good spirits (see what we did there?). Flaviar offers a monthly rotation of lesser-known and rare liquors, offering you the chance to sample something new every four weeks that you probably won't find at your local liquor store. You pick your monthly tasting box from their various spirit-based options, as well as a premium full-size bottle that's included every quarter with your subscription.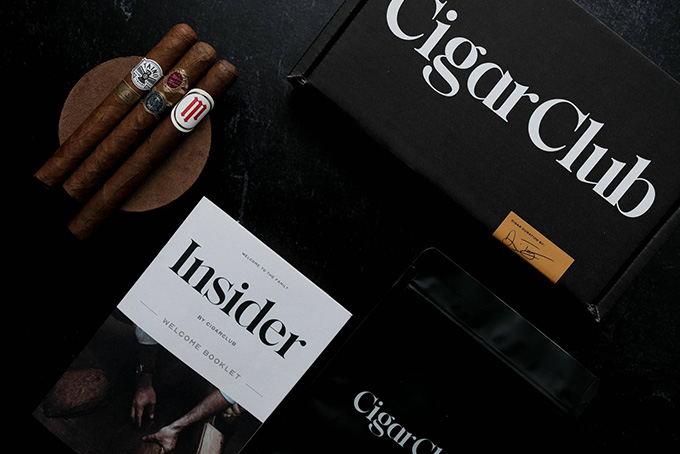 CigarClub
Cigar smoking can be an intimidating habit to get into, but CigarClub makes it easy. If you don't know your Coronas from your Robustos, you can take the club's quiz to find out what cigars you'll like. You can then customize how many cigars you'll receive and how strong they'll be, and all stogies will then be sent to you in a humidified travel pouch — no dried-out stale smokes here. You'll also receive a cigar cutter with your first order, along with a journal providing detailed pairing and tasting notes.
Craft Beer Club
There is no shortage of subscription beer boxes out there, and let's be honest, they're all pretty good (you're getting beer in the mail, how could they not be?). But Craft Beer Club stands above the competition thanks to their super-wide selection of quality craft beers from the best microbreweries across the country. Each shipment contains 12 beers in four styles from two breweries in different geographical regions. Thanks to the variety, you're always getting something new, but regardless of what suds you end up with, they're all going to be delicious.
Saloonbox
If beer and sipping liquors are too boring for you and you prefer to mix it up — literally — then check out Saloonbox. This cocktail subscription service is every home mixologist's dream, as each delivery contains everything you need to make two different mixed beverages. You'll receive top-shelf spirits, small-batch syrups, bitters, garnishes, recipe cards, and sometimes even specific bar tools if the recipe calls for it. After a couple of boxes you'll feel like a pro who's ready to open their own bar — but won't because then you'd have to share your drinks.
SommSelect
Like beer-of-the-month clubs, there are almost too many wine subscription services to list. But SommSelect is not your average "rosé all day" subscription box. They take their wine incredibly seriously, and they want you to, as well. All of their wines are artisanal and are handpicked by top sommeliers, meaning you're always getting the cream of the crop. Not only that, but the boxes also contain extensive information on the wine you're drinking, making the service as much of a sommelier training service as a vessel for great vino.
The 12 Best Outdoor Subscription Boxes
With this guide, we took a wide approach to subscription boxes to try and offer something for lots of different types of guys. But if you're less interested in wines and moisturizers and are looking specifically for more outdoor gear, then be sure to have a look at our guide to the best outdoor subscription boxes where you'll learn more about Battlebox, Cairn, and ten other great services.