Beach bag essentials often include a water bottle, some sunscreen, a snack or two, and, most importantly, the bag itself. It's easy to forget how important something is when there are so many other items you plan on packing into it, but there's simply no way to enjoy a beach day without this handy accessory. We know what you're thinking: "a bag is a bag is a bag." With an outlook like that, you're putting whatever gear you take to the shore with you in harm's way, especially if you have any gadgets in there.
Tons of brands claim their bag is built for anything, but there are a few qualifications to live up to take on your next beach day. To help you distinguish between the average bag and one fit to take on the waves, we've put together a comprehensive guide to what makes an ideal beach bag, as well as the 14 best options on the market.
What's A Beach Bag?
More Than A Tote
While you tend to hear people talking about what to pack for the beach, the bag you're packing these products into typically goes overlooked. If we're being honest, beach bags can easily be confused for commonplace tote bags, but several brands go above and beyond the standards to separate their respective takes on the matter. You'll want to pick out a sturdy accessory that can handle basking in the hot sand no matter how long you decide to stay on the shore. In theory, a waterproof option makes the most sense, and several appear in our guide. That said, as long as you don't plan on running into the water with a non-weatherized one, any of our 14 picks will bode just fine.
L.L.Bean Boat and Tote
L.L.Bean's timeless Boat and Tote has been touted as the essential beach bag by countless owners, which is why you might be so surprised to see that it's the most affordable option. The heavyweight canvas tote is sturdy enough to hold whatever gear you have in hand, and it even comes available in four different sizes — small through extra large — to offer all the space you need. It is made sturdy by a pair of reinforced handles held together by double-needle stitching, so you don't have to worry about it falling apart anytime soon.
Patagonia Black Hole Tote
Like anything from Patagonia, this lightweight, weather-resistant bag is sustainable. In this instance, the brand used using nothing but post-consumer recycled polyester. This eco-friendly material composes the sturdy nylon that gives this roomy, 25L bag the reinforcement it needs. On top of that, it is treated with a DWR finish to ensure you'll never know what it's like to get your gear wet — kind of like how you'll never know what is inside of a black hole.
Bellroy Lite Tote
The Australian accessory maker's line of Lite bags are great for toting around on everyday occasions, but the Tote is adequately-sized for any trip to the shore. It's composed of durable, recycled ripstop made from 100% plastic bottles and comes equipped with a full-length water-resistant zipper for easy access and trusty protection. Plus, it's remarkably portable, as you can either fold it or roll it before heading out the door.
Mr P. Resort Webbing-Trimmed Cotton-Canvas Tote Bag
MR PORTER knows a thing about good style, and that goes beyond its assortment of other high-end clothiers' garments. The online retailer's in-house brand crafts a high-quality cotton-canvas bag that is practically begging for a beach trip. It features a handy interior pocket and a pair of webbed shoulder straps for sturdiness. Style-wise, it's available in olive and the pictured greenish shade of gray.
Herschel Alexander Zip Tote
This iteration of the Alexander Zip Tote is part of Herschel's trusty Insulated Program, which keeps your gear dry and your bottle cold and refreshing. The beloved bagmaker's recycled bag is the best choice for people planning on packing food and drinks, thanks to its fully insulated interior and room for up to 6 bottles. For versatile carrying, it has a pair of reinforced handles and a set of utility handles on the side.
Rains Small Weekend Travel Bag
As its name suggests, RAINS' array of weatherized products is ideal for stormy weather — or, in this scenario, beach weather. The Polyurethane-crafted bag measures 15" wide, 12.5" wide, and 7" deep, so it's capable of holding on to your sunscreen, phone, water, and more. It's rounded out with a zipper for enhanced security and an optional shoulder strap to grant easy wearability.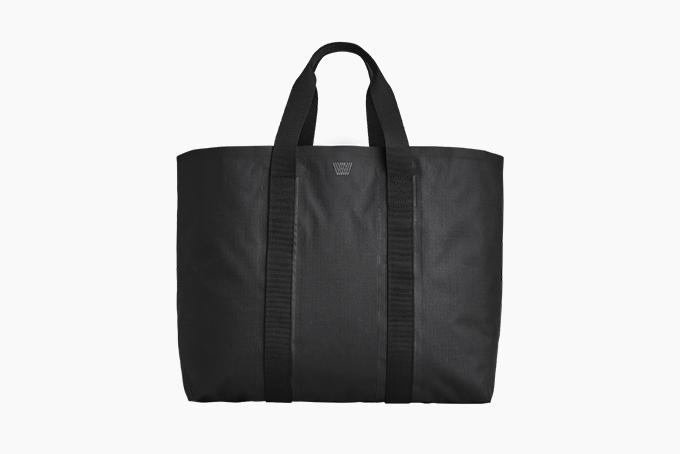 Mack Weldon Bonded Tote
The nylon-constructed Bonded Tote is another excellent waterproof option, and the brand itself claims it's practically built for beach days. It is sewn with waterproof seams to ensure no leakage, guaranteeing your products remain safe and sound even if you're right by the water. It even has a hidden stash pocket for organizational reasons. Considering its spacious measurements — 17" long and 15" deep — you don't want to get stuck digging around for loose keys and non-inflated beach balls.
Noah Mesh Beach Bag
This lightweight and stylish mesh beach bag from Noah offers tons of space and is available in a handful of eye-popping colors. Thanks to its nylon mesh makeup, it stays breathable and allows your clothes or towels to dry out and freshen up, which will happen much faster than if it was sitting in a zipped compartment. Beach-adoring streetwear enthusiasts won't be able to get enough of the prim-and-proper touch the brand puts on this accessory.
Away F.A.R. Tote 45L
At this point, Away is perhaps the most popular luggage brand on the internet, but its relatively new F.A.R. Collection veered off the runway and into uncharted territory. The 45-liter, weather-resistant tote bag from this capsule is an eco-friendly accessory made from abrasion-resistant, recycled polyester to ensure your doing your go-to items and the planet a favor. It's also remarkably functional thanks to its surfeit of pockets, webbing daisy chains, and an interior webbing loop for hooking your keys.
YETI Camino 35 Carryall
YETI's 35-liter Camino bag is waterproof and puncture-proof, so it has what it takes to withstand a day at the beach. Its abrasion-resistant shell doubles as a durable barrier between your gear and any jagged rocks you might come across on your trio. Its interior houses a collection of deployable dividers that let you keep everything organized, so you won't have to deal with a sandy bag full of loose items.
Birdwell Nylon Tote
Birdwell and the beach go hand in hand, so it was only a matter of time until we rang the iconic surf brand in for the occasion. Its stylish nylon tote bag, crafted with the same sturdy material used to sew its beloved swim trunks, is an ideal choice for anyone trying to catch those early morning waves in a matching pair of bottoms. It also features functional elements like a drawcord key loop and a roomy interior pocket to stow your phone and wallet.
Filson Dry Roll-Top Tote Bag
It's hard to go wrong with any of Filson's products, and the heritage label's Dry Roll-Top Tote is no exception. The blisteringly bright bag boasts an 840-denier nylon makeup that can hold up to 35 liters. This material is enhanced by a water-resistant TPU finish and radio-frequency welded seams for maximum sturdiness. For added convenience, its roll-top closure grants easy access and security simultaneously, so you can unbuckle the waterproof seals to grab ahold of your gear.
New Life Project x Outerknown Wide Tote
While Outerknown hasn't been around as long as Birdwell, it's another major brand to look out for in the world of beach-ready attire, gear, and more. The eco-conscious brand's New Life Project is part of its strive to deliver sustainable accessories that can function as well as any other, and it did a great job with this option. The Japanese-developed tote is equipped with a removable shoulder pad and water-repellent coating, making it an easy carry that's beyond protective.
Mission Workshop Drift Tote
Anything you buy from Mission Workshop is bound to last you quite some time, so it's always worth considering paying top dollar for the best product. The S.F.-based technical brand's Drift Tote features a bevy of interior pockets, including a large one with mesh compartments for seamless organization and a padded pocket big enough to hold your laptop — or, in this instance, a towel or two. Compositionally, it has a 28-liter capacity and is made of HT500 high-tenacity nylon, then rounded out with Cordura for unrivaled durability.
Honorable Mention
The Luxe Option
Orlebar Brown Mason Stripe Canvas Tote Bag
You could say the majority of Orlebar Brown's catalog is fit to take to the beach, and we wouldn't argue that (neither would they, frankly). This canvas-constructed tote has an added shine thanks to its colorful stripes and silver interior zipper. Above all else, it's a remarkably sizeable option, meaning your friends without a beach bag will be able to stow some of their stuff in it too.
The 15 Best Tote Bags
If you want to find a similar style of bag for inland days, take a look at our guide to the carry space's best tote bags for some versatile open-top options.