When you make the jump from using run-of-the-mill rental gear to buying a personal setup to be proud of, a good set of boots should be your first priority. Sure, they may not be as exciting as a big-ticket board or a flashy pair of bindings, but they'll affect your riding more than anything else you can buy. Because let's face it — the success of any activity often starts with your choice of footwear. And, in the case of snowboarding, a pair of well-fitting boots can be the difference between a day full of fun and a painful afternoon spent indoors.
Given that boots are such a make or break piece of kit, it's important to equip yourself with enough technical know-how to choose the best model for your needs. But so many different options coming out all the time (not to mention some impossible industry jargon) it can prove quite a tall order. While you can take your chances, go it alone, and buy uninformed, you'll save yourself a lot of long-term headache with just a bit of preparation. So get your stoke on and get ready to see what we've picked for the best snowboard boots.
Key Features To Keep In Mind
Happy Feet
Buying the best snowboard boots for your needs isn't as easy as finding the first pair that fits your aesthetic tastes. Rather, it requires one's careful evaluation of flex profile, lacing style, and fit in order to determine which model is right for you. Below we break down each of these points to give you some general guidelines on what to look for.
Flex: When choosing a snowboard boot, it's important to consider the type of riding you'll be doing, because it'll dictate how much flex you want in your footwear. Manufacturers typically rate their boots on a scale of 1-10, with 1 being the softest and 10 being the stiffest. On the one hand, a soft boot makes for a mellower ride, with more lateral mobility for tricks and grabs. However, it's worth noting that a less supportive boot comes with its drawbacks — you'll not only have slower turns because of less efficient weight transfer; you'll also absorb more of each impact through your legs. On the other hand, a stiff boot is great for riders looking for lots of control. Because of their extra support, these boots flex very little from side-to-side, which translates to better response and improved dampening through chunder. That being said, your riding skills better be on point; otherwise, you're asking to catch an edge.
Lacing: Each lacing style comes with its tradeoffs, so it's best to find one that works for your riding style and stick with it. Traditional laces are a great lo-fi option for riders who don't mind spending a little extra time getting ready. And while they aren't quite as efficient to don as modern setups, they do provide for an unrivaled level of fit customization. Boa closures are another incredibly popular snowboard boot lacing setup. They feature a cable reel design that tightens with a twist for easy on-the-fly adjustment. If your budget allows for it, spring for a boot with multiple Boa dials — you'll be able to dial in pressure throughout the boot better than you would with a single-dial system. Rounding out our lacing options are Speed Laces, a system not unlike Boas but one that forgoes the extra hardware. Most of these setups rely on a series of handles to tighten each zone within the boot, after which a clip locks the lace into place. While they're comparable to Boa closures in terms of convenience, they're known to slip if not properly secured.
Fit: At the end of the day, your boots will be of little use if they don't fit properly. When buying snowboard boots, riders will often downsize a half to a full size from their street shoes. Sure, they may feel a bit snug upon first step-in, but over time they'll break in perfectly. If you do decide to buy your boots with extra room, you're only setting yourself up for frustrating heel lift and sore feet. It's worth noting that manufacturers build their boots around different lasts, so a size that fits well with one brand does not guarantee that it will with another. In fact, fit even can differ amongst models from the same company.
Hot Lap Hard Chargers
All-Mountain
If your riding style knows no bounds, it'll be in your best interest to pick up a pair of all-mountain boots. With a medium flex profile and a slew of supportive elements, these options perform well pretty much anywhere you bring them. However, because of their middle-of-the-road approach, they may not always be the best choice for dedicated park rats or powder hounds.
K2 Darko
Although K2's Darko boot has long been a popular performer in the park, they're a versatile option that's at home all over the mountain. For starters, the combination of a traditional lace-up closure system paired with an interior Intuition liner makes for a comfortable all-day ride and a long-lasting fit that'll be good from season to season. And thanks to the Boa Conda liner lacing, you get plenty of freedom to tweak your boots' tightness. Riding on K2's pliable RollSole Outsole, the Darko gives you plenty of mobility with some support and grip to suit. All in all, it makes for a medium-soft boot that's great for lapping it up in the park or hitting those kickers on the mountain.
Ride Jackson
Despite their approachable price point, the Jackson snowboard boots come with a host of features typically only found on Ride's top-of-the-line models. Take, for instance, the H4 Boa lacing. Made up of a main outer reel as well as a separate side reel, you get control over both the shell and the internal Tongue Tied heel hold system, allowing you to dial in your fit perfectly without fear of hotspots. What's more, they come with Ride's proprietary In2grated Construction, a technology that allows these boots to be incredibly lightweight and also compact in form factor. Top it all off with some heat-reflective foil for underfoot warmth and a +Slime Midsole for improved response, and the result is a solid all-mountain boot that punches well above its weight.
Adidas Tactical Lexicon ADV
Adidas burst onto the snowboarding scene in 2012 with a roster of hard-hitting pros including the likes of Jake Blauvelt, Kazu Kokubo, and Forest Bailey. Since that time, they've quickly emerged as one of the industry's mainstays and it's thanks to boots like the Tactical Lexicon ADV. Inside, they feature a Gold Level Ultralon liner that's heat-moldable so you can get a fit specifically tailored to your feet. Underneath, the Tactical Lexicon ADV comes with Adidas' proprietary boost foam — the same responsive midsole found in the brand's running shoes — for an extra dose of cushion to keep you feeling fresh and ready to ride. Complemented by a grippy multi-directional rubber outsole, these boots ensure dependable traction no matter the conditions. But the cherry on top has to be the rubber backstay that eliminates any boot-on-binding slippage.
Burton Ion
An aggressive boot fit for seasoned riders, the Burton Ion represents the pinnacle of snowboard footwear performance. Under the hood, it comes with a speed zone lacing system that allows you to tighten the upper and lower sections independently. In practice, this means that you can cinch the boot exactly to your liking, whether you're cruising to the lift line or you're dropping in on the halfpipe. And if you already subscribe to Burton's EST binding system, you're in luck — with its low-profile midsole, the Ion boot is optimized for superior underfoot feel, giving you improved edge control in your turns and grabs. Last but not least, it comes with an AutoCant dual-density sole that ensures natural stance alignment and lessens fatigue throughout the day. With its medium-stiff flex, this is one boot that excels no matter what part of the mountain you make your playground.
Terrain Park Performers
Freestyle
When you're stomping rails and jibbing boxes, the last thing you want is for a stiff boot to bring you down. Models with a softer flex make for a more forgiving ride, giving you just enough control to stay up but not so much that you're apt to overcorrect.
Vans Hi-Standard OG
The Hi-Standard OG is one of the best selling snowboard boots on the market and it's for good reason. Pairing classic style with modern performance, it offers the same comfort you can expect of any Vans model, updated for life on the slopes. Beneath its traditional lace-up closure, it hides an Instep Lace Lockout and an Internal Web Harness. So, while it packs the timeless look of a street shoe on the surface, it also makes for a secure fit that'll keep you firmly planted in your bindings. But that's not all — the Hi-Standard OG's also come with V1 PopCush Footbeds and V1 Waffle Lug Outsoles in order to give you the utmost in boardfeel benefits. Like their skate counterparts, these soft-flexing Vans snowboard boots are a prime choice for park rats.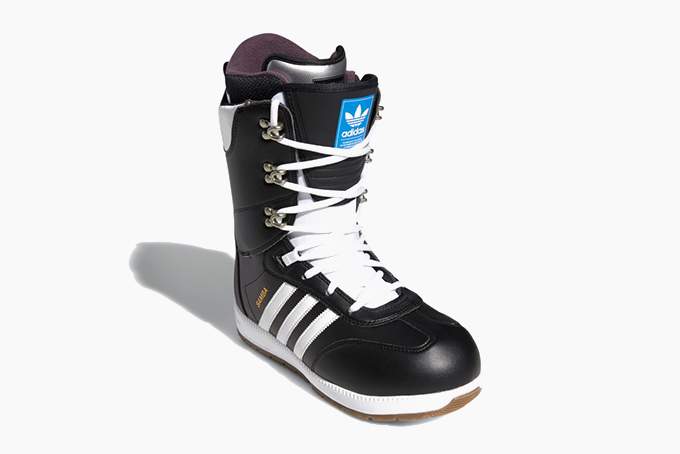 Adidas Samba ADV
Inspired by the soccer shoe of the same name, the Adidas Samba ADV is a medium-responsive boot that's as stylish as it is performance-driven. Up top, it comes with a synthetic leather upper that looks the part while also being durable enough for many a season to come. With its Natural Fit articulated cuff shell and its 3D-molded tongue, it provides just the right balance between flex and support so that you can nail those epic park laps. It also comes with a Continental rubber outsole, meaning you can skate through the iciest of lift lines without fear of taking a spill. And thanks to an internal stability inner ankle harness, the Samba ADV boot keeps your heels locked in for superior edge-to-edge transitions. If you're looking for a pair of boots that toe the line between a fashion statement and a piece of capable gear, these are your best bet.
thirtytwo TM2
If you've never watched Scotty Stevens perform his one-binding wonders, do yourself a favor and have a look. Easily one of the most versatile and talented riders out there, he nails tricks the rest of us mere mortals can only begin to comprehend. So, while you can't buy Stevens' freestyle finesse, you can at least grab the boot he uses: the thirtytwo TM-2. This medium-flex model is the most versatile boot in the thirtytwo catalog, providing just enough response to keep you nimble over rails without throwing you off for an unexpected bail. What's more, they feature a protective overmold around the upper and a high-rebound energy foam underfoot, meaning they'll be comfortable right out of the box and stay that way no matter how long your season lasts. Finished off with 1:1 Lasting that ensures true half sizes and a Heel Hold Kit that has customizable inserts, the TM-2 makes for a boot with pro-proven park performance.
Salomon Lo-Fi
For those in search of a high-end option with a more forgiving flex, the Salomon Lo-Fi boot will be just the ticket. Equally at home going deep off groomers and playing in the terrain park, this versatile boot is a great choice for well-rounded riders that like to send it all over the mountain. For instance, it comes with a heat-moldable Shadow Flex liner for a secure fit contoured to the shape of your feet. When paired with an internal STR8JKT harness, the result is a boot that's not only cushioned enough for jumps and grinds; it's also supportive enough for hard-charging hot laps. And while the Lo-Fi uses traditional lacing for its primary closure, it includes a side Boa system in order to lock your heel in place for precise, predictable board control. Finally, Salomon has given the boot an Ortholite C3 footbed, an addition that wicks moisture away so that your feet will stay dry from your first tracks to your last laps.
Steep And Deep Freeride Footwear
Powder
Should you measure your happiness in inches of snowfall, a pair of powder-inclined boots will serve you well. Typically among some of the most responsive models on the market, these offerings are ideal for riders who want immediate edge feedback and pinpoint turning precision. Most importantly, they should include some type of waterproofing element; otherwise, you run the risk of water-logged liners and, as a result, soggy toes.
Deeluxe Footloose
Purpose-designed for use in powsurfing and noboarding applications, Deeluxe's Footloose boots also happen to be a solid entry into the world of freeride footwear. Their 360-degree Free Flexing construction provides for an unrivaled range of motion so that you can get low and slash powder with ease. Meanwhile, the impregnated leather upper comes with a waterproof D-Tex rubber rand, a feature that guarantees your feet will stay warm and dry no matter how deep the riding gets. And because of their neoprene bootie liner, these boots are plenty comfortable no matter if you're hiking the hill or trekking through town. Riding on a D-Lug outsole, the Footloose boots deliver a winning combination of traction, board-control, and ride dampening.
Vans Hi-Country and Hell-Bound
Although Vans made its first foray into snowboarding with its street-inspired freestyle boots, the brand has since expanded its lineup to include some pretty capable off-piste performers. Chief among those offerings is the aptly named Hi-Country & Hell-Bound, a boot that can plow through pow and keep your toes toasty all the while. The traditional lacing setup has been reinforced with a Powercuff strap for that extra bit of rigidity. What's more, the Hi-Country & Hell-Bound includes Vans' Flex Control system, a technology that takes advantage of removable Hytrel tongue stiffeners in order to allow riders to fine-tune their flex level and point. As an added bonus, you can add the inserts over the course of a season to extend the life of your boots. And when it comes to element-proofing its boot, Vans has spared no expense. With a moisture-wicking liner from The North Face, an exterior zipper shroud for ice protection, and some waterproof vents for drainage, the Hi-Country & Hell-Bound makes for a compelling choice for those unforgettable pow days.
DC Travis Rice Boa
Known for his award-winning films including The Art of Flight and The Fourth Phase, Travis Rice has long served as the standard-bearer of backcountry snowboarding. His DC pro model has been running for years now, and it remains one of the more capable options in this category. For starters, it comes with a true stiff flex for maximum response and power transfer, enabling elites like Rice to straight-line Alaskan spines and send it from 100ft booters. It also comes with a two-point Boa Focus lacing system with H4 Coiler Reel, allowing you to find your exact fit in seconds. And for the 2021 model year, DC gave the Travis Rice Boa an extra helping of heat management, adding such features as 3M Thinsulate insulation and Aerotech ventilation so that you don't get cold feet off before dropping into your run. Last but not least, the boot includes an Asymmetrical Anti-Drag outsole in order to streamline the overall footprint and reduce catch potential during icy descents.
K2 Thraxis
Coming in at a range-topping 10 on K2's flex scale, the Thraxis boots are a stiff option ideal for those snowboarders serious about freeriding. But that's not all — they're also among some of the most adjustable boots on the market, with three different Boa dials delivering maximum control over your lacing. And if that wasn't enough to keep your feet happy, K2's Thraxis boot comes with an Intuition Comfort Foam 3D liner and some moldable internal J-bars to eliminate any potential for excess movement while you're riding. Used to fighting frozen toes? Thanks to an internal liner that incorporates K2's SpaceHeater technology, these boots trap your body heat in a pocket around your toes, in turn keeping you out on the slopes and away from the lodge. Wrapped in a protective urethane exoskeleton and riding on a Vibram V4 rubber outsole, the Thraxis ensures dependable, consistent performance all season long.
The 10 Best Snowboards For Every Rider
After picking up a solid pair of snowboard boots, the next thing on your list is bound to be a board. Head on over to our list of the best snowboards for every rider to see what you should be riding this winter.