A rising tide lifts all boats. As technology at-large evolves, so do the various fronts in which it is used. Sometimes, that swell elevates products that you wouldn't normally associate with technology. Fronts such as suitcases. Once drab and unvaried, luggage is more often being infused with more technological intelligence and utility. Though it started small, the once cottage industry of smart luggage is expanding into the mainstream.
In a world in which being constantly logged-in is a virtual necessity, these bags will make sure you never miss your connection. Avid travelers, businesspeople on the go, and roamers of all kinds in search of a smarter way to lug their lives, will find a better–and smarter–way to navigate the globe with this list of the 12 best smart luggage options that fly in the face of convention.
CO.alition Federal Backpack
The most affordable of all the bags on our list, the CO.Alition Federal Backpack, is a practical and cost-effective multipurpose daypack. Oriented around keeping your tech safe, dry, and shielded from any impacts you might incur in your day-to-day life, this pack features foam reinforced side panels, front organizer pockets equipped with charging capabilities to stow your travel gear, and a water-resistant urethane coated deployable rainfly, to keep all of your gear dry. An additional luxury: charging pockets are lined with a soft micro-fiber inside to clean your devices as they shift in place.
TYLT Energi Pro Backpack
The TYLT Energi Pro is a mobile charging station to rival the larger, more expensive smart cases in the market. Boasting the capacity to charge your phone, tablet and next-gen laptop, the TYLT offers USB and USB-C charging ports, as well as seamless routing channels to organize your cables as your electronics charge. Built-in RFID fraud protection keeps your luggage theft-proof, blocking identity thieves from robbing you while your back is turned. Padded ergonomic straps redistribute weight comfortable, for the times when you've got your entire electronic arsenal slung over your shoulder.
Neit Carry-On
The Carry-On by Néit is the most collapsible and expandable suitcase on the market. It offers plenty of storage space. But when it isn't full up, The Carry-On can fold down, becoming extremely space-conservative. Even the wheels fold in, rendering the suitcase three inches when flattened. A carabiner handle allows you to hang the like a suit in your closet between journeys, and its elegant, checkered outer shell protect it from impacts when it's bulked up and full of your valuables. An optional Smart Unit allows you to geo-track your Carry On with an app on your phone. Flat-earthers and globe travelers alike are sure to love this intelligently-designed bag, made to be one of the most compact bags on the market.
Raden A22 Carry-On
Technology and high-end design collide in Raden's A22 Carry-On. A spartan but handsome design from Tumi and Beats shirks the frivolities of excessive zippers and pockets. Instead, the A22 opts for a single-zip and lock to open the large polycarbonate outer shell, yielding a minimalist bag in which to carry your necessities. Two USB ports behind the handle provide easy access to power from its 7,800 mAh battery. Bluetooth equipped and linked to your phone by an iOS app, the A22 is a relatively no frills bag. It is light, too, weighing in at 8.4 pounds when empty. The built-in scale lets you keep it that way, so you don't end up with an extra upcharge upon checking in at the airport.
Bluesmart International Carry-On
Billing itself the original smart case, the Bluesmart One is outfitted to be the perfect portable office space for the traveler that means business. With a built in 10,000 mAh battery and 2 USB charging ports, you can charge your electronics several times over. The (connection) force is strong with this bag; A 3G SIM card and GPS tracking feature allow you to keep track of your suitcase, whether it is simply on the conveyor belt across the terminal, or it accidentally got shipped to the wrong continent. A remote digital locking mechanism allows you to lock and unlock your Bluesmart One using your phone.
G-RO Carry-On
With its trademark GravityRoll wheels, the G-RO Carry-On suitcase is built to go where no luggage has gone before. The toughest, most rugged terrains can be traversed by this big-wheeled baggage. Equipped with a 23,000 mAh power pack, the G-RO is one of the most abundant portable power banks on the market. Spacious, sturdy, and powerful, this bag is made for travelers with ambition for adventure.
Samsonite GeoTrakr
Built with GPS tracking as a primary focus, the Samsonite GeoTrakr offers the most reliable technology to keep you tethered to your belongings as you travel. If you have had bad experiences with having your luggage mysteriously disappear in your travels, this Samsonite is the perfect bag to assuage your concerns. A mighty rechargeable battery promises 15 days of usage, and a built in Triaxal Accelerometer–which senses the speed of its surroundings–allows the bag to shut down and restart on its own when the plane takes off and lands.
Samsara Aluminum Smart Case
Crafted from aviation aluminum alloy, the same material used in helicopters and airplanes for its high strength-to-weight ratio, the Samsara Carry-On looks like the kind of luggage design Howard Hughes would have sprung for. Ergonomically designed with a flat top, the Samsara doubles as a table or desk, so you can set up, have a cup of coffee, and get some work done before an early-morning flight. LED lights illuminate the inside of the suitcase, to keep you from fumbling blindly in the dark when you need something. With a powerful battery, this bag has all the utilities you need in a smart suitcase, plus the allure of a razor-sharp design.
Rimowa Topas Aluminum Luggage
The Rinowa Topas Aluminum Suitcase line champions a flex-divider system, essentially a system of flexible straps and dividers to keep your travel essentials separate and organized. Made from aluminum magnesium, the Rinowa offers a similar lightweight strength to the Samsara. The staple piece of technology in the Topas line is the patented Rinowa electronic tag allows you to bypass luggage lines by sending a digital bag tag to your luggage from the airline's app.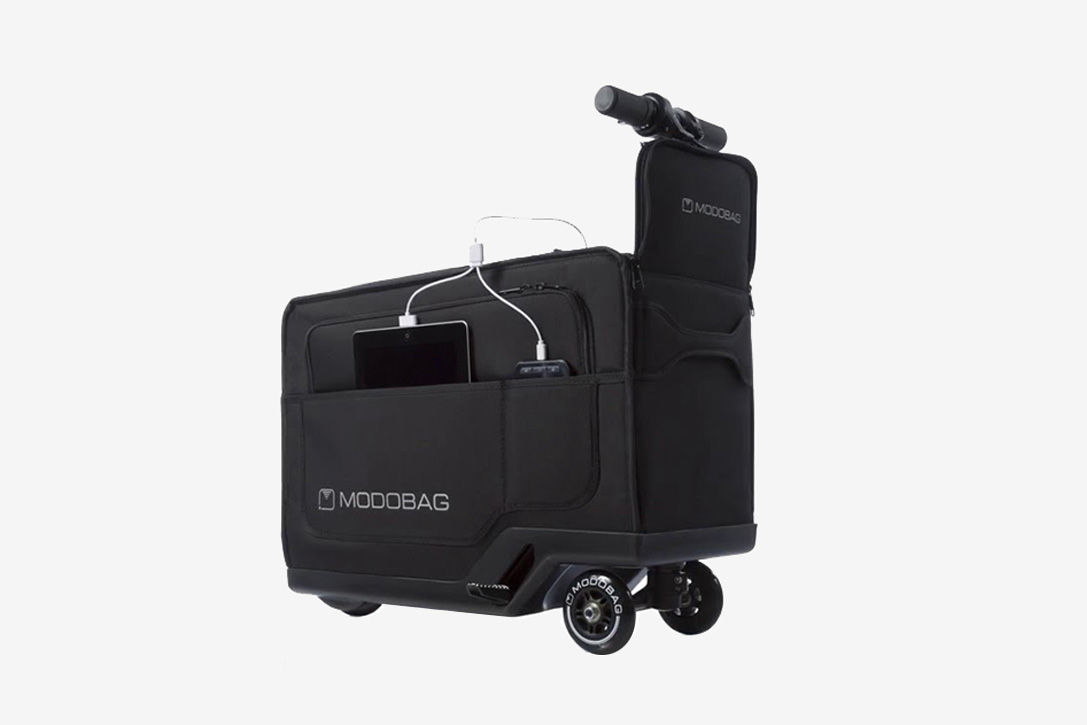 Modobag
Finally, the exhaustion-addled dream of every tired traveler who has felt the weight of a long day of hoofing it around an airport. A desire to kick your feet up and simply glide through the terminal to the gate of your destination, worry free. Modobag grants that wish, defying decorum and expectation to bring you the first rideable suitcase. One proverb states: a stupid man may work hard in rowing, but a wise man puts up a sail. Work smarter, not harder with this scooting luggage, with a built in motor that can accommodate travelers up to 260 pounds. The Modobag can zoom for 6 miles on a single charge at 8 miles an hour. It comes with dual USB charging ports and GPS tracking. This bag is for those willing to break with conformity and convention. This innovative bag will evoke childlike joy in even the weariest travelers, and it should be on every continental commuter's wishlist.
15 Best Packable Backpacks
Those who travel frequently learn quickly the value of space. If you want to keep your luggage compact and comfortable, take a look at this list of the best packable backpacks.