Whether it's to preserve perishable foods or simply to keep drinks nice and cold on a hot sunny day, mobile coolers are immensely helpful, must-have items for the majority of camping, tailgating, and outdoor enthusiasts. While they lack the rigid protection and structural integrity of their hard-shelled cooler counterparts, soft-sided coolers can nonetheless be equally hardwearing, if made using the right construction techniques and materials.
For this reason, it's particularly important to buy the right model when shopping for a soft-sided cooler, as the lower-quality specimens not only afford inferior cooling properties, but are also flimsier, cheaply manufactured, and overall far more prone to tearing or otherwise failing while out in the field. So, with this in mind, we've dug into our archives, pored over dozens of product releases, and scanned the market, determining what's out there to help bring you this guide to the best soft coolers.
Best Soft Coolers
Best Budget Pick

REI Co-op Pack-Away 12 Soft Cooler

Best for Boating

NorChill BoatBag xTreme Marine Cooler

Best for Road Trips

Polar Bear Coolers 24 Pack Original Nylon Soft Cooler

Best Overall

RTIC Soft Pack Cooler

Best for Hiking

IceMule Pro Insulated Backpack Cooler Bag

Best for Picnics

Hydro Flask 26L Day Escape Tote

Best Old-School Design

Snow Peak Soft Cooler 38

Most Rugged

ENGEL HD30 Waterproof Soft-Sided Cooler Tote Bag

Best High-End Cooler

YETI Hopper Flip
Benefits of Soft-Sided Coolers
While hard-sided coolers do generally offer more strength, have the possibility of being vacuum-insulated, and can be used for seating or an impromptu table, they're markedly less travel-friendly than coolers of the soft-sided variety. Not only are soft-sided coolers lighter, but they typically offer more versatile carrying options, can be carried into the backcountry on foot, and can easily be crammed into spaces hard coolers couldn't when packing, as well as compact collapsed forms when not in use.
Soft Cooler Qualities
How To Determine The Best From The Rest
Materials: The quality of a soft cooler largely boils down to the materials used to make it (and the construction techniques used to piece them together). What separates the worthwhile bags from the rest are materials being utilized such as hardwearing high-denier nylons, PVC, and TPU. It's also important to see if an item's materials have been given any coatings or treatments that may further fortify the cooler.
Construction: Liquids are heavy, so consequently you want a vessel designed to carry food and drinks to be extremely durable and well-made, which is why a soft-coolers construction is of such immense importance. You'll want to keep an eye out for soft coolers with multi-seam (and box-stitched) stitching, and heat and laser-welding, and reinforcements. These areas (combined with materials) also determine how durable a cooler is, which is important as there's a vast spectrum of fairly delicate to extremely rugged coolers out there.
Insulation/Cooling Properties: Different soft-sided coolers offer varying levels of cooling. The areas to hone in on here are the insulation materials and technologies being used, as they will play the largest role, followed by design, and then construction. Not only is the specific type of insulation being used of upmost importance, but so too is the construction techniques, liners, and shells used in conjunction with said insulation, as these aforementioned areas will greatly influence how effective a given cooler's insulation is (or isn't), as different coolers offer different cooling abilities, ranging from a few hours, up to the better part of a week.
Size: Just like hard coolers, soft-sided coolers come in all shapes and sizes, from personal lunchbox-sized vessels to massive multi-hundred liter units capable of accommodating things like large deep-sea fishing catches. You'll want to consider your intended application, how much food and/or drinks you'll be taking, the duration of your trip, and the climate to help determine the right size.
Mobility: As previously mentioned, mobility is one of, if not the greatest advantage offered by soft-sided coolers. Not only do you want to focus on size and weight, but it's also crucial to consider the handles or straps that a cooler has, as this will play a pivotal role in how portable it will be. The same goes for buckles, tie-downs, and other features that will bolster a cooler's carrying or transportation options.
Storage: One of the major benefits of soft-sided coolers is that most of them can be broken down or folded up for compact storage or transport, unlike hard-sided coolers. For city-dwellers or overlanding enthusiasts with limited space, this can be an important factor. If this area concerns you, as well, then be sure to check into the collapsibility of a cooler before making your purchase.
Manufacturer: While there are (very) seldom exceptions to the rule, the vast majority of the time you can rest assured that you're getting a solid, well-made product when you buy from a reputable manufacturer with a history of quality goods. Sticking with a gear company or outdoor brand that you trust can be particularly helpful with soft coolers, as overall quality will largely determine your experience with the product.
*Note: Ice retention quotes are always relative and will be affected, often negatively, by factors such as exterior temperatures.
REI Co-op Pack-Away 12 Soft Cooler
Pros
Lightweight
Packs down really well
External gear loops
Cons
Condensation builds up
Stains easily
Best Budget Pick: If you'd like to save money on your next camping trip, heading to REI's website is always your best bet. Notably, the outdoor retailer's own brand often makes the best budget-friendly gear around, including this Pack Away 12 Soft Cooler, a 17-liter unit made from recycled polyester on top with PEVA insulation liner and an abrasion-resistant recycled nylon bottom. Weighing just about 1.2lbs, the cooler is leakproof and comes with external pockets and gear loops, as well as a comfortable padded shoulder strap.
Capacity: 17L
Weight: 1.2lbs
Ice Retention: 32 hours
NorChill BoatBag xTreme Marine Cooler
Pros
Tethers to the floor
Waterproof
Anti-mildew shell
Anti-skid canvas bottom
Good price
Best for Boating: If you're planning on taking the boat out for fishing or kayaking, get yourself this BoatBag xTreme Marine Cooler from NorChill, a waterproof option with virtually indestructible YKK zippers on both the main pocket and both side pockets. Equipped with puncture-resistant liner with fusion-welded liner seams, the shell itself is made from tear-resistant PVC tarpaulin that's UV-resistant and anti-mildew so that it will last you ages. For tethering to the floor, the anti-skid canvas bottom features integrated anchor hooks.
Capacity: 12-can, 24-can, 48-can
Weight: N/A
Ice Retention: 24 hours
Polar Bear Coolers 24 Pack Original Nylon Soft Cooler
Pros
Stays insulated in hot temps
Packs down well
Heavy-duty and durable
Waterproof
Lots of size options
Cons
Difficult to unzip all the way when sides are tethered/clipped
Best for Road Trips: A straight-forward no-frills, tote-style soft cooler, this unassuming-looking Polar Bear product packs some impressive features, like 1,000D nylon outer shell reinforced via double-hemmed and anchor-stitched seams. Opening the cooler's super heavy-duty YKK #10 weatherproof zippers reveals its extremely-durable anti-microbial, FDA food-grade, double-TPU-coated nylon interior liner. Separating the nylon liner and interior is 1" 10-gauge high-density foam insulation that can keep ice frozen for up to 24 hours, even in over 100-degree heat. Offered in five different colors and available in 6, 12, 24, or 48-can sizes (as well as an 18-can backpack version) — all of which also include room for anywhere from 2 to 20lbs of ice — the cooler also comes equipped with a side zippered-pocket that Polar Bear offers custom logo or monogram printing on.
Capacity: 3.3L, 9.8L, 21L, 37.67L
Weight: 3lbs+
Ice Retention: 24 hours
RTIC Soft Pack Cooler
Pros
Very durable
Fantastic price
It floats
Lots of size and color options
Best Overall: The ultimate soft-sided cooler, among other things, needs to be waterproof, super tough, compact, and relatively lightweight. RTIC's Soft Pack Cooler is all those things and more. Built with a heavy-duty nylon shell, this unit is also leakproof and can float on the water so you can enjoy your beverages cold wherever you go. Insulated with closed-cell foam and liner that's both puncture- and abrasion-resistant, it's equipped with an exterior pocket and multiple carrying options. What's more, there are plenty of colorways to choose from, and in four different-sized options.
Capacity: 12-can, 20-can, 30-can, 40-can
Weight: 2.4lbs+
Ice Retention: 24 hours
IceMule Pro Insulated Backpack Cooler Bag
Pros
Unique backpack design lets you carry hands-free
Can be tightly compressed with not in use
Floats
Waterproof
Best for Hiking: With incredibly rugged and transportable backpack-style coolers, IceMule has become a popular brand amongst outdoor enthusiasts, and though the company does offer more robust, feature-laden models, we're particularly fond of Ice Mule's streamlined and minimalistic Pro Cooler. Ultra-rugged and featuring the Florida outfit's proprietary MuleSkin ET exterior shell and equally-hardwearing MuleSkinEV interior, the 33-liter Pro Cooler packs enough real estate to adequately accommodate a 24-pack of cans and enough ice to keep them cold for a full 24 hours — a feat made possible by the use of the brand's Thick PolarLayer foam insulation and a "TriFold DriTop" that traps in cold air and blocks out the heat. The cooler's IM valve also not only allows it to be tightly compressed and rolled up when not in use, but the valve can also be used to inflate the completely waterproof cooler, giving it additional insulation as well as enough buoyancy to float.
Capacity: 33L
Weight: 3.5lbs
Ice Retention: 24 hours
Hydro Flask 26L Day Escape Tote
Pros
Leakproof zipper
Very durable with 600D polyester shell & welded seams
Multiple carrying options
Best for Picnics: Leave it to Hydro Flask to know how to make one of the best coolers around. Capable of holding 42 cans without ice with a 36-hour cold retention, this 26L Day Escape Tote is easy to carry, and in multiple ways with shoulder straps that can adjust to handle length and a removable cross-body strap. The outer shell is made from super-durable 600D polyester equipped with welded seams and a leakproof zipper. Exterior loops are put in place for attaching add-ons or even a handled water bottle.
Capacity: 26L
Weight: 2.92lbs
Ice Retention: 4 hours
Snow Peak Soft Cooler 38
Pros
Sports a traditional design and aesthetic
Lifetime warranty
Cons
No exterior pockets
No side grab points
Best Old-School Design: A generously-sized 38-liter soft-sided cooler adorned in the Sanjo City brand's signature colors, the Snow Peak Soft Cooler is a well-designed and well-crafted piece of gear with a trick up its sleeve in the form of an interior bestowed with an aluminum-coated lining. The metal-lined inside enables the cooler to better reflect away heat and thereby maintain low temperatures for longer periods of time, giving it an edge over traditional insulated cooler linings. Also offered in 11 and 18-liter sizes, the cooler's exterior is comprised of a polyvinyl siloxane nylon and is outfitted with zippered closures and adjustable padded carrying handles. And, like the majority of the outdoor-focused company's wares, the Snow Peak Soft Cooler is protected by the brand's lifetime manufacturer warranty.
Capacity: 38L
Weight: 3.8lbs
Ice Retention: 24 hours
ENGEL HD30 Waterproof Soft-Sided Cooler Tote Bag
Pros
Longest ice retention on this list
Insanely durable with 840D shell
Cons
Overkill for most outings
Most Rugged: With soft-sided coolers, the utilization of high-end materials and construction techniques don't just allow for extremely rugged items, but can also make for some incredibly-performing offerings like ENGEL's HD-30 Waterproof Soft-Sided Cooler Tote Bag. Featuring an 840D shell with a thermoplastic polyurethane-laminated front and back and closed-cell foam insulation, the HD-30 is entirely welded rather than sewn, allowing it to keep ice frozen for as much as four-and-a-half days, even in 90-degree temperatures. Available in four color combinations, the HD-30 is an early adopter of ENGEL's patent-pending "Vacuum Valve," which can be used to inflate, or deflate air from between the cooler's interior and exterior layers. The award-winning HD-30 also has heavy-duty hardware, buckles, a bottle opener, and a padded carrying handle and ergonomic shoulder strap.
Capacity: 30.2L
Weight: 5.4lbs
Ice Retention: 72 to 96 hours
YETI Hopper Flip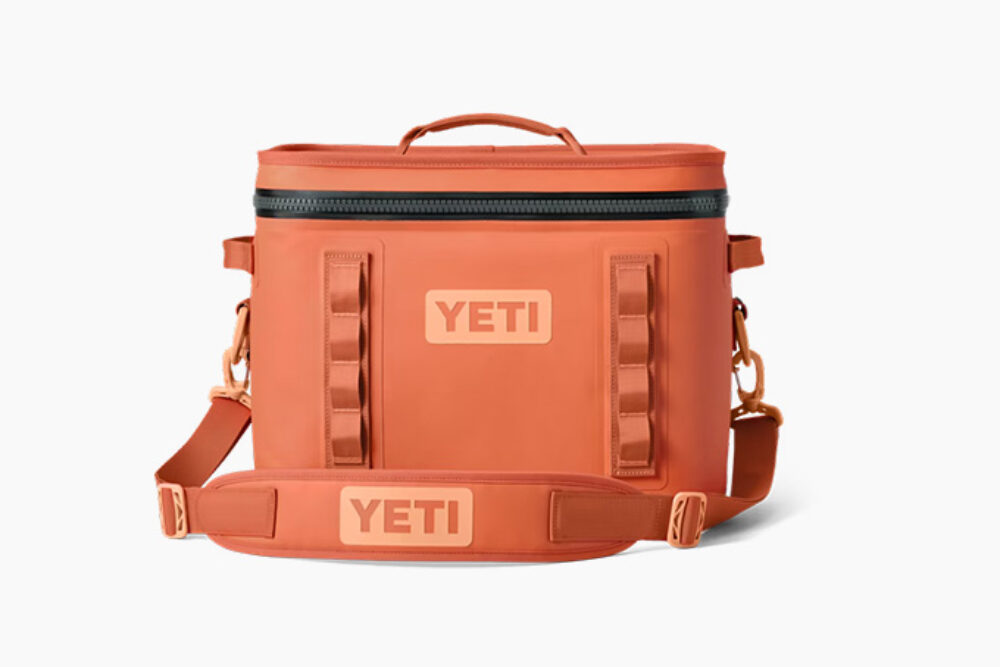 Pros
Very leakproof
Lots of external gear loops
Durable
Multiple grab handles
Cons
Larger sizes are quite pricey
Could use some exterior pockets
Best High-End Cooler: Available in three sizes, YETI's fan-favorite Hopper Flip is about as high-end as you can get with a soft-sided cooler. It features arguably the most leakproof lid of them all, with the brand's HydroLok zipper closing up the flip-top lid, which makes it super easy to see everything you have inside. With plenty of gear loops on the outside, this unit can go with other add-ons from the brand as well. Other noteworthy elements on the cooler included YETI's puncture-, UV-, and mildew-resistant DryHide Shell and ColdCell (closed-cell) insulation, the former of which provides ample protection while the latter guarantees an ice-cold interior.
Capacity: 9L, 15L, 21L
Weight: 2.6lbs
Ice Retention: N/A
The Best Camping Coolers
On the hunt for a cooler that isn't confined to soft-sided models? Well, be sure to check out our guide to the best camping coolers for a list of the sector's finest food-chilling offerings.