Capable of being worn underneath a shell as a mid or base-layer, on top of a garment as an outer layer, or as a standalone button-up, overshirts are unquestionably one of the most versatile items in the men's clothing space. And this, coupled with the immense utility and largely timeless appearance possessed by overshirts and shirt-jackets make these pieces bonafide essentials that every guy should have at least one of in their wardrobe. Unfortunately, not all overshirts are created equally, and some boast markedly more durability, allowing them to serve their wearer year after year.
With so many available offerings in the space, it can be difficult to sort through the seemingly endless slew of catalogs and online clothing stores to determine which overshirts are truly built to last and which are mere fast-fashion style pieces with single-season shelf lives. And it's this former category that we're going to be focusing on today, rounding up the most rugged and versatile offerings in the space to bring you this guide to the best overshirts for men.
From The Sea To The Sidewalk
A Condensed History Of The Men's Overshirt
What we'd call an overshirt today dates to at least 90 years ago — in the 1930s when the U.S. Navy issued thick wool flannel coats to its Chief Petty Officers. These Chief Petty Officer (or CPO) jackets were somewhat stiff but warm nonetheless. After being in service for a few decades, returning Navy personnel came home and popularized the garment in civilian circles. From there it wouldn't take long for workwear manufacturers to start producing CPO shirts. And while today, there are companies that offer more contemporary takes on the classic shirt-jacket, by and large, the garment has mostly gone unchanged since its introduction.
More Than A Thick Button-Up
The Qualities To Look For When Buying An Overshirt
Because overshirts are typically an amalgamation of long sleeve button-ups and full-on jackets, they boast some unique properties, and as such, there's a handful of areas that you'll want to consider when in the market for a new shirt-jacket. Below, we'll briefly touch on half-a-dozen of the most crucial aspects to take into account.
Intended Use: This first area is arguably the most important as it serves as the jumping-off point that will guide the rest of your decisions, as to how you plan to use your overshirt will help to determine how thick and warm you want it to be, the fitment, and style. Asking yourself when and where you plan on utilizing your shirt-jack should ultimately get you pointed in the right direction.
Warmth: While all overshirts are going to be warmer and more robust than your average hoodie, button-up, or flannel, there's still a pretty immense spectrum of warmth offered by the overshirts that we've recommended below. Factors such as the shell material, construction techniques and/or baffling, and the presence of insulation all play pivotal roles in how warm a given overshirt will be.
Construction Techniques: Alongside their warmth and unparalleled versatility, one of the main selling-points of overshirts is their immensely durable, built-to-last nature, enabling them to stand up to years of abuse and wear and tear, and in some cases even be passed down to the next generation. It admittedly can be difficult to determine the quality of a garment's construction from looking at it online, though manufacturers that employ more premium construction techniques – such as welded seams or reinforced stitching — tend to advertise these aspects of their wares, so be sure to keep an eye out for that when shopping.
Materials: Even more so than construction techniques, the materials used to make an overshirt play a massive role in determining its overall warmth and durability. For constructions like cotton and wool, manufacturers will often list the material weight (typically in ounces), though more modern materials such as CORDURA have become increasingly common in the overshirt space.
Sizing: Unlike regular shirts or jackets that you'd regularly purchase in your given size, overshirts can be worn as outer shells or mid-layers, and as such, if you plan on primarily wearing one over a sweatshirt or puffer, then you'll likely want to consider going at least one size up. Likewise, if you intend to primarily wear your shirt-jack a la carte as a traditional button-up, then sticking with your regular size is probably your best bet.
Style: Though you really can't go wrong with a classic CPO-style overshirt or a traditional wool or flannel shirt-jack, today's market includes a growing number of more modern and novel takes on the timeless garment, with some companies opting for more tactical, military-inspired items while others go for a more streamlined, technical interpretation of the men's workwear staple.
Versatile Layering
The Best Overshirts For Men
Now that you're privy to the history of the overshirt and know what to keep an eye out for when shopping, let's dive into our picks for the best overshirts and shirt-jacs currently on the market.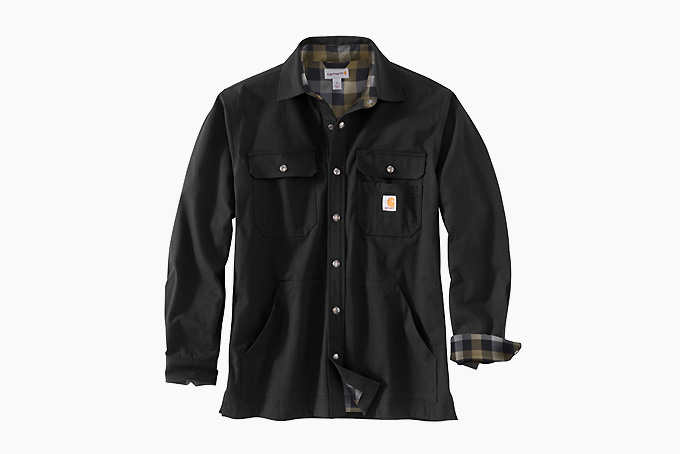 Carhartt Ripstop Solid Shirt Jac
It really is hard to go wrong with almost any workwear-style item from Carhartt, and the brand's Ripstop Solid Shirt Jac is by no means an exception, with a 7oz cotton ripstop shell backed by a flannel lining. Incredibly durable thanks to triple-reinforced stitching at the main seams, this jacket also boasts two-button adjustable cuffs, a pair of snap-closure chest pockets, a snap-button spread collar, and front handwarmer pockets. This overshirt is also manufactured in five color options, as well as in Big & Tall sizes.
Everlane Heavyweight Overshirt Uniform
One of the twelve items that constitute Everlane's "Uniform" everyday basics collection, the plainly yet aptly-named Heavyweight Overshirt is made from a soft yet durable 8oz heavy cotton twill. From afar, this understated item resembles your typical flannel, though when viewed up close the shirt sports a myriad of subtle touches such as the textured pattern of the twill construction. Protected by a year-long warranty, this overshirt is also produced in navy, charcoal, heathered green, and black.
ANIAN Twill Overshirt
ANIAN's Twill Overshirt combines the timeless appearance of a button-up with the hardwearing properties of a classic work shirt. Made in small batches in Canada, this high-end yet affordable shirt from ANIAN boasts a rugged twill weave that's backed by a heavyweight cotton construction which was sourced entirely from recycled product. The inside of this unlined overshirt has been brushed, making the interior incredibly soft to the touch while the exterior sports a classic pair of button-secured chest pockets and an ANIAN patch at the hip.
Saturdays NYC Kenmare Denim Shirt
Saturdays NYC's take on an overshirt is slightly more in line with regular button-ups, though still boasts a thick and robust enough construction to land it squarely in the overshirt category. Crafted with a standard cut, the Kenmare is made from 100% cotton denim. The collar is of the fold-down buttonless variety, and the traditional dual chest pocket arrangement has been replaced with a single pocket on the left breast accompanied by a "hidden" reversible pocket on the opposite side.
Taylor Stitch Maritime Shirt Jacket
Taylor Stitch's Maritime Shirt Jacket encapsulates everything that we love about overshirts. It offers a timeless and elegant appearance, is wildly comfortable, incredibly versatile, boasts an immensely rugged construction, and is thoroughly built to last. Possessing a top-shelf fit and finish that you can literally feel, the shirt is made from a heavy-duty 15oz wool blend and is decorated with dark horn cats' eye buttons. Taylor Stitch also offers the Maritime Shirt Jacket in numerous other color options including a tobacco brown and a deep navy.
Outerknown Blanket Shirt
Outerknown's all-time best-selling style and (aptly) described by the company as "the coziest damn shirt ever made," the Blanket Shirt is true to its name with a wildly soft and comfortable brushed organic cotton construction that's just one step down from being wrapped in a blanket or robe. The tremendous success the blanket shirt has experienced has not only prompted OuterKnown to produce 30 different pattern and color variants of the ridiculously-comfy shirt jacket but have even released an actual throw blanket made from the exact same construction (and patterns).
Patagonia Better Sweater Fleece Shirt Jacket
While much heavier than regular shirts, Patagonia's Better Sweater Fleece Shirt Jacket is markedly less bulk than most premium overshirts, offering better mobility and freedom of movement while still providing ample warmth and versatility. Bluesign-approved and Fair Trade Certified-sewn, this eco-friendly offering is equipped with a sweater-knit recycled polyester fleece construction. These features are by no means unique to this particular item, as more than 80% of Patagonia's lineup is Fair Trade Certified-sewn and nearly 70% of their fabrics from this year's lineup are sourced from post-consumer recycled content.
Flint and Tinder Bedford Camp Shirt
Modeled after old-school workwear, Flint and Tinder's Bedford Camp Shirt was engineered to stand up to the rigors of daily labor. Cut, sewn, and finished in Southern California, the Bedford Shirt boasts a chest patch pocket, a double-layered collar, a back pleat intended to allow for unrestricted range of motion, and a main front closure (and wrist closures) with imprinted, western-inspired metal snaps. Despite the wildly durable nature of the corduroy-esque construction, the Bedford fabric construction has been soft-washed, resulting in the overshirt feeling thoroughly broken in right out of the packaging.
American Giant Redwood Fleece Overshirt
Another less bulky and more streamlined interpretation of a shirt jacket, American Giant's Redwood Fleece Overshirt is made in Middlesex, North Carolina from 13oz cotton using double-needle straddle-stitching and high-strength thread throughout. This lightly-textured overshirt also features a full cotton twill lining and American Giant-branded bespoke metal snaps running up the main chest closure, securing the flapped chest pockets, and at the wrists.
Buck Mason Wool Till CPO Jacket
A thoroughly top-shelf and highly versatile garment that's based on WW2 era Navy Chief Petty Officer overcoats, Buck Mason's Wool Twill CPO Jacket is almost certainly one of the nicest shirt jackets currently on the market. Its timeless exterior is made from a brushed camel wool poly blend that's equipped with a nylon ripstop construction lining that's stuffed with an insulating fill. This CPO jacket's cut features extra space in order to more comfortably accommodate underlying layers. If you plan on wearing this item alone we'd recommend considering going one size down.
Triple Aught Design Signal Field Shirt
In typical Triple Aught Design fashion, the San Francisco-based gear brand has put its signature top-shelf, tactical spin on the traditional overshirt, employing a cutting-edge Merinol-sourced wool Melton with contrast chambray overlays across the shoulders. This premium wind and weather-resistant material is reinforced in key places with DWR-treated nylon and is outfitted with metal slotted buttons equipped with TAD signature lace tape. As per usual, TAD stands behind this product with a generous lifetime warranty, should you somehow manage to survive something that the Signal Field Shirt doesn't.
Barbour Mortan Overshirt
Barbour's Mortan Overshirt achieves a light texture through the use of a twisted-yarn twill construction and is secured via a stud-front closure and equipped with one of the British brand's classic seasonal tartan plaid-pattern linings. It is worth noting that this item boasts a particularly slim cut and thus it doesn't really lend itself particularly well to having items layered under it, though there's always the option of ordering one size up (as well as the option of getting the Mortan in a navy blue color).
Pendleton Jacquard Quilted Shirt Jacket
Sporting one of Pendleton's signature USA-made virgin wool constructions and a geometric pattern inspired by the typography, and plant life indigenous to the Southwest's Sonoran Desert, the Jacquard Shirt Jacket is lined with a quilted nylon interior with diamond stitching and light insulation. Pendleton produces the Jacquard in a variety of other southwestern patterns as well as numerous solid color options. This item is admittedly on the more exorbitant end of the spectrum, though it's genuinely made to last a lifetime.
AETHER Hubble Jacket
Most overshirts are more robust versions of traditional flannels or rugged workwear-style button-ups, though AETHER took things in a novel direction with its Hubble Jacket, modeling the garment more closely after more formal business casual dress shirts than outdoor or labor-focused items. Further distinguishing it from other shirt jackets is its stretch cotton construction, a zig-zag quilted detail concealed under the collar, hidden zippered chest pockets, concealed-entry hand pockets, a shirttail hem cut, and a contrast pop-color bartack at the center-front placket hem.
Mission Workshop The Pratt
Mission Workshop's The Pratt jacket is a thoroughly technical interpretation of a chore coat, with a slim cut, DWR-finished stretch cotton construction that's woven by Textil Santanderina in Spain and produced in green camo, solid gray, and urban camo (seen above). By returning to the drawing board with a traditional overshirt, this San Francisco company has managed to deliver an even more utilitarian garment, bolstering its layering abilities, waterproofing, comfort, and, at least in our opinion, its appearance.
Filson Jac Shirt
Here we have another wildly-rugged virgin wool construction shirt jacket from an iconic American brand, that's objectively built-to-last. Remaining in constant production for more than half a century — and epitomizing the "if it ain't broke don't fix it" ethos — the Jac-Shirt is made by hand at Filson's Seatle headquarters from the brand's own ultra-heavyweight 18oz Seatle Wool, is incredibly warm, resistant to wind, and does a stellar job of insulating whether wet or dry.
Todd Snyder Italian Herringbone CPO Shirt
Like the Buck Mason item above, Todd Snyder's Italian Herringbone CPO shirt is modeled after antique naval overshirts and bestowed with TS's signature top-shelf touches. Made in Portugal and boasting a slim fit, the jacket is made from a double-layered cotton wool blend with contrasting interior and exterior colors, two button-secured flapped chest pockets, Melamine buttons throughout, and genuine Italian calfskin suede oval overlays across the elbows. Double-needle stitching at the seams affords added durability and bolsters this item's shelf-life.
Freenote Cloth Benson Cream Overshirt
If one were to design a completely bespoke, spare-no-expense flannel overshirt, it would almost certainly look a whole lot like Freenote Cloth's Benson Cream model. The garment is made in America using wide-gauge double-needle stitching from an 11oz brushed plaid that was custom made for FC in Japan. All the buttons are custom-made horn items, as are the labels which are also USA-made. It might look like a lot of other overshirts, but upon wearing this item — or really even feeling it — it becomes abundantly clear why it carries the MSRP that it does.
The 15 Best Quilted Jackets For Men
Want to check out another hand-picked selection of men's wardrobe staples? Then be sure to head over to our guide to the best quilted jackets for more than a dozen of today's best stitched and baffled coats.
HiConsumption is reader-supported. When you buy through links on our site, we may earn an affiliate commission. Learn more