Presented by
We've all got friends or family with a proclivity for hiking, camping, and/or the great outdoors. Come the holiday season, it can be difficult to shop for this group of people without spending an arm and a leg, as quality outdoor gear — which has to stand up to the rigors and abuses of nature — seldom comes cheap. Fortunately, if you know where to look, there happens to be a surprisingly wide range of high-end items that can be picked up for a reasonable sum. And it's this selection of accessibly-priced offerings that we'll be highlighting today in this guide to the best outdoor gifts for under $50.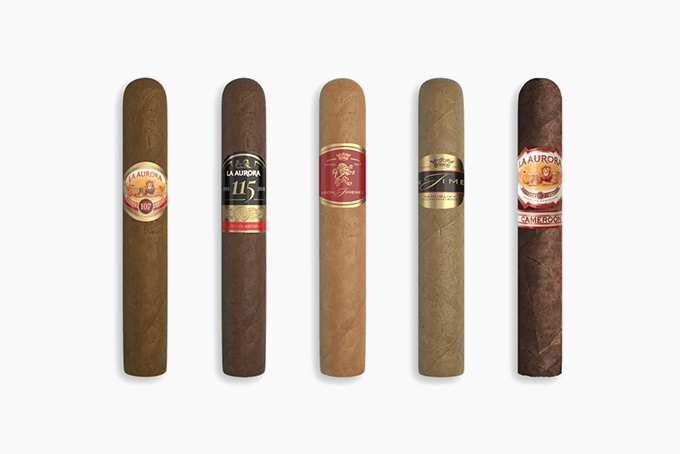 La Aurora Cigar Sampler Pack
Perfect for dipping your toes into the world of cigars, this sampler pack of La Aurora's best-selling stogies boasts a diverse collection of sticks, ranging from mellow to bold. Comprised of five cigars in total, the sampler pack includes La Aurora's 107 Ecuador Robusto, León Jimenes Prestige Robusto, Cameroon 1903 Robusto, 115th Anniversary Robusto, and León Jimenes Connecticut Robusto.
Lifestraw Water Filter
Weighing only 2oz, the LifeStraw survival water filter uses a 0.2-micron, hollow-fiber membrane filter that can remove 99.9999% of all bacteria, and do so effectively for a whopping 1,000-liters (or 264-gallons).
Filson Ballard Watch Cap
Decorated with the heritage brand's signature logo patch, Filson's Ballard Watch Cap is a warm cuffed beanie that's knit from a quick-drying, itch-free acrylic. Capable of insulating whether dry or wet, this beanie is also produced in eight different color options.
MecArmy CMP-2 Keychain Compass
Constructed around a precision-machined brass housing that utilizes a special encapsulation technology, the MecArmy CMP-2 Keychain Compass is an ultra-rugged little directional tool that's IPX5-rated and comes paired with a beaded chain. This trusty little compass is also offered in a version with a titanium case.
Rite In The Rain Hard Cover Book
Made in America, this hardcover book from Rite In The Rain is comprised of 160 8.25" x 11" case-bound pages set between a Fabrikoid cover. As the company's name suggests, these notebooks can be used in light rain.
BRK Churp Knife
Spanning 6.25" when open, the BRK Churp Knife is a pocketable liner-locking folder with a 2.75" spear point blade made from D2 steel that's been paired with a stainless steel frame adorned in brown Micarta scales.
AeroPress Go Travel Coffee Press
Allowing you to serve up Americano, espresso, and cold brew-style coffee while on the go or off the grid, the AeroPress Go is a travel coffee press that brews up 1-3 cups of hot coffee in only a minute — or roughly two minutes for cold brew.
Olight i5R EOS EDC Flashlight
Olight's i5R EOS EDC Flashlight is an ultra-compact torch that packs 350 lumens in a 2.2oz package. Boasting a 64-meter throw, this flashlight features multiple power modes and a potent 14,500 lithium-ion battery. This model is also produced in a variety of colors and patterns, as well as a titanium version.
Prometheus Design Werx Ti-Fire Steel Mk2
Sold in a special PDW tin, the Ti-Fire Steel Mk2 is a thoroughly top-shelf Ferro rod that features a handle with a "pineapple" grip pattern that's machined from 6AL-4V titanium billet. This fire-starting tool also packs a lanyard hole and an O-ring-secured, watertight storage compartment.
Topo Designs Mini Quick Pack
When headed out for a quick day hike, sling and waist packs present a stellar alternative to full-sized trail backpacks, and this sub-$50 item from Topo Designs is crafted from ripstop nylon and boasts 61 cubic inches of storage space. This bag is also sold in a trio of color options.
ALPS Mountaineering Ventura Waterproof Blanket
Made from a heavily water-resistant fleece lined with a durable nylon bottom, ALPS Mountaineering's Ventura Waterproof Blanket is a hardwearing camp blanket that offers ample warmth in a lightweight package, tipping the scales at only 35oz (or 2.18lbs).
Estwing Camper's Axe
Big enough for wood-splitting duties while compact enough to easily be stored in or strapped to a backpack, the Estwing Camper's Axe is a 16" item that's made in America, hand-sharpened and polished, and outfitted with a forged tool-grade steel construction.
Leatherman Bond Multi-Tool
Backed by a generous quarter-century warranty, Leatherman's Bond is an American-made multi-tool that is equipped with more than a dozen essential functions including needlenose and regular pliers, hardwire cutters, wood and metal files, an awl with thread loops, can and bottle openers, a Phillips screwdriver, and a locking 420HC steel knife.
Matador Transit30 Packable Duffel
Whether used as a primary bag or a supplementary vessel for stashing dirty clothes or gear, Matador's Transit30 Packable Duffel is a packable bag that's made from 30-denier CORDURA ripstop nylon and affords a full 3-liters of storage space — all while weighing in at just 5oz (or 0.31lbs).
REI Co-op Groundbreaker Fleece Jacket 2.0
A wonderful base or mid-layer, the REI Co-op Groundbreaker Fleece Jacket 2.0 is a cozy polyester garment that's both warm and extremely lightweight. Boasting a 28.5" back length, this fleece is also currently being offered in four different color options.
Zippo Black HeatBank 9s Rechargeable Hand Warmer
Equipped with a potent 5,200mAh lithium-ion battery, Zippo's HeatBank 9s is a rechargeable hand-warmer with dual-sided heating elements that can operate at up to 120°F. In addition to offering up to 9 hours of run time, the battery in this gadget can also be used as a mobile power bank to charge other devices.
The Wishlist: 20 Best Gifts for The Outdoorsman
Still on the hunt for more outdoor goods? Then have a look at our guide to the best gifts for the outdoorsman, where you'll find 20 more items that will help you get away.