By the time that we stop depending on our mother to do our clothing shopping, we've got a pretty good idea of what it is that we like — or rather, what it is that we find acceptable, essential, and interesting. Mom's horribly-informed style sense aside, we conform to the state of men's fashion by focusing on what it is that other guys are wearing, understanding what works with each different garment, and educating ourselves — visually, or otherwise — on the intricacies of the male wardrobe. While we might not have as many different options at the ladies out there, we're set when it comes to the basics of everyday style. But sometimes, what's basic, and what isn't, isn't always cut and dry.
Since we understand that the waters of essential menswear might be a bit murky, we've decided to buckle down, lace-up, and put our figurative nose to the grindstone to find what it is that makes the world of basic garments tick. We've scoured the internet for our favorite subtle pieces, honed in on a few of our favorite brands, and went out of our way to achieve some kind of structured evaluation of the genre so that we could present what we believe is the perfect basis for understanding menswear basics. Below, we'll highlight four of the most prominent pieces of our wardrobe, including outerwear, base layers, pants, and footwear, for an in-depth look at the styles/silhouettes that you need to know, right now. Without further adieu, let's begin.
Outerwear
Weather The Storm
Levi's Vintage Sherpa Trucker Jacket
As guys, we place a huge emphasis on the reputation of our clothing, especially when it comes to outerwear. Since Levis' denim-clad products have been around for generations of time-tested use, it goes without saying that virtually every aspect of their lineup — from t-shirts and accessories, all the way to brand staples like jeans and jackets — is ready to elevate your stylish ensemble to the utmost extent. Such is the case with the Sherpa Trucker jacket, a refined essential crafted from 100% cotton, and calling upon a comfortable sherpa lining, a heritage-inspired button closure, and that perfect wearable length for multi-season versatility.
Barbour Ashby Waxed Jacket
Barbour's timeless outerwear offerings are in the same boat as Levi's, and like the aforementioned Sherpa Jacket, there's no shortage of time-tested reviews surrounding the brand's lauded wax variants. The Ashby is, perhaps, one of Barbour's most interesting models, calling upon a suite of awesome traits and aesthetic qualities that make it one of the finest around. Wearers will find that its weatherproof matte finish and six-ounce Sylkoil waxed cotton construction are both formidable enough to take on the most stubborn environments, but if things get out of hand, an optional zip-in liner can also be used to give the jacket an entirely new set of capabilities. To round things out, a Tartan lining, nylon drip strip, and large handwarmer/bellows pockets provide exceptional storage areas for your most-used accessories.
Purchase: $258
Club Monaco Double-Breasted Wool-Blend Peacoat
There's hardly a garment as iconic as the peacoat, and while many companies go out of their way to mimic the timeless style piece's most recognizable traits, few do it as well as Club Monaco. The brand's Double-breasted Wool-blend Peacoat is an insulated, wool-blend example that holds true to the smart design of its progenitor, while adding a fully-lined interior to make donning and doffing a breeze. If you're in the market for a more fashion-forward essential that's as versatile and refined as they come, look no further.
Schott NYC Lightweight Cowhide Flight Jacket
Schott NYC's Lightweight Cowhide Flight Jacket might just be the most recognizable item on this list, and for good reason. The influential brand has created some of the greatest outerwear garments of all time, and their famous moto/flight variants are known the world over, thanks to their unparalleled construction, handsome aesthetic, and iconic pedigree. Each cowhide jacket boasts a fancy front zip closure, dual-entry front pockets, and a knit bottom/cuff that give it a feeling of true nostalgia. But don't let that deter you from buying it for your more contemporary wardrobe — it's equally as viable today as it was during the golden era of leather.
Burberry Westminster Heritage Trench Coat
Burberry's Westminster Heritage Trench might be a bit dressy for your tastes, but since the mixture of high-end style and urban outerwear has become so prominent, this handsome coat might just be the adhesive that holds your entire wardrobe together. Inspired by the original gabardine crafted by Thomas Burberry all the way back in 1879, this one-of-a-kind garment features a double-breasted opening, buttoned epaulets, and a buckled belt for good measure, helping it to stand strong alongside the genre's historically-rooted examples.
Shirts
The Functional Base Layer
Sunspel Pima Cotton-Jersey T-Shirt
Sometimes, an essential style piece might be overly complex. Other times, it might be the simplest garment you can imagine. The white t-shirt is undeniably iconic, and every guy needs one, but traditional offerings can get a bit stale. That's where Sunspel's Pima Cotton-Jersey tee comes in. This lightweight, easy-handle garment promotes the all-around versatility of a plain white tee, but offers exceptional stretchiness, comfort, and conformability, thanks to its UK-crafted Pima Cotton composition.
Tedd Baker Glampin SS Leaf Print Shirt
Ted Baker's Glampin SS Leaf Print Shirt isn't just a button-up — it's a button-up with some of the most intricate floral/foliage-inspired design that we've seen in quite some time. But it certainly doesn't dwell on the fact that it's a fun-loving shirt. Instead, it takes on the role of a dressy, smart counterpart to your wardrobe's more serious offerings, thanks to its subtle detailing, comfortable cotton/elastane fabric, and cleanly-tailored lines that push the boundaries of visual button-ups.
Taylor Stitch 'The Jack'
Taylor Stitch's 'The Jack' is a testament to timeless menswear. The midweight button-up isn't a new offering in the company's long-running list of amazing outerwear pieces, but there's no need to fix what isn't broken. Instead, they've boring an organic cotton waffle cloth into play, ditching the shirt's original fabric for something a bit more unique. As a result, this British Khaki-colored example boasts amazing textures, contrasting linework, and a natural-looking earth tone that works well with a variety of alternative colors. But it's not all aesthetic. The waffle weave also helps to keep its wearer warmer than other fabrics, thanks to its increased surface area, efficient air circulation, and heavy drape.
The Real McCoys 10oz Loopwheel Crew Sweater
No guy's closet is complete without a great-looking sweater to fall back on, but with so many different styles, types, and fabrics to fall back on, how's one supposed to know what's what? Luckily, The Realm McCoys has been making sweatshirts for longer than some of us have been around, so they know a thing or two about the recreation of iconic mainstay garments from the past. The brand's 10oz Loopwheel Crew is one such offering, boasting a timeless crewneck silhouette, ample ribbing, and a sport-inspired V-insert for increased heritage-focused legitimacy. And with an ultra-comfortable Japanese Loopwheel cotton at its beck and call, you'll never have to worry about itching or scratching.
John Smedley Belper Slim-Fit Merino Wool Polo
John Smedley's Belper Slim-Fit Merino Wool Polo is a modern take on one of the genre's most iconic shirt styles. Not only does it bring a smooth and lightweight merino wool to the table for interested buyers, but it also prides itself on its absorbent, insulating fabric — a specialized textile sourced directly from the wilds of New Zealand. While most polos find themselves a bit underutilized due to their inability to adapt, the Belper shines, thanks to its semi-fitted shape, roomy composure, and comfortable knit, allowing it to easily fit over other shirts without putting up too much of a fight.
Pants
Building The Right Foundation
KOTN Pleated Pants
Pleated pants went out in the 90s, but now, they're back — and better than ever, might we add. Not every company can pull them off, but KOTN's Pleated variants seem to meet our criteria quite well, thanks to their retro inspiration, gabardine fabric, and hand-sourced components. Not only are these pants durable and ready for a day in the urban jungle, but they're also able to take on the role of a more formal style piece, thanks to their unique design and aesthetic. If you're looking for something a bit more versatile than a normal pleated pant, and want your garment to pull double-duty, this is an attractive choice.
Buck Mason Vintage Canvas 5-Pocket Chino
Buck Mason might as well be a concrete inclusion on any list that we put out, but can you blame us? The brand has endless amounts of clout within the world of heritage-inspired menswear, and now that they've introduced these Vintage Canvas 5-Pocket Chinos, we're down for the cause. To bridge the gap between the jean and the more urban-adapted chino style, Buck Mason has introduced a unique vintage canvas cotton construction, a slight taper at the knees, and the perfect rollable cuff to create a hybrid of the two. These aren't as durable and heavy as denim, but when it comes to hard-wearing fabrics that feel comfortable, lightweight, and airy, these are our go-to garments.
Rhone Commuter Pant
Rhone wanted to build something a bit more innovative when it created the Commuter Pant, and if you're asking for our opinion on the matter, we'd say that they've succeeded. Originally, the Commuter made waves within the industry upon its release, thanks to its versatility, readiness, and adept nature, but since the pant has been upgraded, it's amplified all of those traits and set a standard for other technical legwear offerings. Each pair is crafted from comfortable Flex-Knit™ fabric and features a reinforced gusset, media pocket, and security zipper for added effect. Plus, for the new version, Rhone has implemented a new streamlined leg and color-matched Captain's Stitch for an all-around aesthetic upgrade.
Folk Drawcord Trouser
Folk's Drawcord Trouser is probably the most relaxed pant on our list, but don't let that fool you. Since this straight-leg offering boasts a slimmer fit than normal, it can be utilized like a normal pant, without anyone realizing that you've essentially just worn a leisurely leg-piece to the semi-formal company get-together. Each example features a 100% cotton construction to keep it lightweight and comfortable, while a metallic finished drawcord and folded outer leg seam help to bridge the gap between an urban style staple and something a bit more refined.
Freenote Cloth Avila
Freenote Cloth's Avila denim is a great example of an American-made garment that utilizes one of the genre's most premium textiles. Each pair boasts a great-looking flat-felled seam, custom riveting, and button tacks, as well a customized leather patch sourced from Red Wing's lauded heritage leather. But what makes the Avila truly special is the admittance of its high-end 14.5-ounce Japanese denim, which has been sourced directly from the legendary folks at Kaihara Mills, in Japan.
Footwear
Stand Your Ground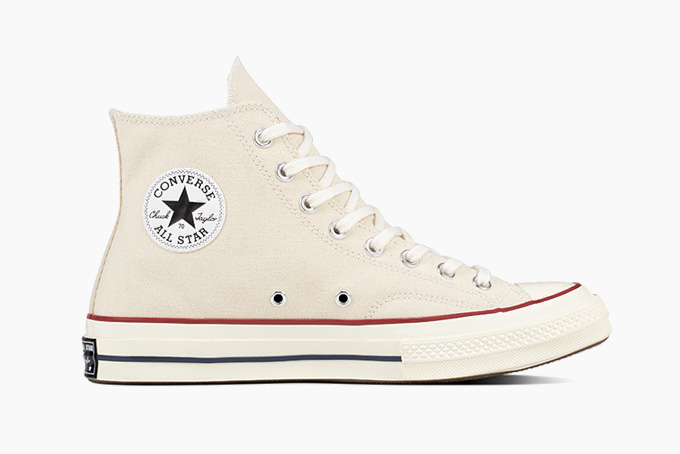 Converse Chuck Taylor All Star '70s High Top Sneaker
Converse's Chuck Taylor might as well be a mandatory style piece for every guy out there, punishable by extensive public shaming. If you've never owned a pair, now's a perfect time, especially since the retro style has seen a dramatic increase in cultural popularity within the past five years. Luckily, the newest variants stay surprisingly true to their original design, boasting a high-top, lace-up persona, durable canvas upper, and medial eyelets that allow for adequate airflow throughout the day. There are some new quality-of-life features, however, including an OrthoLite insole for additional cushioning and comfort as you take on the urban environment.
TRETORN Men's Nyliteplus Sneaker
Tretorn's Men's Nyliteplus Sneaker has graced more than a few of our footwear guides, and for good reason. Not only is this classic sneaker a relaxed, minimalistic essential that can be utilized alongside virtually any garment, it's also one of the only muted mainstays that provides above-average comfort, durability, and versatility at such an amazing price point. Each example is crafted with a 100% textile upper, synthetic sole, and canvas accents, helping it to retain its lightweight persona, without compromising the shoe's overall aesthetic.
Red Wing Iron Ranger Boot
Red Wing's Iron Ranger Boot is a must-have for any footwear-loving guy, but its reputation isn't rooted entirely in its good looks. It's also one of the most formidable models around, thanks to the company's revered 100% leather construction, American-made craftsmanship, and a Vibram 430 mini-lug outsole that provides adequate grip on any surface you might come in contact with. To round things out, nickel eyelets/hooks and a nitrile-cork outsole provide a heritage-inspired feeling that you just can't find in many other high-end boot offerings.
Frye Bowery Chelsea Boot
Frye's Bowery Chelsea Boot is likely the most fashion-forward boot on this list, due to its commitment to authenticity. Naturally, the Chelsea prides itself on refinement, allowing it to be used alongside various different styles of clothing and accessories, whether they be formal, functional, or something in between. Since Frye has been around for quite a while, they've perfected the art of stylish bootmaking — something that's been proven even further through the implementation of a premium Goodyear welt, leather/rubber outsole, and a distressed construction that's been handcrafted from the finest suede available.
Church's Shannon Polished Binder Derby
If you're looking for an iconic piece of footwear that'll help you capture the attention of anyone in the vicinity, Church's Shannon Polished Binder Derby will do that for you. They're stylish, they're supplementary, and they're ready for a night on the town, thanks to their classic English silhouette, leather construction, almond toe, and lace-up fastening. But if you're feeling a bit more cheeky and want to walk a few blocks to your favorite pub, they've also got a hard-wearing rubber sole with more than enough traction to see you there and back safely.
The 10 Men's Basics Brands You Should Know
Now that you're up-to-date on the state of basic pieces of essential menswear, head over to our guide on the men's basics brands that you should know — where we dive a bit deeper into the genre's most recognizable catalogs.