With the holiday season fast approaching, it's time to start assembling your collection of gifts for friends and family, and while big-ticket items tend to be what most shoppers focus on, it's important not to overlook the smaller stuff. Whether supplementing a larger gift or being used as a simple expression of appreciation and gratitude toward an acquaintance or co-worker, so-called stocking stuffers are a great way to show you care, whether you've got $20 to spend or $2,000.
With countless items available, knowing where to start can feel like a pretty tall order. So to save you some time — and headache — we've compiled this handy list of the 50 best stocking stuffers for men. The entries on this list will be limited to gifts that can fit inside of a literal stocking. Aside from that, however, we've tried to keep this countdown diverse – both in terms of the selection of goods and pricing.
Bicycle Architectural Playing Cards
A fun take on traditional playing cards, this 54-card Bicycle deck celebrates "architectural wonders of the world" with dozens of beautiful images of iconic buildings and structures. Sold in a special embossed and foil package, this one makes a great gift for all ages.
Field Notes National Park Notebooks
Four new collections from Field Notes paying homage to America's National Parks like Yosemite, Zion, The Grand Canyon, Joshua Tree, and Yellowstone — just to name a few. Each of the 3.5" X 5.5" notebooks contains 48 pages bound via copper staples and is decorated in unique illustrations. Five-percent of the sales are being donated to the National Parks Service, too.
Soto Pocket Torch
This pocket-sized gadget transforms your run-of-the-mill disposable (rectangular, NON-Bic) lighter into a wind-resistant, butane-style torch that reaches up to 2,300 degrees F. Made in Japan, the Soto Pocket Torch increases the life of a lighter by around 60%, which translates to up to 20-minutes of burn time.
Kershaw Kickflip Skate Tool
Designed by skateboarding legend Chris Cole, this skate tool reimagines the classic T-tool in a more compact, EDC-friendly form. Weighing less than 0.25lbs, this handy little tool boasts a kingpin, small nut, and axle nuts wrenches, plus a hex key and Phillips head; which is everything needed to keep your trucks and hardware tight.
Sawyer Products Micro Squeeze Water Filtration System
This highly-compact micron H20 filter transforms freshwater from lakes or rivers into clean, potable drinking water without the use of any batteries of chemicals. Rated for up to 100,000 gallons of use, this ace little apparatus removes some 99.99% of all bacteria and protozoa — making it a must-have for backwoods and hiking enthusiasts alike. This one is a literal life-saver.
Izola Hip Flask
At just 4" tall and 3.5" wide, this stainless steel flask from Izola fits in just about any pocket, making it the perfect spirit cell to add to your EDC loadout. Your drink of choice is kept safely inside the flask's 5oz reservoir thanks to a leakproof screw-top closure.
Gerber ComplEAT Camp Cooking Tool
This cleverly-designed camping utensil kit includes everything you need to prepare and eat fireside meals. Perfect for backpackers and campers with a weight of under 2.5 ounces, this set includes a multi-tool, dual-sided spatula, fork, and spoon — the latter two of which can be combined to make a set of tongs. Brilliant.
MecArmy CMP-2 Keychain Compass
No outdoorsman's kit is complete without a trusty compass, and this black PVD-coated specimen is about as trusty as it gets. Machined from billet titanium, this half-ounce waterproof directional tool boasts an antimagnetic bearing and glows in the dark for up to six hours.
Drinks By The Dram: Japanese Whiskey Tasting Set
A curated selection of Whiskeys from some of Japan's most renowned distilleries, this collection contains five 1.7oz samples, wildly ranging in nose, taste, and body. A fantastic introduction to whiskey from the land of the rising sun that's sure to get any Bourbon or Single Malt enthusiast to reconsider their drink of choice.
Victorinox Swiss Army SwissCard Lite
Weighing less than 1oz and boasting 13-built-in tools — including an LED light, knife, ball-point pen, tweezers, screw drivers, scissors, and more – the SwissCard packs the amenities of classic Swiss Army Knives into a credit card-sized item that easily fits in a wallet's card slot.
Keysmart Key Holder Titanium Edition
A replacement for the traditional loud and poke-prone key-ring, this American-made key organizer accommodates anywhere from two to eight keys. This particular version boasts full titanium construction with stainless steel hardware, making it not just a great gift for just about anybody, but also one that is sure to last a lifetime.
Tile Sticker
Never lose your keys, phone, wallet, or any other small items ever again, with the Tile Bluetooth tracker. Fully waterproof and packing a battery with a three-year lifespan, this tech little Tile offers a 150-foot Bluetooth range and is a stellar example of how modern technology is making our lives easier.
Elastic Precision 9mm Rubber Band Gun
Made from durable Maple wood and modeled after the oh-so-iconic 9mm Glock 19, this nifty little toy is capable of firing rubber bands up to 20-feet. This charming made in America toy employs a single stacked semi-automatic setup with a 7-band capacity.
WESN Quick Release Titanium keychain
Deploy individual keys at the press of a button with WESN's Quick Release Titanium keychain. Precision-machined from heat-treated titanium, this is about as rugged as a keychain can get, and it just happens to look the business, too.
Matador Droplet XL Dry Bag
Schlepping around wet clothes has never been easier thanks to this ultra-compact dry sack from Matador. The item consists of a waterproof 20-liter bag with a Hypalon roll-top closure, that folds up and stows away inside a silicone container that comes with a convenient aluminum carabiner.
Bellroy Key Cover
Another alternative to the classic keyring, Bellroy's bifold-style leather case accommodates anyway from two to four keys and a sports magnetic closure, contrast stitching, and a razor-thin design. Whether you'e looking to class up your daily kit or just put an end to that incessant jingling, it's hard to go wrong with this one.
Craighill Wave Money Clip
Made from 303 stainless steel with a muted dull-polished finished, this unique money-clip puts a unique spin on the classic bill-holder. Made in Pennsylvania, the Wave is offered in carbon black and brushed steel variants, and can hold an irresponsible amount of bills.
Dango Coin Capsule + Tether
CNC-machined from anodized 6061 aluminum, this unique little coin valet stores more than 40 pennies, dimes, nickels, or quarters, all of which can be easily accessed on the fly thanks to the twist-top design. The device is also paired with a stainless steel belt clip and 6-inch paracord.
The James Brand Stiltwell Pen
A solid and compact aluminum twist-off ball-point pen offered in black or silver with a brushed finish, this 3.5" pen opens into a full-sized writing instrument, making it a stellar candidate for daily carry.
MecArmy TR25 Tritium Glow Bar
With a TC4 titanium alloy case that boasts a trio of polycarbonate view-ports, this glowing tritium core keychain provides a surprising amount of light — and a dash of color (red, green, or blue) — for a full quarter-of-a-century. Weighing only 5-grams, the TR25 Glow Bar is waterproof at up to 100m and impact resistant at up to 2.
Nomad Modern Strap for Apple Watch
Add a touch of old-world elegance to your Apple Watch with this brown American Horween leather strap. Complimented by matte black stainless steel hardware, the leather is known to take on a charming worn patina to it. Compatible with Series 1 through 4 Apple Watches.
Filson Howling Wolf Bottle Opener
Rustic and characterful, this handcrafted Howling Wolf bottle opener is hand-forged from solid iron — in limited numbers — by an expert Washington-based blacksmith exclusively for Filson. Due to its handmade nature, each sample possesses its own unique qualities and imperfections. Truly, this is wabi-sabi at its finest.
Big Idea Design 10-In-1 Titanium Pocket Tool
Composed of top-shelf, aerospace-grade titanium, this pint-sized pocket tool packs a myriad of functionalities including multiple screwdrivers, a bottle opener, 1/4" hex bit opening, a scraper/pry-bar, and some 15 different sockets in a variety of common SAE and metric sizes. The tool is also sold with a leather sheath and a 550 paracord lanyard.
FourSevens Mini Turbo MKIII Flashlight
Despite measuring less than 2.5" in length and weighing under 2oz's, this hard-anodized aluminum-bodied flashlight packs quite the punch, throwing out up to 700 lumens with a 200m beam distance. The compact torch also boasts half-a-dozen format settings and a potent RCR123 high-discharge lithium-ion battery.
Mininch Tool Pen Mini
Constructed from 6061 aluminum, this pen-sized pocket tool includes some 22 different bits (Torx/Star, hex, slotted, Phillips, pentalobe) — five of which the pen itself can accommodate while the rest conveniently stow away in the included carrying case.
Handgrey HG Titanium Carabiner
A contemporary stylized take on the classic carabiner, this supplementary piece of gear is made from high-grade titanium and boasts several integrated functionalities. Weighing less than a tenth of an ounce, this sturdy clip comes in a stone-tumbled finish and is emblazoned with the independent design studio's name and logo.
MecArmy EK12 Titanium Keychain Utility Knife
A unique and novel approach to traditional utility knives, the EK12 is made from titanium with a sand-blasted finish, measures approximately two-inches, and tips the scales at under half-an-ounce. The lockable sliding X-ACTO-style blade is nestled between a pair of glow bars on both sides, and a 4mm hex wrench slot doubles as a lanyard hole.
Victorinox Swiss Army Swisschamp Knife
The legendary Swiss Army knife, albeit, shrouded between genuine walnut woodgrain handles. This sophisticated take on the world-famous Victorinox tool still boasts 33 built-in functions, including a corkscrew, straight and serrated knives, file, scissors, pliers, metric/imperial ruler, bottle opener, flat and Phillips head screwdrivers, and much, much more.
Peak LED Solutions Eiger Ultra X Flashlight
Despite looking like your run-of-the-mill pocket torch, the Eiger Ultra X is in fact one of the best single-battery-powered beams that money can buy. Highly-resistant to both impacts and water, this American-made light features a Cree XPG LED emitter — that's 50% brighter than the standard Eiger — hidden behind an unbreakable, scratch-resistant polycarbonate lens. Powered by a rechargeable 10440 Lithium-Ion battery, this flashlight affords an unrivaled lumen output to battery life ratio. The special edition copper construction is just the icing on this already very bright cake.
Trayvax Contour Wallet
Precision-machined from stainless steel and PVD-coated for increased durability, this modern iteration of a wallet can simultaneously accommodate more than a dozen cards and 10 bills, while also sporting an integrated bottle-opener, Torx wrench, and lanyard attachment point. This 4-ounce USA-made item is built to last — and as such comes with a full lifetime "heirloom" warranty.
BRNLY Slingpop Pocket Slingshot
Built in the USA and composed of 6061-T6 anodized aluminum, this robust wrist-rocket is more potent than you might think. Sold with two thick rubber bands with leather pads and ample ammo in the form of 50 X 5mm ball bearings, relive the rambunctious days from your childhood or just take out some vermin on your property with the BRNLY Slingpop.
Pappy Van Winkle Barrel Fermented Cigars
Hand-rolled in small batches on the Drew Estate in Nicaragua, these barrel-fermented cigars are known all over the world for their rich and unique flavor and aroma. Offered in boxes of ten, these "Robusto" 100% long-filler cigars are of the "Medium Plus" variety, making them ideal for seasoned smokers and novice cigar enthusiasts alike.
Clockwork GameShell Portable Game Console
For those that grew up on Gameboys and Gamegears, we present the world's first modular, mobile gaming console containing a GNU/LINUX-embedded operating system, enabling the device to play a slew of iconic retro games from systems like the Atari, NES, PS1, and many, many more.
The Carry On Cocktail Kit Holiday Set 6-Pack
This collection of all-inclusive cocktail kits comes with everything needed to make two-servings of half-a-dozen different drinks, including the Moscow Mule, Bloody Marry, Hot Toddy, and more. As the name suggests; these are TSA-compliant, too.
Leatherman Charge+ TTI Multi-Tool
The classic Leatherman multi-tool, bestowed with titanium handle scales and 19 different locking tools, including several replaceable items. Weighing approximately half-a-pound, this EDC item was designed to be operated with one hand and is sold with a 25-year guarantee from the manufacturer.
Silver Piston Hobo Nickel Zippo Lighter
The legendary American lighter, decked out in a brushed brass finish and accented by a hobo nickel that's been hand-carved by Shane Hunter. The oxidized treatment gives the lighter a patina and, therefore, a timeless quality that the average Zippo can't hold a flame to.
goTenna Mesh Off-Grid SMS & GPS Devices
This trick little gadget enables Android and iOS phones to be paired in order to relay texts and GPS locations while off the grid. Boasting end-to-end encryption, this is a must-have for anyone who spends extensive time in the bush. This item also pairs fantastically with a solar USB charger.
Filson Weatherproof Leather Trucker Wallet
Made in America and backed by a lifetime guarantee, this classic wallet design is constructed from proprietary boot-grade weatherproof leather and is secured via custom-finished YKK Filson snap buttons and complemented via a custom solid sand-casted brass chain. With a main zippered compartment paired with a single quick-access card slot, this Gallantry-exclusive exudes quality in typical Filson fashion.
Dango T02 Titanium Tactical Bifold Wallet
Built around a CNC-machined titanium chassis, outfitted with military-spec hardware, and draped in top-grain leather, this modernized bifold boasts a silicone cash strap, a trio of internal card slots, plus room for an additional baker's dozen cards. Additional amenities include RFID-blocking, an integrated bottle opener, and a removable TSA-compliant, 14-function multi-tool.
Tactile Turn Zirconium Bolt Action Short Pen
With its unique arching bolt-acton deployment and Zirconium construction, this compact EDC writing utensil can best be described as something of a "Bullpup" pen. Measuring approximately 5" long and weighing just 1.6oz's, this dependable writer is offered with a Schmidt Easy low 9000 cartridge and is compatible with all Parker-style pen refills.
Apple AirPods Pro
Freshly released by the Silicon Valley powerhouse, the AirPod Pro is Apple's latest in headphone technology, yielding stunning sound quality in a highly-compact package. The wireless pods boast active noise cancelation, are sweat and water resistant, and come in a quick-charging case. Apple is also currently offering free custom engraving with the purchase of a pair, too.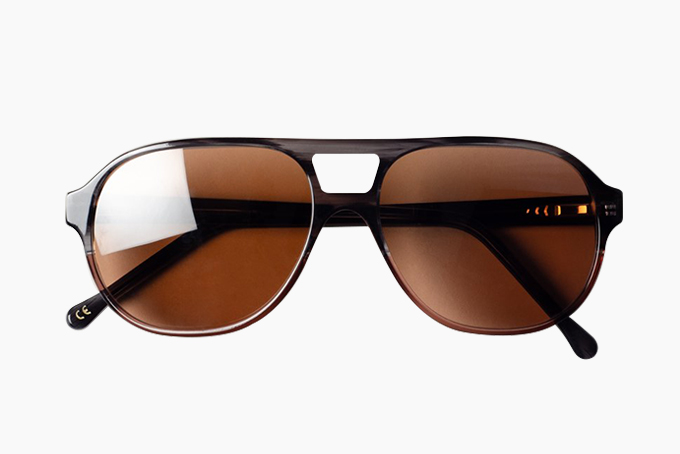 Hardgraft Sienna Sunglasses & Case
These elegant Italian glasses sport an upscale retro-vibe while utilizing the latest and greatest in eyewear technology. Features include shock-resistant, anti-scratch, and anti-static components, plus Amber-tinted lenses to mitigate eye fatigue. Look good while looking good.
DJI Spark Portable Mini Drone
This highly-compact, high-tech mini drone from DJI offers intelligent flight modes and a high-performance camera backed up by a stabilizing dual-axis Gimbal. The quad-copter propeller arrangement affords powerful propulsion for class-leading maneuverability, too. Whether you're looking to record professional-quality video, or just want a birds-eye-view of your neighborhood, you really can't go wrong with this one.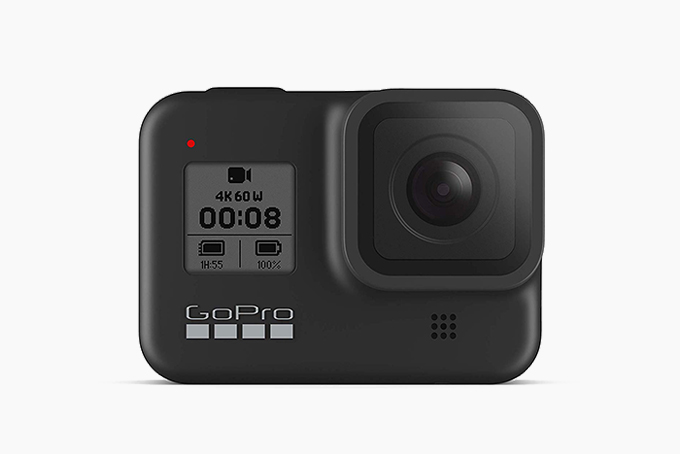 GoPro HERO8 Black
The latest offering from the world's biggest action camera company, the HERO8 Black comes loaded with features to make capturing your next adventure a breeze. Offering three levels of stabilization, the ability to record time-lapses, and a lens that is twice as durable as the outgoing model, the near-indestructible HERO8 Black truly is the pinnacle of the action cam world.
Lacie Rugged SSD Pro 1TB
A professional-grade Solid State drive from one of the leaders in digital storage space solutions, the Lacie Rugged SSD — like its name implies — was engineered to go to hell and back without your data being compromised. Incredibly-resistant to impacts and fully-weatherproof, this is without a doubt one of the most hardwearing external hard drives on the market today.
Chris Reeves Knifes Sebenza 31 Plain
The idea behind this unassuming folder was to deliver the world's best pocket knife, and it shows. At the business-end is a CPM S35VN Stonewashed Drop Point Blade paired with Reeve's integral lock with ceramic ball interface which affords smooth and effortless deployment while at the same time preventing accidental openings. The overall quality, craftsmanship, and fit and finish this classy folder possesses is damn-near unparalleled in the modern knife world.
Benchmade 1500-191 Cigar Cutter
From one of the world's most trusted names in knives comes this beautiful chisel-ground/guillotine-style cigar-cutter. Offering a CPM-S90V blade with a stonewashed finish, paired with Raffir® Noble Black Waves handles, and the company's patented auto-axis release system, each unit of this Bencmade item is assembled by hand before undergoing a rigorous quality control phase in order to deliver on a truly world-class cigar cutter.
Timex American Documents Watch
Inspired by Timex's 1854 stamped brass clocks, this gorgeous and minimalistic watch is built around a 41mm stainless case housing a black dial, Gold-plated Swiss Quartz analogue movement, and an "Aged Waterbury Brass" case back coin and crown insert. While it's undeniably a great time-piece, it makes for an even greater gift, coming in a hand-rubbed Cherrywood box with magnetic closure and brass hinges.
Astell&Kern Kann Cube
For diehard audiophiles who will accept nothing less than the very best, your average iPod or MP3 player simply isn't up to snuff, which is where the mighty Kann Cube comes into play. Designed to deliver uncompromising, studio-level sound in the palm of your hand, the Cube is the creme-de-la-creme of mobile audio devices, made all the more impressive by its sleek industrial design, 5-inch screen, five-pin mini XLR output, and built-in memory space.
Garmin MARQ Commander Tactical Smartwatch
Meet today's ultimate tactical luxury smart watch, with its DLC-coated titanium bezel paired with a tritone jacquard-weave strap. The cutting-edge display offers dual-format GPS, built-in topographical maps, plus a slew of other features we've come to expect on modern smart watches such as connectivity to various music apps, Garmin Pay, and a wide array of smart device notifications.
The 50 Best Gifts For Men Under $50
If you don't need to keep the gifts small, but your budget hasn't changed, then you might be interested in checking out our guide to the best gifts under $50 for the upcoming holiday season.