Whether you're a fashion-forward enthusiast or a guy who's just looking for his next pair of shoes, we all have one thing in common: we love a set of classic, dependable sneakers. But, unless you've been living under a rock for the past decade, you've likely taken notice of the rising prices of today's most prolific silhouettes — largely due to the popularization and subsequent commoditization of their retro and vintage stylings. It might be harder than ever to choose where to spend your hard-earned paycheck these days; but, thankfully, it's also a little bit easier to find affordable options that look and feel heavenly, without breaking the bank.
It's true that over the past decade, prices on our favorite sneaker styles have risen dramatically. However, if you're looking for a pair of dependable head-turners at an affordable price, there's still a ton of options out there, especially in the realm of vintage classics. Here, we'll outline some of our favorite examples; from household names like Nike and Adidas, all the way to lesser-known juggernauts like Superga and SeaVees, we're about to open your eyes to some of the most aesthetically-pleasing sneakers for under $100.
Nike Cortez
The Nike Cortez is one of the brand's most legendary sneakers, dating all the way back to 1972 when they were introduced as the first-ever track shoe for the company. Aside from their lineage as one of the industry's most successful silhouettes, these affordable keepsakes are still crafted with a focus on the urban athlete, housing fine synthetic leather, lightweight cushioning, and a comfortable foam outsole that looks as good as it performs. On the bottom of the Cortez, Nike's iconic herringbone pattern provides the perfect amount of traction, whether you're spending a day at the track, or running errands right down the street.
Vans Old Skool
Vans Old Skool sneakers are timeless kicks that look good with almost any outfit. These aesthetically-astute sneakers are more than just a great pair of footwear, however; they were the first classic skate shoe to adorn the company's recognizable side stripe, placing them at the forefront of Vans legendary lineup. They're crafted with a durable suede and canvas upper, and feature a padded tongue and lining for additional support as you skate your local park, spend a day at the beach, or head to a restaurant to grab some food with friends. Better yet, the brand's signature Waffle outsole is as rugged as they come, standing up to extensive use on and off the blacktop.
Superga 2750 Cotu Classic
Superga might not be a household name like Vans, Nike, or Adidas, but the 2750 Cotu Classic is a viable contender when it comes to quality, affordability, and style. These internationally-acclaimed shoes sport a sturdy composition, cushioned footbeds for sustainable comfort throughout the day, and a natural rubber outsole that offers wearers the ultimate in durability and traction as they traverse the city streets. If the styling of the shoe seems vaguely familiar, it's likely due to the unlined canvas upper, which is reminiscent of Vans' iconic Era. If you're looking for a tasteful shoe that's sure to complement your outfit with ease, the Superga 2750 Cotu Classic is surely right up your alley.
Vans Sk8-Hi
Vans Sk8-Hi sneakers are as legendary as it gets and feature a high-top style that was popularized by the brand all the way back in 1978. Originally, the shoe was created to shield skater's ankles from impact, but over time, they've become a staple of the fashion world. Each example is crafted using an ultra-sturdy canvas and suede composition — and, thanks to the shoe's roots within skating, they sport some of the industry's most "resistant" components, like reinforced toecaps, padded collars, and additional support for your lower extremities. Like most of Vans' timeless catalog, the Sk8-Hi sit atop the company's iconic rubber Waffle outsole, giving you exceptional grip, stability, and comfort on a variety of surfaces.
SeaVees Monterey Sneaker
SeaVees is another brand that's flown a bit under the radar, as of late, but that's about to come to an end thanks to their stylish Monterey sneaker. This tasteful silhouette boasts substantial tailoring, a heavyweight cotton canvas upper, and contoured foam throughout its footbed, resulting in transcendental comfort. On the exterior, a low-profile rubber foxing and classic lace-to-toe design illustrate the company's commitment to retro characteristics, paying homage to the Monterey Pop Festival of 1967. While the minimalist shoe draws its inspiration from the underpinnings of the 60's "Summer of Love," there's no denying that they're perfect for an exploratory day on your favorite city streets.
ASICS Gel-Lyte MT
The ASICS Gel-Lyte MT is an affordable, aesthetically-sound iteration of the company's illustrious Gel-Lyte V. Aside from their unique silhouette, they boast an ultra-durable coated leather upper, a mono sock-liner, and a split tongue layout that was popularized by the Gel-Lyte III. A Gel-Respector heel clip rounds out the whimsical-wonder, complementing the shoe's camo textiles and shadowy uppers. Unlike most of ASICS' larger models, the Gel-Lyte MT features a narrow, slimline design that makes them one of the sleekest shoes on the market, easily pairing with everything from rolled chinos, all the way to slim-fit denim.
Reebok Club C 85
Reebok's Club C 85 is based on the company's iconic Club C, which was revealed in 1985 as a reskinned version of the brand's Revenge Plus. Despite its retro appearance, the 85 is chock full of modern updates, including a soft leather upper, which caters toward those who expect superior support and quality from their footwear, and a cushioned, die-cut EVA midsole that provides lightweight cushioning underfoot. These heritage-imbued examples sport a low-cut design orientation, allowing for a wider range of motion during use while retaining a stylish, sleek appearance overall. To round out the casual sneaker, a molded sock liner and durable rubber outsole have been implemented, creating a harmonious concoction of style and purpose.
Tretorn Nylite Plus
Tretorn's Nylite Plus are as retro as they come, boasting an old-school design that's not ashamed of it's mid- to late-century roots. Where the Nylite excels, however, is its ability to bring a classic, low-cut style into the modern-day, opting for a flexible canvas upper, a comfortable EcoOrtholite high-performance sock, and top-stitched gullwing construction, over time-worn textiles. Not only are the shoes environmentally conscious, but they also feature a non-marking rubber outsole for peace-of-mind when traversing hardwood, polished concrete, and other slick surfaces, meaning you'll be able to spend more time thinking about where you're going and less focusing on where you are.
Adidas Continental 80
Adidas' Continental 80 are yet another vintage standout from the timeless brand, bringing buyers a pair of court-inspired sneakers that don't run short of nostalgic pedigree. These two-tone indoor sneakers were popularized after their release in the 80s, and feature a recognizable low-top that's been paired with smooth, premium leather for a one-of-a-kind look. Underneath, a split rubber cupsole outfitted with a specialized EVA insert ensures that you'll be walking on a pillowy surface, day in and day out. Thanks to the shoe's minimalist branding, the Continental 80 look as timeless as ever — so, if you're looking for a pair of authentic trainers for everything from the track to the street, they're the perfect pickup to bolster your summer wardrobe.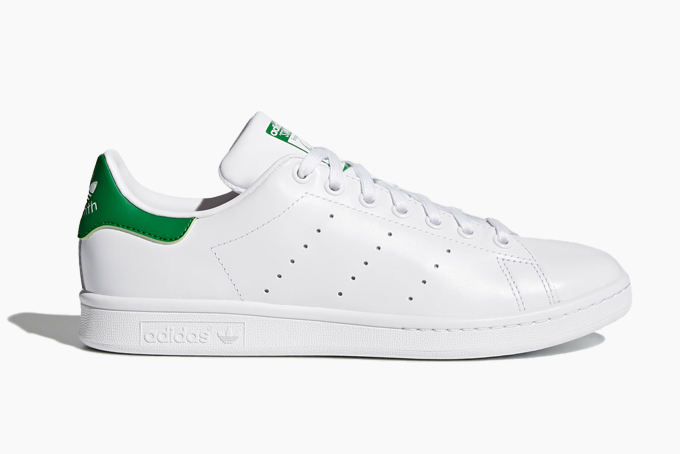 Adidas Stan Smith
Adidas is at it again with the Stan Smith — a transcendental silhouette that was introduced all the way back in 1972. At its debut, the classic sneaker was named after rising tennis star Stan Smith, and, after being introduced to the public for the first time as an all-encompassing trainer, the shoe catapulted into stardom. On the exterior, an artful, full-grain leather construction and low-profile cupsole help to define the shoe's minimalist layout, complemented further by subtle branding, swathes of color on the tongue and heel, and defined trim. To keep things comfortable, an OrthoLite sock liner adorns the inside of the trademark silhouette, bringing contemporary design to Adidas' vintage shoe.
Converse Chuck Taylor Low-Tops
Converse's Chuck Taylor is a historic piece of footwear that everyone should recognize, so it's no surprise that it's being included on our list of the most affordable sneakers under $100. Aside from being one of the most iconic shoes of the past half-century, the Chuck Taylor Low-Top has helped to pave the way for many of today's top shoe manufacturers, while remaining completely original in the process. The modern iteration of Converse's legendary sneaker features more cushioning, a hearty canvas, and exceptional versatility in the wake of urban endeavors. Better yet, it features a cushioned insole, wing tongue stitching, and a grippy rubber outsole that's prepared for everything from the basketball court to a night out on the town.
New Balance 574
New Balance's 574 rounds out our list as one of the most attractive, and affordable, shoes on the market. Not only does the 574 bring the company's exceptional attention to detail to light, thanks to its premium suede and mesh composition, but it's also one of the most comfortable sneakers on our list, boasting NB's proprietary ENCAP technology for quintessential support. An EVA foam midsole provides adequate cushioning throughout the day, while an aesthetically-pleasing, vintage layout pays homage to the company's most transcendental shoes.
12 Sneaker Brands You Should Know
While these are our favorite affordable kicks, there are a huge number of alternatives that fit any style or budget. Find the perfect pair for you on our list of the best boutique sneaker brands on the market.