Presented by

Cooking is a fundamental part of the human experience. The craft is a lifeskill, a cultural conduit, a form of creative expression, and a way of showing others that your palate expands past Doritos and Mountain Dew. However, cooking requires the proper tools to do right. Whether you are a novice home cook or a masterful gourmand, having the right kitchen gear widens the possibilities of what you can cook. With a basic grasp of fundamentals and the right tools, the only thing limiting your cooking is your imagination. This wishlist may not teach you the fundamentals, but it will certainly provide you or the chef in your life the necessary tools to command the kitchen this holiday season.
The James Brand Hell's Canyon Chef Knife
The James Brand's showstopping chef's knife was designed with the help of Top Chef Masters winner Chris Cosentino and features stainless steel construction and a gorgeous rosewood handle that's available only at Huckberry. It's the perfect knife for the outdoor chef in your life.
Truff White Truffle Infused Hot Sauce
If Truff had to be described using only two words, they would be "bottled deliciousness." This hot sauce makes anything you put it on taste like it's from a Michelin-rated restaurant.
BBQGuys Signature x Spiceology Beef, Chicken, and Pork Rub Variety Pack
BBQGuys is a trusted platform in the BBQ space and Spiceology has a well-earned reputation for making professional-quality spices. It's a great gift for the BBQ pitmaster in your life.
Unicorn Magnum Pepper Mill
Salt and pepper are the most important seasonings to use, and a good peppermill is a godsend. Unicorn has been the industry standard for years because you can control the size of the peppercorn and they're built to last you a lifetime.
NutriChef Vacuum Sealer
Though these are often paired with sous vide machines, vacuum seals are really good for marinating meats, fermentation, and storing food because you can eliminate virtually all air. Nutrichef is a high-quality, trusted brand in the space and offers a surprisingly affordable vacuum sealer.
Meater Wireless Meat Thermometer
Meater's wireless thermometers are hyper-accurate, heat and water-resistant, and have a Bluetooth app to give you a live feed of your meat's temperature so your food comes out perfect every time.
Flint and Tinder Waxed Apron
This apron from Flint and Tinder is as stylish as it is practical and features plenty of pockets and a wax coating to protect your threads from spattering sauces and oils.
Atlas 150 Aluminum Pasta Maker
There's nothing quite like wowing a crowd by making homemade pasta. Atlas' pasta maker is expertly made and allows you to crank out linguine, spaghetti, and lasagna noodles in minutes.
Anova Culinary Sous Vide Precision Cooker Nano
Sous vide is fantastic because you literally can't overcook your food unless you purposely set the temperature too high. Anova is the standard-bearer for sous vide, and their machines offer an easy-to-use app to control your device on your phone.
Instant Pot Aura 10-in-1 Multicooker Slow Cooker
Slow cookers can make anything from pulled pork and lasagna to stews and even oatmeal. They're a great tool for the on-the-go cook, and Instant Pot stands as one of the best names in the slow cooker market.
Boos Block Cutting Board
There's nothing worse than having a crummy, small surface for ingredient preparation. Thankfully, Boos Block's gorgeous cutting boards offer you ample prep room and will last you a lifetime if you treat them right.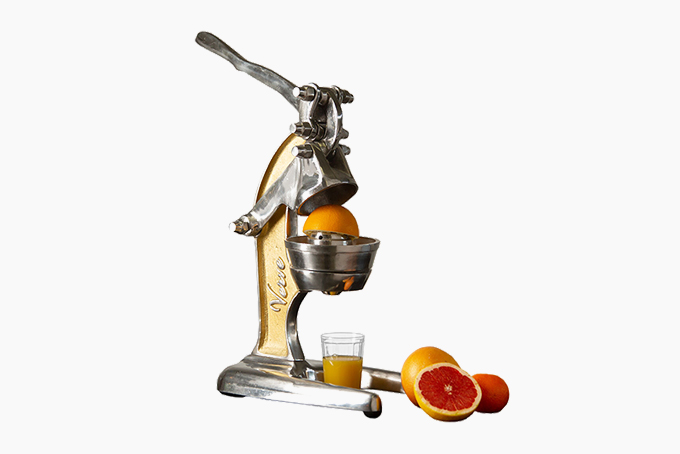 Verve Culture Xl Juicer
This gorgeous juicer has a handy crank to maximize squeezing force and a built-in strainer to catch seeds and pulp. Why have a hand squeezer when you could have a versatile statement piece in your kitchen?
Fellow Ode Brew Grinder
If you want to maximize the flavor of your coffee bean, then you'll need a burr grinder for an even ground. Fellow's Ode Brew Grinder offers professional-quality grinding with a handsome aesthetic.
Smithey Ironware Co. Hand-Forged Carbon Steel Wok
Woks are the quick-cooking, unsung heroes of the kitchen, and carbon steel is the superior cousin to cast iron. The folks at Smithed Ironware Co. fused the two to make an incredible product that's guaranteed to last you a lifetime.
Ooni Karu Wood and Charcoal-Fired Portable Pizza Oven
Ooni is such a trusted pizza oven brand that they made the only oven to be "Recommended for Domestic Use" by the Associazione Verace Pizza Napoletana, the literal authority on pizza. They're gorgeous to look at and can heat to 950 degrees in 15 minutes.
Blackstone 36" Flat top griddle
Flat top griddles are just like grills, except they have more versatility and are easier to clean. As far as best-value flat top griddles are concerned, you can't beat Blackstone in terms of quality and performance.
KitchenAid Artisan Stand Mixer
You don't get better stand mixers for domestic use than KitchenAid. They're built like tanks, will last you a lifetime, and allow you to mix ingredients, make pasta, and even grind your own meat with their attachments.
Vitamix Pro 750 Heritage Blender
We are not being hyperbolic when we say this is literally the best blender on the market. The Vitamix Pro 750 can make smoothies, soups, and it's powerful enough to act as a food processor. You won't find a superior blender.
Breville Barista Touch Espresso Machine
Breville is one of the most recognizable espresso machine makers for a reason. Their machines are accessible to the masses, their quality top-notch, and the Barista Touch, in particular, has great tech and phenomenal reviews for longevity.
Thomas Keller Insignia 11-Piece Stainless Steel Cookware Set
Thomas Keller is the best chef our country has ever produced and has seven Michelin stars. His brand new cookware set is made with expert craftsmanship and allows you to cook like him.
The 10 Best Flat Top Griddles to Buy
If you're cooking for a crowd this holiday season then check out our list of the 10 best flat top griddles you can buy so you can cook for the masses with ease.