Right now, the world is in disarray, and that means that a number of individuals have been sent home by their employers to work remotely. While this might not have affected the small percentage of workers who have spent a large portion of their careers working from the safety of their own home office, for the rest of us, it's an entirely new experience.
Working from home might sound like a dreamy opportunity, but it presents an entire suite of its own complications and issues — one of the most prominent being the dismissal of proper workspace etiquette and precautionary health measures. The biggest contributor to the degradation of home office moral might be a lack of ergonomic peripherals and accessories, causing employees to fatigue and become complacent far faster. To help ease our readers into this style of work, we've decided to create a list of the industry's foremost ergonomic office essentials, giving you a better idea of what it is you should be looking for when it comes to the creation of a viable in-home office.
Desks
The Perfect Foundation
Jarvis Bamboo Standing Desk
Jarvis' Bamboo Standing Desk was built to enhance your workflow throughout the day, while also emphasizing the correction of your posture and the longevity of your workflow. Instead of sitting in an uncomfortable chair all day long, this unique variant boasts a dual-tier construction that allows for up to two monitors, a laptop, and a notebook to be utilized up-top, while common accessories like keyboards, mice, tablets, and other essential items can be stored on their own proprietary shelf. A sturdy, weighted base ensures that your workstation stays in one place, while 11 variable height settings help to adapt your office's primary productivity area to your liking.
Herman Miller Renew Sit-To-Stand Desk
When it comes to productivity, there's hardly anything better than a desk that can house all of your essential items, look great, and promote a healthy workflow. When one can do all of those things at the same time, like Herman Miller and Brian Alexander's Renew Sit-To-Stand desk, you know that you've found a keeper. This simplistic offering brings a sleek image to any workplace, allowing its users to raise, lift, or sit, depending on their preference. An intuitive lever system allows for easy adaptability throughout the day, helping to battle against the uncomfortable health implications associated with sitting throughout the day.
Stands
Keep Things Eye-Level
Rain Design mStand
Rain Design's mStand is a minimalistic offering that's perfect for keeping your laptop at the preferred height for work. It's crafted from a single piece of high-quality aluminum and provides adequate stability throughout the day, a heat sink to keep your device cool as it undertakes tasks and a cable management system/hole that will allow you to keep your area organized. While this laptop stand was built to work alongside a variety of notebooks, Apple's Macbook Pro and Air are recommended, since they fall beneath the peripheral's 10.4-inch suggested use range.
Grovemade Walnut Laptop Stand
If you're looking for something a bit more visually appealing, Grovemade's Walnut Laptop Stand might be the perfect choice for work area organization. Like other stands, this ergonomic accessory was crafted to clear your workspace, keep things organized, and provide an eye-level orientation that will ease strain, promote adequate posture, and help you to keep the ball rolling throughout the day. Its precision-cut steel stop adds a flare of design-minded poise, as well, thanks to the implementation of an attractive premium vegetable-tanned leather surface that your device can rest against to deter scratches and abrasions.
Chairs
A Comfortable Companion
Gaiam Classic Balance Ball Chair
Gaiam's Classic Balance Ball Chair might seem a little outlandish, but it's one of the best choices you can make to improve your posture and promote a more health-conscious work area. It was created in association with various health, wellness, and fitness experts to provide a flexible and comfortable alternative to traditional office chairs, allowing users to engage their body and mind through various micro-movements throughout the day. While maintaining balance, you'll be able to increase productivity, support your wellbeing, and take adequate steps to lead a healthier lifestyle, without giving it a second thought.
Studio 7.5 Mirra 2 Chair
Studio 7.5 created the Mirra 2 chair in association with Herman Miller, and that should be a good enough reason to snag this handsome chair for your office work area. But we won't try to convince you that you should pick one up solely because of looks. Instead, the Mirra 2 was designed from the ground up to take on fast-paced workflow, thanks to its unique mirroring tech that conforms to your slight movements, keeping you in preferable form. A loop spine construction ensures that you'll always have room to move, while a ventilated back and versatile color palette work in tandem to keep you cool and creative.
Keyboards
Keeping Things Ergonomic
Kinesis Freestyle2 Ergonomic
Kinesis' Freestyle2 Ergonomic computer keyboard is a little out of the ordinary, but its unique, award-winning layout is sure to make your workflow a bit more bearable. Thanks to its split demeanor, you'll be able to rotate and separate each section to suit your hand placement best, allowing you to achieve a more natural hand, wrist, and forearm position. In the long term, this can reduce stress, discomfort, and supination, meaning that you'll be able to work faster, harder, and longer, without having to worry about fatigue. The Freestyle2 even features low-force key switches that utilize custom membrane keys to reduce finger fatigue, meaning that you can take things to the next level with your typing ability.
Microsoft Sculpt Ergonomic Wireless
Like the Kinesis keyboard above, Microsoft's Sculpt Ergonomic Wireless keyboard was built to take a different approach to conventional keyboard layouts in an attempt to ease discomfort and fatigue over time. An integrated, cushioned palm rest has been included to support a more natural positioning of the hands, while a unique split design places your forearms and wrists in a more natural position, allowing you to work for extended periods of time without the common issues associated with static offerings. The Sculp even mimics the curved shape of its users' fingertips, allowing it to retain a more natural, relaxed feel during those drawn-out workdays.
Mice
Hand-Formed Function
Microsoft Surface Arc
Microsoft's Surface Arc Mouse is an exercise in handsome design, but it doesn't stop there. This slim, lightweight offering is also the perfect choice for users who are looking for a more ergonomic, clickable companion, thanks to its unique curved design and snap-flat architecture. Aside from its reputation as one of the most adaptable travel mice in the world, the Surface Arc provides Bluetooth connectivity, an array of rich colors, and a conformed style that's a joy to use.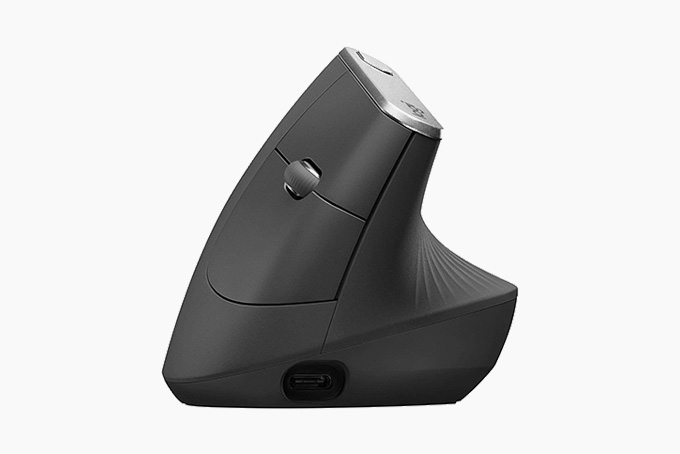 Logitec MX Vertical Wireless
Logitec's MX Vertical Wireless mouse is an advanced offering that calls upon a newly-recognized ergonomic structure to keep your hands fatigue-free throughout the day. Thanks to the device's natural 57-degree angle, your hand is placed into a "handshake" position, lending itself to the natural angle of wrist relaxation. As a result, Logitec's MX boasts a significant reduction in muscle strain and forearm twisting, allowing users to utilize its ultra-accurate, 4000 DPI sensor, and wireless architecture to take their work in an entirely new direction.
Lighting
Illuminate Your Workspace
Forsa Work Lamp
It's difficult to find an attractive desk lamp that can stand up to the trials and tribulations of your work, we get it. But the FORSA Work Lamp, a lauded inclusion from IKEA's established archive, is sure to meet your standards. It features an adjustable architecture that will allow for easy beam placement and versatility where you need it most, while reinforced EVA plastic components keep things lightweight and hassle-free.
HAY PC Portable Lamp
HAY and Pierre Charpin's Portable Lamp is an abnormal light source that will take the focus of your desk's standout illumination source, allowing you to highlight virtually any work area, thanks to its adaptable persona. It boasts a scratch- and water-resistant matte finish, meaning that you'll be able to utilize the light inside, outside, or anywhere you see fit. This, coupled with the lamp's high-efficiency LED bulb and rechargeable battery, makes it a quintessential offering for anyone who doesn't like to remain confined to an indoor work area, gifting users the opportunity to move to their favorite outdoor location for a bit of inspiration.
Monitor Arms
Staying Spry & Versatile
Jarvis Monitor Arm
Elevating your monitor has always been one of the easiest ways to maintain proper posture and health within the work areas. To keep your back and neck from fatigue throughout the day, Jarvis' Monitor Arm allows users to place their computer's screen at the perfect height, promoting proper spinal alignment and increased productivity. An added bonus? It frees up a ton of space on your desk, giving you valuable space to utilize other accessories to keep your workflow operating smoothly.
Ergotron LX Dual Side-By-Side Arm
Like Jarvis' aforementioned monitor arm, Ergotron's LX Dual Side-By-Side arm was devised to achieve much of the same. With this dual-monitor-focused package, however, you'll be able to double up on your monitor leveling capabilities, allowing you to move each display independently from one another so that you can keep track of separate desktops and projects with ease. And if your monitors are of varying sizes/weights, you'll be able to utilize the LX's tensioned arms to ensure that movement remains fluid and versatile, while also providing adequate support throughout the peripheral's entire range of motion.
Accessories
Compact Comfort
Desktop Edge Power Outlet
Keeping your workspace clean and clutter-free is a must. That also applies to any power cables that you have strewn about the offices, leading most individuals to beg the question: how does one keep their power cables organized and within reach, without having to crawl around on the floor or utilize hard-to-reach places? The answer lies in desktop power outlets like this Edge model from Jgstkcity — a two-outlet, three-USB peripheral that attaches to virtually any desk corner via a clamp. Each outlet is rated for 110-200V, giving you more than enough power to keep your essential devices running. It's even equipped with a surge protector crafted from fire-resistant aluminum and copper wire, giving you peace of mind when you step away for any period of time.
Royal Anti Fatigue Comfort Mat
If you spend most of your day standing at the desk, you'll have to take measures to prevent foot discomfort. Royal's Anti Fatigue Comfort Mat was created specifically for that purpose, calling upon a soft, eco-friendly quarter-inch pad that's been designed to ease knee, ankle, and lower back discomfort. As a result, over 40-percent of the pressure that would originally take a toll on your body throughout the day is mitigated, allowing users to work through those tough deadlines without having to worry about unwarranted fatigue.
The 35 Best High Tech Office Essentials
Now that you've picked out a few new ergonomic office accessories to take your in-home workspace to the next level, head over to our guide on the best high tech office essentials give you, and your workflow, a much-needed efficiency boost.