Keeping your food and beverages ice cold is critical when you're roughing it over the weekend on a camping trip, which is why you can't dive into the backcountry without a camp cooler. Retire that old, hand-me-down cooler you received years ago and upgrade to an ice chest built to keep up with your adventure-hungry spirit. For frequent visitors of the great outdoors, shelling out the dough for a highly functional camping cooler that will go the distance just makes sense.
Search the Internet and you'll find tons of camping coolers of all different shapes and sizes, making it a chore to sift through to identify one that's ideal for your escapades. There's everything from no-nonsense, tough-as-nails coolers to high-tech ice chests with smartphone charging capabilities and fold out trays. No matter what type of camping cooler you're looking for to keep your brews cold and backcountry cuisine frozen, we've got you covered. We've gathered the very best camping coolers for you to choose from so you can just chill and cruise through the lineup.
Construction
Analyze The Specs
When you're picking out a camping cooler, you have to know what type you need based on your camping habits. Do you typically go camping with a big group and need a large ice box? Or do you prefer a more compact option just for a 12-pack? Ponder over what you're looking for in a cooler so you can settle on one that will serve you well. After you narrow down the type and size, analyze the construction of each cooler you're considering. Here are a few tips to help guide you on your search:
Insulation
Obviously, insulation is the number one aspect for any cooler you analyze. Check out the cooler's ice retention, which is how long the icebox can keep your perishables cold. The Food and Drug Administration's maximum perishable food storage temperature is 40° F so keep that mind when you're looking at specs. Do some research to see how many days a particular cooler can hold a temperature of 40°F or below, especially if you'll be in the backcountry for several days.
Ice Retention
How long can the cooler keep ice cold? The longer the ice retention, the better the cooler can maintain a temperature of 40°F or lower. Coolers can retain ice anywhere from a day to several days, depending on the quality of construction and its size. Although some coolers will make a claim to retain ice for a certain number of days, remember there are other factors that affect the retention, such as weather and the contents of the box.
Toughness
The outdoors can be beautiful and pleasant one moment and an unforgiving battlefield the next, which means you'll need to consider the toughness of a cooler. Even the trip to your camping spot could put your cooler through some abuse with the bumpy terrain. Check to see what the ice chest is made from, including its latches and wheels, if it has any. Roto-molded polymer construction is something to keep an eye out for in the specs since it means the cooler acts like armor. Some coolers are so durable they're actually bear-resistant. For some, that's overkill, and for others, that cooler may be just what they're looking for.
Mobility
Coolers can get pretty heavy, so portability is a big factor that you should consider when picking one out for camping trips. The comfort of the handle should be analyzed so you won't end up ripping the skin on your palms trying to lug around your frozen or chilled goods. Handles for a cooler should be durable and designed for comfort. We recommend testing out the handle and even filling the cooler with some products in the store to feel the performance of the handles with some weight. And if you decide to go for coolers with wheels, check to see if they're rugged enough for rough terrain.
Camp Cooler Queue
Choose Your Cold Box
With the knowledge of what makes a quality camping cooler, you're ready to hunt down the ideal one for your camping adventures. We've gathered the most proficient camping coolers from the best outdoor brands in the industry. All you have to do is read through and pick one out that meets your needs and budget.
Coleman Xtreme 5 Cooler
The rust-proof 70-quart Coleman Xtreme 5 Cooler is built to take on 100 cans of your favorite beverages with ice to keep it cool. It has 'ThermoZONE' insulation, allowing it to retain ice for up to five days in hot temperatures up to 90°F. To keep your food and drinks secure, it's built with a hinged lid that conveniently has four cup holders on top so you'll always have a place to set down your drink. The American-made polyethylene cooler with a 77-liter capacity can be carried easily to your campsite via the durable side handles.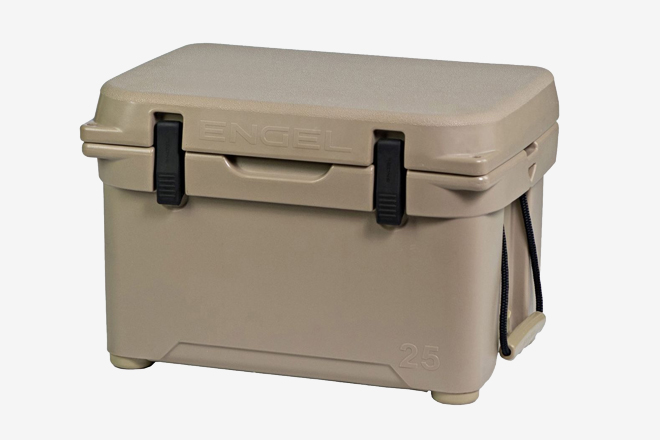 Engel 25 Hard Cooler
According to Engel, their rotor-molded 25 Hard Cooler is the original high-performance ice-chest. It's built with a hefty two-inches of insulation in the lid, bottom, and on the sides, so it has the power to retain ice for up 10 days. The cooler construction also features silicone gaskets for a nearly airtight seal so the box will never get bent out of shape over the years. It also has an IGBC bear-resistant certification (molded on the rear lid of the cooler) just in case you run into any furry brown friends on your camping vacation. Not to mention, it's also dry ice compatible.
Maluna Combat 22 Adventure Cooler
This 22-quart cooler has a roto-molded exterior that's extremely tough and an 'Unhinged' design, allowing for full perimeter tensioning for maximum performance. It's tested up to 100 hours in a 100° F thermal chamber with amazing ice retention that's stated to be 23% longer than a YETI Tundra cooler. If that doesn't grab your attention, a portion of the proceeds for this cooler will go to veteran organizations, such as The Fallen Outdoors. And it has a lifetime guarantee so it will serve you well for all your camping trips.
Filson Cooler
For those not searching for an enormous cooler, the 27-quart Filson ice chest is just what you're looking for. In collaboration with the Taiga brand, this cooler features 2-inch thick walls and a 3-inch thick lid for R5 foam insulation, keeping your drinks and sustenance cold. The USA-made compact cooler has everything you need in a compact ice box from a heavy-duty UV-protected lid to an FDA-compliant and food-safe polypropylene construction. To keep it from sliding around on your truck's bed, the 24-beer capacity cooler also traction feet.
Rtic 65 Cooler
The Rtic 65 Cooler builds for hunting and camping features a freezer-style lid gasket for a tight seal and a 'Cool-Lift' design that elevates the cooler above hot surfaces. It features non-slip feet to keep it stable, heavy-duty rubber T-latches, and sturdy rope marine-grade rope handles so you can transport it with ease. The bear-resistant cooler portable freezer can maintain ice for up to 10 days, which is more than enough time for a camping trip. For further convenience, it also has a 'Rapid V-Drain System' to get rid of water quickly.
Orca 58 Quart
Boasting a 58-quart storage capacity, this Orca cooler can carry all the perishables you need for your camping adventure. The ice chest has a tough roto-molded construction and amazing integrated insulation for cold and ice retention for up to 10 days, keeping your goods fresh. It has a lid gasket for a reliable seal, comfortable extendable flex-grip handles, an easy -flow drainage spout, and a cargo net for additional storage. Made right here in the USA, the Orca 58 Quart cooler will help ensure a successful camping trip.
Otterbox Trooper Soft Cooler
With a capacity of 30 quarts and 72-hour ice retention, the Otterbox Trooper Soft Cooler is perfect for camping, rafting hiking, and hunting. The leakproof portable soft cooler has a heavy-duty, abrasion-resistant base and a resilient TPU-coated nylon exterior that's puncture, water, chemical, and UV resistant. It also has an ergonomic doctor bag style opening with a food-grade liner so you can easily dive in to grab food and beers. You can even transform the cooler from a shoulder carry to a backpack carry quickly, depending on where you're going.
Yeti Hopper Backflip 24 Backpack Cooler
Plenty can happen between morning and night in the backcountry, which is why the Yeti Hopper Backflip 24 Backpack Cooler is a worthy option for someone on-the-go outdoors. Its closed-cell rubber foam 'ColdCell' insulation is impressive and the design of the backpack is tailor-made to efficiently distribute weight. The backpack cooler even comes with a removable waist belt and chest strap for extra security if you're camping in areas more of an incline than most. The 100% leak-proof backpack cooler has a 20-can capacity and a sturdy 'DryHide' shell for ideal protection, contributing to Yeti's claim that it's the highest-performing waterproof cooler zipper on Earth.
OtterBox Venture 65
Whether you're going on a big camping trip with the guys or your family and friends, the OtterBox Venture cooler is cool enough to get the job done. The bear-resistant 65-quart cooler has a resilient polypropylene shell, anti-slide rubber feet, a dry storage tray, bottle opener, and durable latches that lock in your food and beverages, keeping nasty critters out. And the cooler comes with a mounting system so you can attach various gear and accessories to it, depending on your needs.
Pelican Elite Wheeled Cooler
The Pelican Elite Wheeled Cooler is a bit overkill, as it can withstand intense impacts and has bear-resistant certification, but at least you'll know it will protect your food and beverages. It's constructed with a freezer-grade gasket, molded-in tie downs, and it's capable of up to 10 days of ice retention with 2-inch polyurethane insulation. The cooler also has non-skid and non-marking raised feet, corrosion-resistant stainless steel hardware, and heavy duty wheels so you can roll it to your campsite with relative ease. If you aren't convinced this isn't one of the best coolers on the market, its lifetime guarantee might change your mind.
Rover RollR All-Terrain Cooler
Certified to withstand grizzly bears, this roto-molded Rover RollR All-Terrain Cooler is built to go anywhere you can travel. It's capable of 10-day ice retention thanks to high-density foam insulation and can hold 60 cans and 20lbs of ice without the 'Deepfreeze' dry bin installed. For easy transportation, it has an aluminum pull handle with comfortable dual motocross-style grips and high-performance 9-inch all-terrain rubber tires so you can roll it around just about anywhere. When you're all done and ready to pack it up, you can get rid of the melted ice with the fast flow drain plug.
Yeti Tundra Haul Cooler
As the first Yeti cooler on-wheels, the Tundra Haul icebox takes the reputable toughness of Yeti's ice chests to the next level. Living up to its bold name, the Tundra Haul Cooler has a nearly indestructible root-molded exterior, 'NeverFlat' tires, and T-Rex heavy-duty lid latches. The cooler also has 'Permafrost' insulation made with commercial-grade, pressure-injected polyurethane foam, a freezer-quality 'Coldlock' gasket, and a 'NeverFail' hinge system. If you want a camping cooler that will go the extra mile and beyond, Yeti's Tundra Haul is just the icebox you're looking for.
SpeedBox Endurance-40 Military Grade Cooler
You can't get much tougher than the SpeedBox Endurance-40 Military Grade Cooler. Utilized by the Army Special Forces, Air Force Pararescue Jumper, and the Navy EOD, this American-made cooler is built to outlast the rest. It has a shatter-resistant root-molded polymer construction and a heavy-duty handle system, allowing it to take a beating no matter what situation arises. The cooler also has 'No-Flat' tires, a 'Never-Fail' aluminum handle, and two sets of solid aluminum lock plates. If you decide to grab multiple Endurance-40 coolers, you can even stack them on top of one another thanks to their interlocking system designed for modular efficiency.
Snow Peak Hard Rock Cooler
Partnering up with the prominent Grizzly Coolers company, Snow Peak has created the Hard Rock Cooler for extreme conditions. The bear-resistant cooler has a 'RotoTough' rotationally molded construction to protect the most important thing on your camping trip: the beer. It has a 20-quart storage capacity, a 2-inch easy drain plug when you're ready to empty it out, environment-friendly pressure-injected insulation, and a comfortable carrying handle for easy transportation.
Furrion Rova Electric Cooler
The priciest cooler on our list is also the most high-tech option. The Furrion Rova Electric Cooler is powered by the 'Furrion ePod' battery for up to seven days of cooling. For improved energy efficiency, the Rova has a compressor that sends cool air into the main chamber for freezing down to an ice-cold -8°F. Choose from three modes, including eco, beverage, and freeze to get your beverages or food chilled to just the right temperature. Its swappable battery holds enough power for seven days of cooling action and can be recharged via a wall outlet or alternate power source. If that's not reason enough to consider it, the cooler also features a portable solar panel, Qi wireless dock, and a charging station.
How To Build The Ultimate Camp Kitchen
So you've picked up a tough-as-hell camp cooler to keep your brew and food cold for several days and now it's time to grab the right tools to cook up a tasty meal outdoors. Check out our guide on how to build the ultimate camp kitchen and eat well in the backcountry.