As guys, we have a lot to think about when it comes to our daily attire. Whether we're dressing to impress, head out with friends to a social gathering, or meet the in-laws for the dreaded seasonal dinner, we're expected to make the best impression possible; and sadly, that means our search for the perfect outfit, accessory, and style is neverending. However, if you know how to use small, subtle accents to your advantage, it becomes that much easier to craft the quintessential wardrobe.
There are a million different ways to make your outfit work for you, but some of the most overlooked, and understated variables in this comprehensive equation are "wristwear accessories." No, we're not talking about the watch; we're aiming for something a bit more discreet. A peripheral that can make a statement, but fulfills its role as a supporting character with ease. We're talking about the men's bracelet. That's right — bracelets are one of the most important aspects of a guy's well-rounded wardrobe, and today, we're going to dive headfirst into a list of our favorite picks from around the industry.
Corter Leather Ring & Hook
Corter Leather's Ring & Hook is a simplistic bracelet that's been angle cut and braided on an Italian machine in India, providing the perfect balance of sleek, smooth construction and stylish properties. As a result, you no longer have to worry about unwarranted wrist irritation after a long day of wear; instead, you'll be able to focus on creating the best outfit possible, thanks to Corter's unique wristwear accessory.
Tanner Goods Single Wrap
Tanner Goods' Single Wrap bracelet is a valuable addition to any guy's wardrobe, offering a premium leather construction that's helped to make the brands exceptionally-crafted belts so popular. This single-wrap variant is the perfect minimalistic accessory to tie together any incomplete outfit, offering wearers a stylish, understated accent that's sure to garner a compliment or two.
Tres Cuervos Flint
Tres Cuervos' Flint bracelet is a unique take on the timeless accessory, boasting a rustic silhouette that's secured by two magnetized .22 caliber bullet casings. Not only does this give the peripheral a look all its own, but it also provides the Flint with an interesting persona that straddles the line between style and fashionable functionality.
Maritime Supply Brass Anchor
Maritime Supply's Brass Anchor bracelet is full of nautical inspiration, and thanks to its unique brass detailing, it's a definitive addition to any sea lover's outfit. It might seem a bit outlandish, but a true fan-of-the-sea will appreciate Maritime's attention to detail, including the company's re-designed metal beam, 3mm twisted cotton rope, and a handcrafted anchor to tie it all together.
Craighill Uniform Square Cuff
Craighill's Uniform Square Cuff bracelet is a great-looking variant that ties together any outfit with ease, thanks to a 3/16-inch square bar made from solid cartridge brass, and stylish, square-cut ends that create a perfect, open-ended clasp section. As minimalistic as the Square Cuff is, it's sure to make a big statement if it's accompanied by a selection of complimentary wrist adornments.
BRZN Recycled Bullet Casing
BRZN's Recycled Bullet Casing bracelet is a tactical-looking variant that's been outfitted with a menagerie of purposeful materials. The peripheral boasts a paracord, camo, wire, and bullet-imbued silhouette that's been made using recycled materials. Each example is hand-made in Chicago, and thanks to the bracelet's flexible, comfortable orientation, it's the perfect accessory for any guy who's trying to take his wardrobe to the next level. Better yet, they're made to acquire a unique patina over their lifetime, meaning that each bespoke offering is personalized, depending on what type of lifestyle you lead.
Caputo & Co. Craftman Leather
Caputo & Co.'s Craftman Leather bracelet might look like a simplistic variant at first glance, but upon closer inspection, you'll find the opportunity to appreciate its interesting construction. It's made using a great-looking vegetable-dyed leather, a durable nylon-waxed cord, and tasteful brass hardware, offering wearers a handsome, clasp-secured variant for use alongside a variety of different outfits.
Caputo & Co. Hand-Knotted Double Wrap
Caputo & Co. is making its second appearance on our list with the Hand-Knotted Double Wrap bracelet; an attractive offering that transcends the realm of traditional wristwear. Aside from its premium construction and handsome-looking traits, this waxed-nylon peripheral was made in partnership with Comunidades de la Tierra, a non-profit organization that focuses on helping at-risk youth and communities in Guatemala. An interesting combination of vachetta leather and brass hardware offers wearers a stylish accessory that's equally as attractive when it comes to moral direction.
Miansai Nexus Sterling
Miansai's Nexus Sterling bracelet is a testament to timeless design, offering wearers a detail-focused accessory that's as sleek as they come. It's crafted using a woven, Italian-sourced beige leather, and secures around the wrist via a polished sterling silver button that provides a perfect accent to the silhouette. To make the Nexus even more attractive, it's undeniably discreet, adding the perfect touch to any outfit, without becoming overbearing.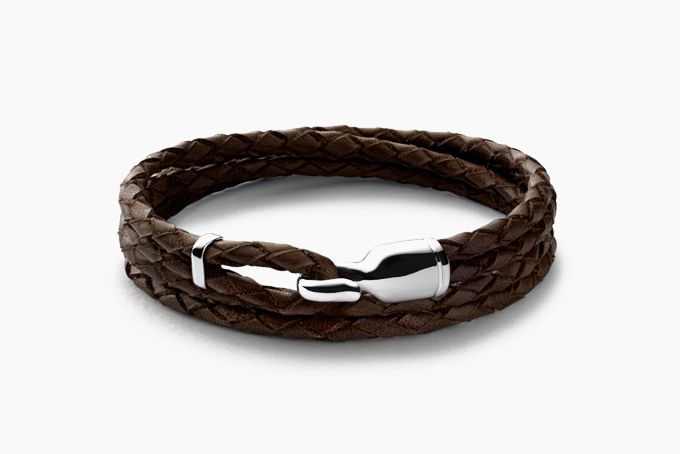 Miansai Trice
Miansai's Trice bracelet is an attractive accessory for every occasion, boasting a tri-layer silhouette that's complemented by genuine woven Italian leather. At the clasp, a sterling silver hook closure and sleeve accent provide an aura of subtle character that's unmatched by the Trice's competitors. Better yet, each variant is available with personalized monogram print, ensuring that your favorite peripheral is also one-of-a-kind.
Cause And Effect Silver ID Cuff
Cause And Effect's Silver ID Cuff bracelet is a durable, rugged accessory that's been crafted using a great-looking hammered silver. Its distressed texture provides a handsome accent to any guy's heritage wardrobe, and thanks to its adjustable nature, it's not difficult to pair it with a variety of different wrist sizes/outfit styles. Each example is made using sterling silver attributes and features a flattened top that's not often seen in men's wristwear.
Eleventy Multi-Bead
Eleventy's Multi-Bead bracelet is a simple variant that references the wristwear styles of old, fostering an undeniable charm, and promoting a confident aura that's palpable by everyone in the room. It boasts a specialized T-bar fastener and a logo charm that adds a perfect touch of bespoke style, resulting in one of Italy's finest wrist adornments.
Mikia Yellow Beaded
Mikia's Yellow Beaded bracelet is associated with pure, unadulterated positivity, and thanks to its lightweight demeanor, it's on a mission to enrich your life without any of the cumbersome baggage associated with other wrist accessories. It boasts a strong central cord, as well as unique gold rings, roundels, and hints of red and green throughout. The result? An uplifting accessory that's proven to make you feel better about your day, while looking the part.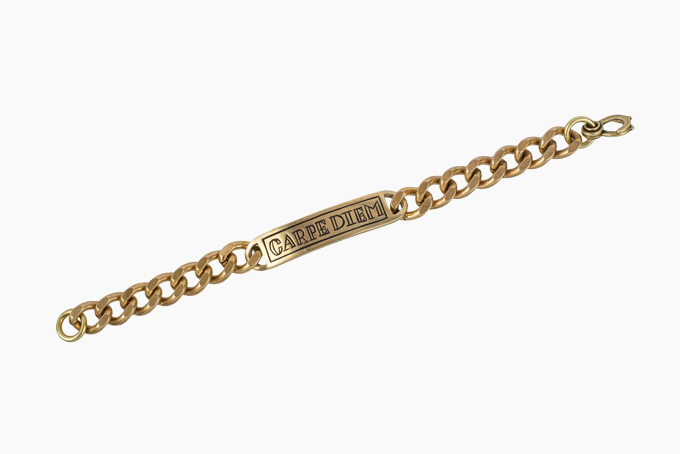 LHN Jewelry Carpe Diem ID
LHN Jewelry's Carpe Diem ID bracelet is a positivity-inducing accessory that's aimed to help you "Seize the Day." As cliche as it sounds, this solid-brass variant has both the style, and the poise to catapult your mood into another dimension, offering wearers a traditional style piece that only gets better with age.
Miansai Turner Rope
Miansai's Turner Rope bracelet is a modern variant that isn't short on style. Sure, it might look like a classic, beaded accessory, but thanks to its elevated style principle, nautical rope, and sterling silver adornments, this handmade peripheral has found a way to transcend the boundaries of everyday wristwear. Better yet, a specialized black rhodium-plated finish gives the bracelet an aura of luxurious value, making it a viable candidate for high-end outfits.
Silver Piston Link Chain
Silver Piston's Link Chain bracelet is an exercise in dashing detail, offering an attractive sterling silver construction, sterling rings, and an intuitive toggle clasp that makes donning and doffing inherently easy. Each example is crafted using durable 12-gauge metal and features a unique dual-link silhouette that sets it apart from other offerings.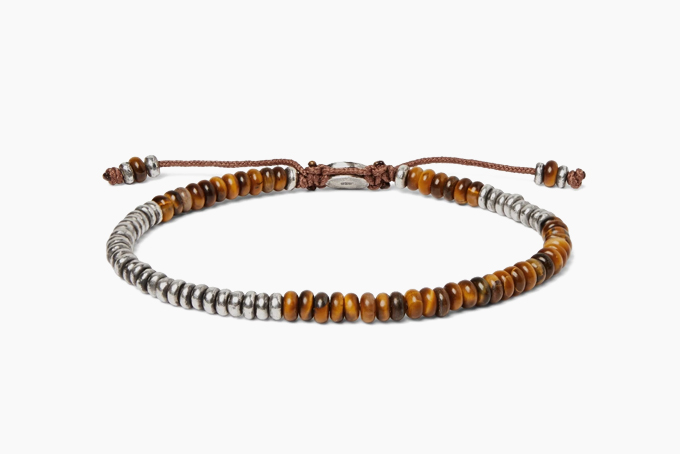 M.Cohen Sterling Silver & Tiger's Eye
M.Cohen's Sterling Silver & Tiger's Eye bracelet is a small departure from the industry's love affair with the metal. It was built to accent everything from professional dress attire, to casual, everyday style pieces, and features a unique disc layout that's been accented by attractive tiger's eye beads. Staying true to the lore around the beads, themselves, the bracelet is said to bring wisdom and protection to all those who wear it.
Bottega Veneta Intrecciato Leather Wrap
Bottega Veneta's Intrecciato Leather Wrap bracelet is an attractive model from one of Italy's most esteemed labels. It boasts a hand-braided leather construction, a black bracelet to bind everything together, and a signature artisanal weave that promotes adjustable wear. Since the Intrecciato is so simplistic, it's the perfect accessory to accent any outfit where consistency is key, helping to add a finishing touch, without garnering too much attention.
Miansai Klink
Miansai's Klink bracelet is an impressive variant that's been inundated with a great-looking matte brass. It features the company's lauded signature rope and comes accented with a slew of individually-designed custom link components, making each example a unique, one-of-a-kind experience. The Klink's outlandish look isn't for everyone, but for those who are brave enough to don the interesting accessory, it's become a fan favorite, providing just the right amount of "oomph" to any low-profile outfit.
Maison Margiela Two-Tone ID
Maison Margiela's Two-Tone ID bracelet is a designer offering that reigns supreme when it comes to price and stature. It's crafted with premium sterling silver and features a durable chain/ID plate that's been accented with the brand's signature logo, and numerals, at its back. There's also an integrated clasp closure that provides a safe, secure mounting point for the Two-Tone, helping to ensure that this unique Italian peripheral stays attached to your wrist at all times.
The 25 Best Style Accessories For Men
Now that you've learned about the importance of one of the industry's most overlooked accessories, head over to our guide on the best style accessories for men to accent your style further.