There are a few garments more versatile than a pair of black jeans, and it's something everyone should have in their closet. Whether slim-fitting or baggy, it's always a good idea to stray away from the traditional blue shades every so often; plus, nothing will go better with a leather jacket, another piece you should consider picking up alongside your stark denim bottoms. But, like with any other article of clothing, pinning down the perfect pair can be difficult, so we did it for you. Find the right match with our guide to the 10 best black jeans.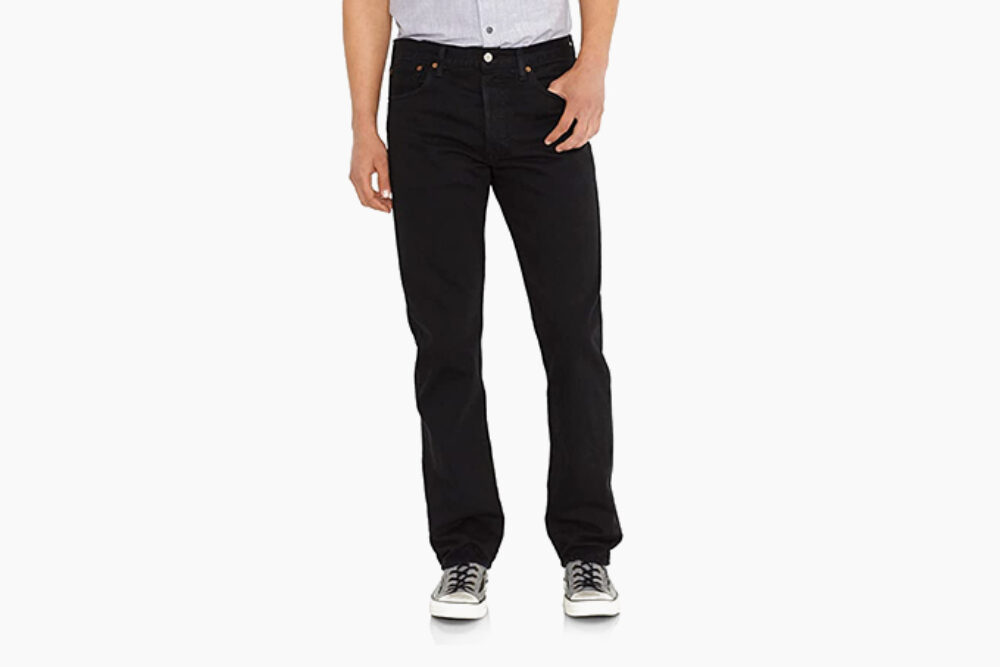 Levi's 501 jEANS
There is classic, then there's the 501. You may be more accustomed to seeing the quintessential pair of jeans in a standard shade of blue, but this black-colored pair is a brooding way to class up the already-timeless look.
Dickies relaxed Houston Jeans
While the fashion world has heralded Dickies' original work pants as must-have bottoms, we could say the same about its simple Houston jeans. The sturdy pants are crafted from 12.5 denim and boast a loose fit for optimal freedom of movement and easy-going comfort.
Nudie Jeans Gritty Jackson Jeans
When the word "jeans" is in your brand, odds are you know how to make a good pair, and so is the case with the Swedish brand. Nudie sews its Gritty Jackson Jeans from 12.5-ounce, non-stretch, organic cotton denim and rounds it out with a traditional zip fly.
Buck Mason Maverick Slim Fit Jean
Try these out for size if you want to avoid wearing chinos to work daily. Like the 501, Buck Mason's slim-fitting Maverick silhouette is available in similar colors, but it offers a narrow fit through the leg and thigh for a more tailored look. Plus, it's rounded out with a button fly to create a custom-like fit.
Todd Snyder Slim fit stretch jeans
If there's one thing you can't knock Todd Snyder for, it's the brand's consistency, and its testament to making high-quality, closet essentials is admirable. These 12.5-ounce skinny jeans are comprised using a touch of elastane for the perfect amount of stretch, then rounded out with antique copper rivets for a traditional touch that you just can't find with any brand.
A.P.C Fairfax Jeans
A.P.C has been strutting its stylish brand of Parisian minimalism long before Kanye was parading around in his collaborative $120 white tee. While the imprint's sizing guide can be hard to pin down, the stylish Fairfax silhouette offers a traditional fit that allows you to rock these chic black jeans with the slightest of ease.
3sixteen c2-220x
3sixteen is one of our favorite boutique brands, and these jeans are one of many reasons. They are made from heavy-duty, 14.5-ounce black denim, so they are ready for anything. Plus, the Big Apple-bred brand's signature CT cut is a blend of its classic and slim tapered fitting, giving you the perfect balance if you can't decide which look you're going for.
The Worker's Club Black Fade Slim Fit 001 Jean
These jeans are somewhat of an international affair. While The Workers Club is an England-based brand, these selvedge jeans are composed of 13-ounce denim sourced from Okayama, then they're garment washed to give it that distinct faded look. Lastly, the brand strategically sanded each pair by hand for abrasion protection, then finished with a button fly.
Acne Studios Tok Straight Leg Belted Distressed Jeans
Acne Studios is another essential clothier to consider when it comes to denim — after all, its origins are rooted in exclusive, meticulously-made jeans. Purchasing a pre-distressed pair that doesn't look tacky is difficult, but this faded pair of belted bottoms is effortlessly cool, serving as a homage to the grunge era of the early '90s.
John Elliott The Dark Selvedge Jeans
The Los Angeles brand's unique dyeing process puts this pair at the top of the list. Elliott combines hand sanding with 3D resin to replicate one full natural year of wear and tear. While they're inspired by a vintage American pair that the designer stumbled upon, the unique bottoms are made in Japan from selvedge denim.
The Best White T-Shirts For Men
Want to keep things simple? We've got you covered. Throw a plain white tee to your over your pitch black jeans for a timeless look.