While it may be hard to believe, countless businesses are finally returning to their standard modes of operation. As the pandemic-induced world of remote work is coming to an end for an ever-increasing number of employees, more and more people are going to need to refresh their long-ignored office wardrobes. And considering that the majority of people have worked from the comfort of their own homes for the past two years, it's safe to say that many aren't going to be too excited about trading in their comfy WFH sweats for a starched shirt and tie. But office clothes in the 2020s aren't like the work clothes of yesteryear, and today's men's office style essentials meet at the juncture of athleisure and business-casual.
For this back-to-work shopping guide, we've focused on work-appropriate clothing that looks sharp while still keeping you nearly as comfortable as those pajamas you've gotten so used to. Countless brands have put their own unique spin on some already-work-ready pieces, and just about every major player is now incorporating stretch and moisture-wicking tech into their office essentials. And if you're a traditionalist, don't worry, as we've made sure to include some classic standbys that will never go out of style, too. So in order to make your transition back to the workplace as smooth as possible, have a look at our guide to the 25 best style essentials for going back to the office.
Jackets & Blazers
Dress It Up
Buck Mason Carry-On Jacket
This easy-going choice from Buck Mason kicks off our array of work-appropriate jackets. As you can see, it takes inspiration from vintage suiting, deeming the unlined cotton twill blazer a stylish pick that offers the perfect amount of stretch. This travel-ready layer is finished off with a pair of internal pockets, hand-linked seams, and then garment-washed for a comfortable feel.
lululemon New Venture Blazer
Formal performance wear has been all the rage lately, and there aren't many athleisure labels we trust more than lululemon. The Canadian clothier's New Venture Blazer boasts remarkable water-repellent capabilities and a two-way stretch composition that grants you all the mobility you need when sitting at your desk or riding your bike to work.
J.Crew Ludlow Slim-fit unstructured suit jacket
You can always look keep J.Crew in mind when it comes to essentials of any kind, and the brand's Ludlow line of suiting has been a game-changing staple since its debut in 2008. This breezy iteration of the mall staple's Ludlow Slim-fit unstructured suit jacket is crafted from a blend of cotton and linen provided by Baird McNutt, an Irish textile mill that has been providing some of the world's finest linen for well over a century.
Bonobos Jetsetter Stretch Italian Wool Blazer
Bonobos is known for crafting some of the highest-quality essentials you can get, and anything from the brand's catalog is a perfect choice to wear in the workplace. The Jetsetter Stretch Italian Wool Blazer offers a stretchy feel thanks to a touch of elastane, paving the way for motion-readiness. The half-lined blazer is rounded out with a notch lapel, patch pockets, and a double vent for a perfect mix of business and casual.
MR P. Unstructured Merino Wool Blazer
When it comes to staying stylish, you may often resort to scouring through MR PORTER for a suitably fashionable jacket. That said, who better to trust with keeping you sharp than MR P itself? The luxury retailer's in-house brand is adept at crafting top-notch pieces, and this laid-back, lightweight blazer is one of many. The Italian-made merino wool-crafted piece is naturally temperature-regulating and features genuine buffalo horn buttons for a lavish touch.
UNIQLO Smart Ankle Pants
UNIQLO is another brand that knows what it takes to make just about anything at beyond-affordable prices. The Smart Ankle Pants are crafted from high-performance fabric that is finished with an odor-controlled treatment and plenty of stretch, both of which will definitely come in handy when your work hours run long. The bottoms also feature an elastic waist for easier adjustability, as well as some additional room around the inseam to make for a breathable fit.
Flint and Tinder 365 Pant
Huckberry's in-house brand makes some of the best attainable clothing on the market — bar none. F&T's ultra-versatile 365 Pant offers a jeans-adjacent five-pocket cut, all the while looking like a pair of chinos with the stretch of your favorite running pants. This comes as a result of a material blend primarily consisting of cotton with the perfect percentage of spandex, giving it that much-needed roominess. Each color you buy (and there are many from which to choose) is garment-dyed for that plush, worn-in feel.
Banana Republic Slim Rapid Movement Chino
Banana Republic has kept folks looking dapper for over four decades, so it's safe to say it knows a thing or two about staying stylish on all occasions. The San Francisco-bred clothier's Slim Rapid Movement Chino is available in a variety of cool colors and is crafted from a wrinkle-and-stain-resistant blend of cotton, polyester, and spandex, making it a great choice for any day (or job).
Taylor Stitch The Slim Jean
Dark denim is pretty widely accepted in most offices these days, and we're always in favor of pairing some jeans with a blazer — especially when they're as comfortable as this pair. Taylor Stitch's Slim Jean is made entirely from organic selvage cotton, going to show that the brand's approach to sustainability trickles down to every garment it makes. It boasts a traditional five-pocket design and sturdy YKK shanks and rivets. So feel free to put the slacks away for a day and throw on some handsome selvage denim.
Todd Snyder Italian Soft Sutton Suit Pant
On the other hand, sometimes you just need a proper pair of dress trousers, and Todd Snyder is there for you when you do. The Houndstooth-patterned Sutton Suit Pant is crafted from a premium blend of wool and linen, making it especially suitable for warmer months, and is rounded out with a traditional tab closure and a prominent crease all the way down the leg for a crisp, traditional look. Let your pants do all the talking at your next meeting with help from the New York-based label.
Rhone Commuter Polo
Rhone is a great brand to look toward if you want something more performance-based. This lightweight polo is part of the clothier's Commuter line, deeming it the perfect choice to wear to the office (or on your trek over there, hence the name). It is made from breathable Italian fabric that's been finished with an anti-odor treatment to ensure that you're staying fresh all day long. Plus, its hidden-button collar keeps things tidier than most other performance polos.
Faherty Stretch Oxford Shirt 2.0
You can never go wrong with a classic white OCBD, and this pick from Faherty improves upon the icon with a touch of Tencel for enhanced coolness. The east coast brand's take on this classic top fits like the standard silhouette but offers much more stretchiness thanks to its touch of spandex. Whether you're wearing it with or without a blazer, no one can question the clean look of this timeless garment.
Ministry of Supply Apollo Shirt
If you're looking for something more innovative than the average hum-drum work outfit, this is an ideal choice. Ministry of Supply crafts its insanely breathable Apollo Shirt with Phase Change Material, a NASA-grade temperature regulating tech that allows for a much more comfortable feel no matter what climate you live in. The sweat-wicking top is 19 times more breathable than competing cotton shirts, resulting in the perfect choice to wear when the office A/C is on the fritz.
Billy Reid Tuscumbia Shirt
It's basically impossible to go wrong with any top you buy from Billy Reid, which is doubly true for the many options from the Alabama designer that are finished with genuine mother-of-pearl buttons, like our choice here. This example of the label's signature Tuscumbia Shirt is made from 100% cotton and boasts an exclusive checked pattern that you won't find anywhere else. Its spread collar, chest pocket, and slightly roomier cut combine to make this one of the most versatile shirts in your closet.
Sunspel Pima Piqué Shirt
James Bond fans and fashion aficionados alike are well aware of what Sunspel brings to the table. Its refined silhouettes date back to 1860, making for over 150 years of keeping things chic. Its Supima Piqué Shirt pushes that trend forward, featuring the standard silhouette of the average dress shirt but with a signature modern twist. The British heritage label constructed the top from its ultra-soft Supima cotton piqué fabric, giving it a sportier look and an extra breathable feel perfect for year-round wear.
Shoes
Formidable Footwear
Amberjack The Original
It's not often you find a pair of shoes that manage to look as good as they feel, but Amberjack is one of the few brands that pull it off. The shoemaker's flagship silhouette is much more technical than it appears, offering heat-activated arch support and a trademark TPU outsole that makes them feel like a pair of running shoes. As far as looks go, the Original is crafted from properly sourced, A-grade full-grain leather, making them a great choice from any standpoint.
Greats Royale
If you're looking for something in the subtle department, then Greats is a great place to start — no pun intended. The aptly-named Royale is crafted and lined using full-grain leather for an ultra-regal feel, all the while staying impressively breathable. For safety's sake, the footbed of this elevated sneaker is finished off with an antimicrobial treatment, making them as healthy a choice as any you can find.
Allen Edmonds Fifth Avenue Cap-Toe Oxford
Oxford shirts aren't the only office staple worth adding to your wardrobe, as a solid pair of Oxford shoes is arguably even more critical. Allen Edmonds' gorgeous take on the classic silhouette keeps things traditional with an upscale feel. The sleek dress shoes boast 360-degree bench welt construction for enhanced durability and stability, all the while sitting on the brand's proprietary molding insoles for an adapting fit. For added style, the Fifth Avenue Cap-Toe is finished off with classic brogue detailing, and every pair is handcrafted in Port Washington, Wisconsin from premium European calfskin.
Yuketen Bit Loafer
Yuketen's hand-sewn loafer is crafted in Maine by expert leather artisans using full-grain leather tanned in the heart of Tuscany. It's rounded out with a sturdy, hand-punched upper for reinforcement's sake, assuring you don't need to worry about the shoe breaking down on you anytime soon. It's worth noting that this handsome pair is exclusive to Huckberry, so there's no need to look further than the respected online retailer.
R.M. Williams Comfort RM Boots
No matter where you work, you can never go wrong with a pair of boots. Moreover, anything from R.M. Williams' catalog is an ideal addition to your office wardrobe. The Australian heritage brand's Chelsea boot is crafted from buttery smooth cowhide leather and sits on a responsive rubber sole for optimized comfort without skimping on style.
Accessories
Formal Finishes
Tie Bar Grenalux Tie
While most jobs don't require them anymore, a tie remains an excellent way to finish off a work outfit, and you'd be hard-pressed to find a better place to pick one up than the Tie Bar. This sleek option from the brand brings all of the style of a classic Grenadine tie but at a fraction of the price, while still boasting 100% woven silk construction and all the luxury you could need. It's available in a handful of colors and a pair of modern widths, so make sure to pick whichever shade and size suit you best.
Mack Weldon Silver Extended Crew Dress Socks
Breathable socks are a must for the office, especially in the summertime. When the heat starts picking up, Mack Weldon is an ideal brand to consider in this department. The Silver Extended Crew Dress Socks offer an anti-odor treatment and cushioned footbed, combining for the ideal accessory to wear under your work shoes of choice. Plus, there are over ten different colors to choose from, so do your best to match.
Shinola Bombay Topstitch Belt
Shinola's array of leather goods ranges from wallets to backpacks, and its well-designed belts are especially deserving of your attention. The Detroit-based manufacturer's Bombay Topstitch Belt is a great choice to hold up your bottoms of choice, offering a sleek that's look rounded out with intricate detailing. Like any of the brand's leather goods, it is crafted from premium natural leather and boasts a robust, smooth feel that you simply won't find on most belts at this price.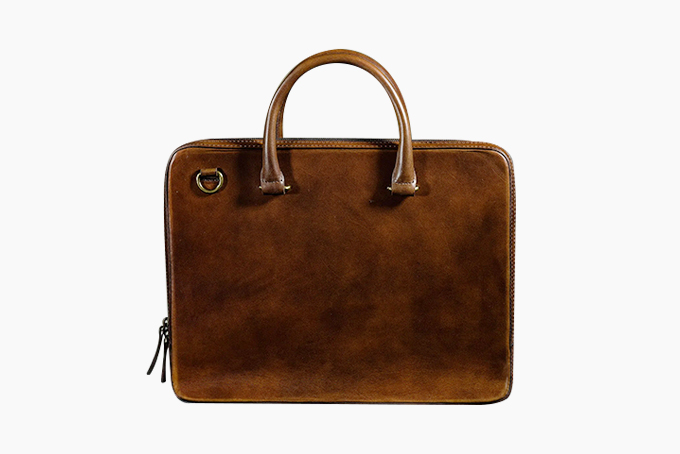 Satchel & Page Attachè
Stow away your paperwork and laptop the fashionable way with this handsome Attachè from Satchel & Page. The supple accessory is crafted from French cowhide leather that was later vegetable-tanned in Italy, deeming it one of the more luxurious additions to any outfit. As far as functionality goes, its streamlined makeup is deceiving in the best way possible, boasting a roomy interior filled with beyond-sufficient organizational space.
Grand Seiko 'White Birch' SLGH005G
One thing you're definitely going to need on your grand return to the office is a watch fit for the occasion, and there are few more appropriate names in this regard than Grand Seiko. The Japanese luxury brand's gorgeous "White Birch" model garners inspiration from the beautiful white birch forests that surround Grand Seiko's Shizukuishi studio, resulting in an intricately detailed silvery white dial that brings this timepiece to life. Far from a pretty face, the watch is powered by the in-house Caliber 9SA5 automatic movement offering a whopping 80-hour power reserve — or, in office terms, two full work weeks.
The 15 Best Loafers for Men
In case our handful of shoe choices didn't pique your interest, we've rounded up the 15 best loafers that are perfect for strolling through the office.