Presented by

Everyday carry enthusiast or not, the vast majority of people keep a handful of knives and other cutting tools around the house. This is perfectly fine when living and working from home, however, with so many of us now returning to the office, a quality EDC knife is arguably more important to possess now than at any point in the last few years. Recognizing this reality, we've set out to uncover some of the finest freshly-released blades to hit the market in this guide to the best new everyday carry knives of the month. So, whether you're on a strict budget or money is no object, this curated list has got you covered.
Kershaw Static Cleaver
While cleaver-style folding knives were practically non-existent only a decade ago, this segment has absolutely exploded in recent years. And while there's no shortage of stellar options to select from, Kershaw has just delivered an extremely capable and affordable take on the genre with its Static Cleaver. Measuring just 6.75" overall, the Kershaw Static Cleaver features a stainless steel liner lock sandwiched between a set of Micarta scales. Equipped with a deep carry tip-up pocket clip, the handle is mated to a 2.50" D2 blade with a stonewashed finish that's deployed via a flipper tab and outfitted with jimping along the spine for added style and grip.
Blade: D2
Handle: Micarta
Blade Length: 2.875″
Total Length: 6.75"
Lock Type: Liner Lock
OKnife Beagle
Founded in 2007, Olight has spent the last decade and a half making a name for itself by producing a wide range of high-quality flashlights, though the company has more recently gotten into the EDC blade space under its OKnife sub-brand. Weighing just 3.44oz, the OKnife Beagle is comprised of a stainless steel liner lock-equipped Micarta handle that's been paired with a 3.30" drop point blade crafted from 154CM stainless steel. The OKnife Beagle also boasts a dual thumb-stud setup and a deep carry pocket clip that's also composed of stainless steel.
Blade: 154CM
Handle: Micarta
Blade Length: 3.30"
Total Length: 7.60″
Lock Type: Liner Lock
Boker Plus Papillon
Learning to use a butterfly knife can admittedly be an intimidating experience, though having the right knife can make an enormous difference. Case in point, the all-new Boker Plus Papillon. Spanning 10" overall, this knife features a skeletonized set of stainless steel handles that are mated to a 4.25" D2 blade that's effortlessly guided by internal ball bearings — making it perfect for learning to flip. And, while it may seem questionable to learn using a sharpened blade (rather than a trainer), we simply advise novice users to limit their tricks and openings to moves where only the safe handle is used (versus the "bite handle").
Blade: D2
Handle: Stainless Steel
Blade Length: 4.25″
Total Length: 10.00"
Lock Type: Latch Lock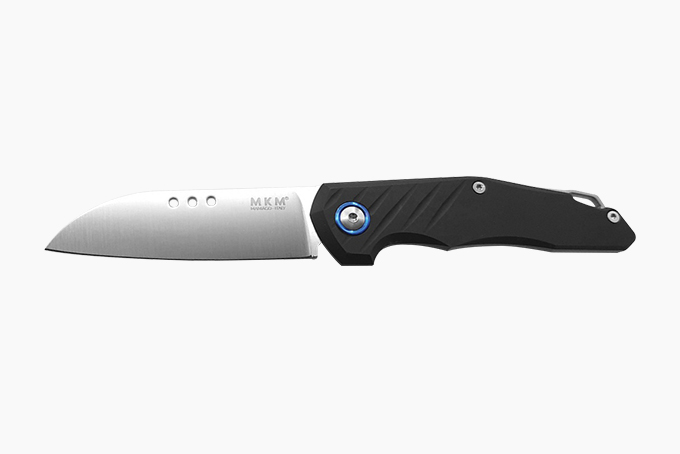 MKM Anso Root
There are plenty of top-shelf knives on the market, however, exceedingly few offer the same level of value as the MKM Anso Root. Penned by legendary designer Jens Anso, the MKM Anso Root is a non-locking slip joint model that's constructed around a black titanium handle that's equipped with a lanyard hole and accented via a blue-anodized pivot collar. This high-end handle material has been paired with an equally top-shelf Böhler M390 sheepsfoot blade that's rated at between 58 and 60 for hardness on the Rockwell scale. Made in Italy, this knife is also sold with an included leather sheath.
Blade: Böhler M390
Handle: Titanium
Blade Length: 2.80"
Total Length: 6.54"
Lock Type: Slip Joint
Toor Knives XT1 Alpha
Designed to handle both military use and EDC duties alike, the Toor Knives XT1 Alpha is an incredibly top-shelf everyday carry folder crafted from some of the finest materials available. Produced in small batches using extremely exacting tolerances, the XT1 Alpha sports a frame lock-equipped titanium handle, a matching titanium pocket clip, and a 0.15" thick, CPM S35VN recurve blade that's guided by bronze washers and deployed via a dual thumb stud setup. And, like all Toor knives, the XT1 Alpha is made entirely by hand at the boutique blade brand's headquarters in San Diego, California.
Blade: CPM S35VN
Handle: Titanium
Blade Length: 3.25"
Total Length: 7.90"
Lock Type: Frame Lock
The 5 Best New EDC Knives of August 2022
Didn't spot a blade on this list that struck your fancy? Then be sure to check out last month's guide to the best new EDC knives for five additional everyday carry options.