Presented by

One of the best ways to blow off steam and enhance your health is to exercise. While the act of exercising itself is free, almost any worthwhile routine is going to require some equipment, be they shoes, weights, or mats. While these are necessary costs that can help boost the efficacy of your workout, they add up over time. Add the cost of fitness accessories to the already heightened costs of the holidays, and you can easily drain your wallet. We believe that price should never be an obstacle for fitness and that, with a little looking, you can find great items for an even greater deal. With that philosophy in mind, we've curated a list of accessible fitness products under $50 so you can gift yourself, or the meathead in your life, this holiday season.
Exerbell
Exerbell's space-saving offering sports the versatility and intensity of a kettlebell with the added bonus of being collapsable. Simply fill it with sand or water, perform your exercises, and then empty it for easy storage or transport. Sure, it's a hair over $50, but it's worth the extra bucks for the killer workout it provides.
LazzcorrA Jump Rope Set
Jump ropes are one of the ideal forms of developing cardiovascular endurance. LazzcorrA offers a set that is easy to learn, great for building stamina and coordination, and takes up practically zero space.
TRX Resistance Bands
Whether you're building muscle, increasing a joint's range of motion, or rehabbing a muscle group, bands offer a great, low-impact way to build strength. TRX offers an affordable lineup that will hold up to the rigors of your exercise regimen.
BalanceFrom Yoga Ball
No home gym is complete without a good yoga ball. BalanceFrom is a trusted name in the fitness space, and their yoga ball will help you practice yoga, as well as strengthen and condition your core and stability.
Coobons Fitness Resistance Bands Set
If you're looking to intensify your band workouts while also maximizing the storage space of your living area, anchored bands provide a difficult exercise alternative to weights that also allow you to isolate specific muscle groups. Coobons sells a wonderful set of resistance bands that can provide up to 150 lbs of resistance.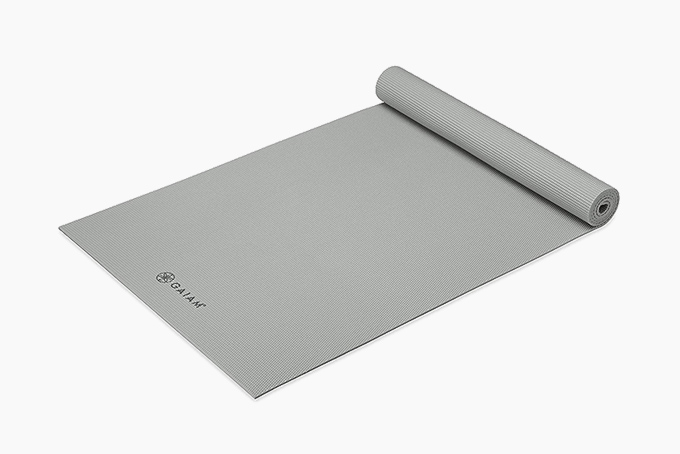 Gaiam Yoga Mat
Good affordable yoga mats are hard to come by, as they rarely give you the comfort and support you need. Thankfully, Gaiam is a really trusted name in the fitness industry that provides stellar yoga mats for a great price.
Proof 72-Hour Merino No Show Sock: 2-Pack
Proof's 72-Hour Merino Wool Sock has an odor-resistant, moisture-wicking blend of merino, nylon, and spandex that will keep your feet dry and free from stink.
SKLZ Speed and Agility Ladder
SKLZ is a premiere fitness brand that offers accessibly priced sporting and conditioning goods. In particular, their speed and agility ladder is a great way to improve acceleration, coordination, quickness, and core skills necessary to enhance balance, rhythm, and body control.
Nike Pro Hyperwarm Hood
The Nike Pro Hyperwarm Hood is the ideal accessory for practicing and playing in cold temperatures. It offers warm, lightweight fabric that covers the face below the neck, and its polyester and spandex construction will keep your face dry and insulated.
LifePro 4-Speed Vibrating Massage Ball
LifePro's vibrating massage ball can pinpoint knots and eliminate them with the efficiency and power of a Theragun. Though it can feel like a torture device when you're using one, this is a must-have recovery item.
Ten Thousand Compression Short
Ten Thousand's compression short will keep your unmentionables secure so you don't feel uncomfortable while you're working out intensely. Even better, they're made with premium Italian warp-knit fabric that has been treated with silver ions for permanent odor control.
Onnit 12KG Kettlebell
As far as weights are concerned, kettlebells are some of the most versatile and long-lasting pieces of gym equipment you can own. Onnit's kettlebells are powder finished for enhanced grip, gravity cast for added durability, and color-coded so you never mix up your weights.
CAP Barbell 20lb Weighted Vest
If you're looking for a quick and easy way to ratchet up the intensity of your workouts, then a weighted vest is right for you. You need to be careful with it because of joint wear and tear, but if used correctly, a weighted vest is a great way to augment your bodyweight workouts.
Hydro Flask 32oz Water Bottle
Water bottles don't get much better than Hydro Flasks. Aside from being dishwasher safe, easy to clean, and featuring some of the best insulation in the water bottle space, this particular Hydro Flask features a wide mouth straw lid for quick and easy hydration.
SENNHEISER CX 350BT Bluetooth 5.0 Wireless Headphone
Scientific studies show that listening to music can enhance your fitness. Sennheiser's CX 350BT wireless headphones offer superior sound, 10 hours of battery life, and Bluetooth connectivity to help you jam out through your workout.
The Wishlist: 20 Best Gifts for the Athlete
If this guide got you into a fitness frenzy, then check out our wishlist of the 20 best gifts for the athlete for more gym-spired gifts.