Try as we might, life often has a habit of getting in the way of our workout plans. Between work, social engagements, and family obligations, it can be pretty tempting to let your fitness regimen take a back seat. But let's face it. We know you shouldn't. You know you shouldn't. Hell, even those around you probably know you shouldn't. Exercise is essential to our well-being, both physical and mental. While it might seem like other responsibilities are more pressing, you can't neglect your own health. Before you know it, that pent-up energy will start to surface in the form of excess stress, poor self-esteem, and general irritability — all of which will impact how you go about the rest of your day.
And besides, you don't need to be a professional athlete in order to stay active. On the contrary, as there are plenty of different programs that are created for regular people. We're talking about workouts that appreciate the fact that you're balancing a 9-5 along with chores, meals, and any number of other commitments. We're talking about equipment that can be used comfortably at home, no industrial gym space required. With this in mind, we've rounded up what we feel to be the 14 best workouts for time-crunched athletes, paying careful attention to include both cardio and strength training options for a well-rounded routine. Below, we start off with some general suggestions, after which we'll dive into the gear itself.
Making the Most of Your Time
Intensity and Efficacy
Just because you're strapped for time doesn't mean that you have to give up on your fitness goals altogether. By being judicious with your exercise selection, it's totally possible to get an effective workout in 30 minutes or less. Above all else, keep in mind that you should always be doing something. In other words, strive to stay moving as much as possible. With high-intensity interval training (HIIT), for instance, you can minimize the time you spend resting by working out in short, gut-busting bursts; in doing so, you'll be able to recover far quicker and fill your allotted time much more productively.
In strength training, too, it's important to make the most of what you have. By stacking sets (switching between exercises) and alternating muscle groups, you can complete an entire training session in nearly half the time. When applicable, try to incorporate some compound movements such as pull-ups, push-ups, and squats. Instead of fixating on any one particular body part, you can hit an entire chain of muscles all with the same motion pattern. Sure, you might've had time to do that extra set of curls in high school, but now you have to consider whether it's worth skipping leg day (it's not).
The 12 Best No-Equipment Bodyweight Exercises
Going to the gym can be a pretty arduous process. However, the good news is that you can build muscle right from the comfort of your own home — no weights required. If you're looking for some of our favorite movements, check out our roundup of the best no-equipment bodyweight exercises.
The Gear
Time-Efficient Essentials
Fit Simplify Resistance Band Set
Even if you find yourself without time to hit the gym, you can always squeeze in a quick strength training session using some resistance bands. This set by Fit Simplify includes five heavy-duty bands of varying intensities, allowing you to get an efficient full-body workout wherever you are. Target your back and shoulders using the lighter loops or bust out some squats under the heavier options; with up to 74lbs of total resistance, there's more than enough load to get the job done. The best part is: it's an incredibly versatile setup that can be used for much more than bodyweight strength work, such as stretching, physical therapy, or even powerlifting.
Rep Fitness V2 Slam Balls
Slam balls are essential to any HIIT workout. Whether you're throwing them, squatting them, or holding them for exercises like bicycle crunches, the applications are practically endless. We'd recommend one from Rep Fitness in particular because they're made using a durable, hard-wearing rubber. Filled with sand and built with an integrated air valve, they can be slammed thousands of times without any risk of bursting. What's more, they come in a variety of different weights — from 5lbs up to 70lbs — meaning you can dial in the intensity to your specific strength requirements. As an added bonus, they're softer and shiftier than medicine balls, making them ideal for training static holds and other stability-minded movements.
Iron Gym Pull-Up Bar
Few exercises are better at building absolute upper body strength than the veritable pull-up; it's a compound movement that works lats, traps, and everything in between. Rather than saddling yourself with a bulky standalone setup, save some space and just get this Iron Gym doorway bar instead. Hanging from any doorway 24-32 inches wide, it features a sturdy steel construction that supports as much as 300lbs of weight. It also comes with three different handhold positions, allowing you to perform both chin-ups and wide-grip pull-ups. And, assuming you want to give your pecs or triceps some attention, it even doubles as an elevated floor bar for push-ups and dips too.
Rogue Kettlebell E-Coat
Easily the most effective piece of equipment for the time-crunched athlete, kettlebells enable you to get an intense total body workout in as little as 20 minutes. And here's the thing: while you're more than welcome to learn advanced movements like snatches and cleans, even simple swings and Turkish getups are enough to achieve your goals. As such, we'd advise that you pick up one of these E-Coat bells from Rogue. Affordable, high-quality, and available in weights from 9lbs up to 88lbs, they're easily one of the best value propositions on the market. If you're looking for a good place to start, try out a 35lb kettlebell first, moving up in 10-20lb increments thereafter.
Titan Fitness Battle Rope
Any time a movie features a suspenseful training montage, chances are pretty good that a battle rope will be making an appearance. Much more than a dramatic display, however, battle ropes are an ideal conditioning tool for building core stability, increasing power, and improving explosiveness. And that's not all; as you'll quickly find out, swinging these babies makes for an incredibly active strength training exercise, meaning they're also heaped with cardiovascular benefits. Though there are countless options on the market, a set from Titan Fitness is easily your best bet. Available in 1.5″ and 2″ diameters, they start at 30′ lengths (better for beginners) and stretch as long as 50′ (ideal for experts).
ProsourceFit Dip Stand
Though the above pull-up bar is decent enough for tricep exercises, you'll be much happier with a dedicated stand if you're serious about your dips. This option from ProsourceFit, for instance, supports up to 400lbs, allowing you to add chains and plates for some extra load. What's more, its application isn't limited to dips alone; it can also be used for inverted rows, l-sits, as well as push-ups. And, if you're tight on space, it can even be packed away when not in use. Ditch the ad hoc fixes — like those countertop corners and chairs — and get yourself dipping on a setup that's safer, stronger, and actually intended for exercise.
Crossrope Get Lean Jump Rope Set
Sure, most people assume that skipping is an activity best left on the playground, but they're only doing themselves a disservice. What they fail to realize is that jumping rope is actually an incredibly time-efficient form of exercise, used by everyone from elite boxers to Formula 1 drivers. And it's for good reason; in addition to upping your cardio capacity, it also works your coordination and footwork. We'd suggest a Crossrope above anything else because it's less a jump rope and more of a complete system. That is, with ropes weighing as much as 5lbs, you can burn fat, build strength, and improve muscle tone wherever you are.
lululemon Take Form Yoga Mat
Yoga is more popular now than ever before, and it's easy to see why when you consider all that it has to offer. Packed full of health benefits, it requires very little space and the sequences can be completely customized according to your routine. Ever an authority when it comes to all things yoga, lululemon makes any number of high-quality mats. However, we like the Take Form because it features a unique 3D texture for guiding your positioning as you practice. Moreover, the 5mm thickness is padded enough to provide some protection from the floor, but not so plush that you'll feel like you're on a mattress.
Nike Air Zoom Pegasus 38
Running is often considered the everyman's sport on account of its low price barrier and minimal equipment requirements. But that's only part of the story. It's also far more time-friendly when compared to other endurance activities, as you can scale the distance relative to your ability. If you're looking to get off on the right foot, the Nike Pegasus is an ideal shoe with which to start. Now in its 38th iteration, it comes with a full-length React foam midsole, a forefoot Zoom Air unit, and a midfoot webbing system for a more precise fit. Equally suited to long runs and speed work, it's a dependable daily trainer that'll never let you down.
TRX Pro4 System
Even if you've never set foot in a gym, you'll likely have heard of TRX — the band-based workout brand is everywhere these days. But it's much more than a passing fad or a trendy gimmick, as the straps allow for a highly efficient total body training routine. In the case of the Pro4 System we have featured here, you're getting TRX's most advanced and versatile strap to date. With a Suspension Trainer, a pair of adjustable foot cradles, as well as a door anchor and an extender, it offers everything you need to train burn fat, build muscle, boost cardio, and improve flexibility.
The Mirror
Okay, we'll admit that this one is a bit of a cop-out, but the Mirror is a piece of workout equipment that's too game-changing to pass up. Beneath its fully reflective surface, it features an interactive LCD screen, an integrated camera, and a set of speakers. In practice, such a setup gives you access to a library of over 50 different exercise genres, with 5-60 minute classes that can be catered to beginners and experts alike. Each week, the Mirror drops a schedule of new live sessions, though you can always tune in to one of the system's many on-demand options. For those who really want to level up their exercise, it even offers Bluetooth support so that you can sync your biometric data with heartrate monitors, Apple watches, and fitness trackers.
Nordictrack RW900 Rower
The best forms of cardio are those that improve your strength in the process, chief amongst them being rowing. Intense, hard-hitting, and effective from head to toe, it's an excellent choice if you're looking for a quick turn-and-burn workout. Personally, we prefer more tech-integrated options like the RW900 model we have here from Nordictrack. As the top-tier rower in the range, it comes with a massive 22″ rotating screen, access to a suite of online iFit workouts, and Bluetooth audio connectivity so you can stay plugged in. And, like many other machines on the market today, the RW900 features a space-saving design that makes setup and storage a breeze.
Liteboxer Starter Package
While we'd all like to train like Rocky and hit the heavy bag from time to time, they're not exactly a practical piece of equipment to keep around the house. The Liteboxer, on the other hand, allows anyone to train like a fighter, as it features intelligent Rhythm Technology that makes it fun and engaging regardless of your sparring experience. Similar to some of our other smart workout options, it's based around an expansive catalog of classes, with over 100 different boxing and strength training sessions to help you get your sweat on. However, Liteboxer is one system that actually encourages you to get physical with it, built with a responsive six-target shield to simulate the feeling of being in a ring.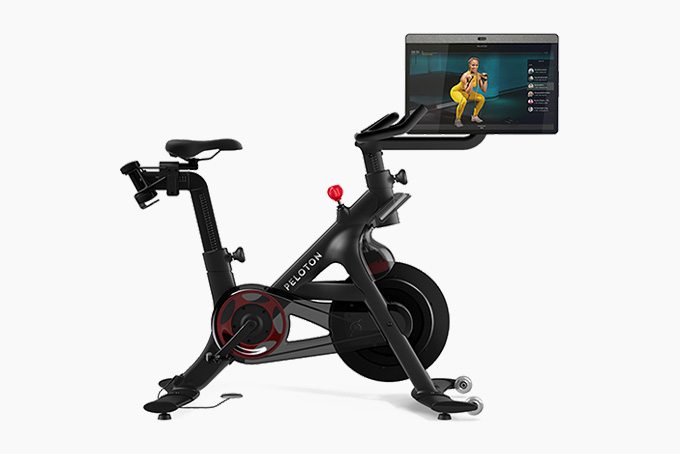 Peloton Bike+
Chalk it up to clever marketing if you will, but Peloton has created something of a modern fitness revolution thanks to its innovative indoor stationary bike. And they've only improved on their efforts with the launch of the Bike+. For even though it's similar in design to the OG, it comes with a larger 23.8″ touchscreen and an improved interface, as well as better audio and — most importantly — automatically adjusting resistance. The one downside to the Peloton lifestyle is that you're stuck paying a month-to-month subscription fee. If you want to get the most out of the bike, you'll have to fork over some $39 for an All-Access membership. That said, you'd be hard-pressed to find a better option when it comes to efficient, calorie-burning workouts.
The 15 Best Pieces Of Workout Equipment For Small Apartments
When you're living a busy city lifestyle, time isn't the only thing working against you — you also have to consider your space requirements. If you find yourself facing such a dilemma, head on over to our guide to the best pieces of workout equipment for small apartments.