Founded in 1926 as a sister brand to Rolex, Tudor is a Swiss watchmaker headquartered out of Geneva. While recognized today as a luxury brand, Tudor got its start producing dive and military watches, including timepieces used by elite forces such as the French Marine Nationale and U.S. Navy SEALs. And while the company now produces a wide range of different models and references, its identity remains inextricably tied to dive watches. As such, even the brand's offerings tend to sport some major ocean-faring vibes — including Tudor's everyday watches like the Black Bay 36.
Once considered a stand-in for the Rolex Explorer, the BB36's recent reintroduction has brought with it a new position in the market as the brand's go-to, go-anywhere, do-anything timepiece. And while Tudor's Black Bay 36 looks great in photos, we were curious to see how the watch would actually look and perform in real life. After getting our paws on the time-only diver, we've spent the last few weeks with the watch on our wrist, putting it through its paces to deliver this hands-on review of the Tudor Black Bay 36 watch.
At A Glance
Tudor Black Bay 36 Specs
Case Size: 36mm
Lug to Lug: 44mm
Case Thickness: 10.4mm
Lug Width: 19mm
Case Material: Stainless Steel
Water Resistance: 150m
Movement Type: Mechanical
Power Reserve: 38 Hours
Movement: Tudor Calibre T600
Lume: Super-LumiNova
Crystal: Sapphire
Strap: Three-Link Stainless Steel Bracelet
First Impressions
Diving Into Tudor's Black Bay 36
Though definitively falling into the diver category, Tudor's Black Bay 36 is nonetheless still largely characterized by its immense versatility, with a rugged yet refined appearance that jives well with everything from dressed-down wardrobes to business suits to wetsuits. This is an enormous part of what makes the Black Bay 36 so special, as it manages to pull off a balancing act that's immensely difficult to achieve. The BB36's appearance can also be massively altered by simply swapping out its bracelet for a leather or NATO strap.
In typical Tudor fashion, the BB36 also borrows a host of aesthetic cues from vintage Rolex references, while still easily being identifiable as a modern timepiece upon first glance. And, as Rolex has moved in an increasingly elegant and upscale aesthetic direction, it's become increasingly difficult to view its timepieces as genuine tool watches, however, this same statement doesn't ring true for Tudor, as the BB36 manages to boast a hardwearing and utilitarian appearance while simultaneously lending itself to more formal, dressed up occasions.
Combining the minimalistic case designs of a time-only field watch or explorer with the iconic diver dials of watches like the Rolex Submariner or Tudor Black Bay 58, the BB36 also boasts numerous signature Tudor design cues, from its round indices to its trademark snowflake hands to its smooth bezel. Alongside the incredibly attractive stainless steel case and matching bracelet, another element about the Black Bay 36 that instantly jumped out to us was its crown tube, which, even when screwed down, still protrudes out from 3 o'clock.
Oyster-Style Housing
The Black Black 36's Case
Benefitting from a less-is-more design philosophy, the Tudor Black Bay 36's case is simple yet satisfying. Due to this minimalistic approach, the elements that do remain present on the watch stand out that much more, from its hands to its iconic round and rectangular indices to its bracelet. Measuring 36mm in diameter and spanning 44mm from lug to lug, the BB36 is constructed around a slightly modified take on an Oyster-style case, with a stainless steel construction and straight lugs that boast both fine circular brushing on their top surfaces, as well as a polished chamfer running from edge to edge.
The case is complemented via an attractive bezel design, with a fixed stainless steel item that's been mirror polished. This ultimately affords the BB36 an additional dose of elegance and a bit more pizzazz than one would typically find on a dedicated tool watch. The chamfer then feeds into the fully-polished side of the case, and while the GADA-friendly diver does possess the typical Tudor slab side, the usually polarizing effect of a slab-sided case is significantly mitigated by its impressively thin dimension, with the watch measuring only 10.4 millimeters from the case back to the top of the flat sapphire crystal.
As one would expect from Tudor or Rolex, the BB36's case back is an incredibly plain and simple screw-down item that doesn't appear to have been given too much thought, however, if you are going to skimp on any one area, we'd always rather it be an element that isn't visible when the watch is on-wrist. And, while we personally think 36mm is the perfect size for an everyday watch like this, Tudor does produce a larger 41mm Black Bay model as well as a smaller BB32.
Moving on to the crown, Tudor has outfitted the BB36 with a black aluminum protruding crown tube. Despite being aware of this, the distance the crown sits from the case, even when screwed in, kept making us think it wasn't fully screwed in. We imagine one might get used to this design decision over time when worn daily, however, in the weeks we spent wearing the BB36, we found ourselves routinely second-guessing whether or not the crown was screwed down — making us apprehensive to take the watch into water. We did, however, appreciate the rose relief detail that Tudor opted to decorate the crown with.
Sitting under a sapphire crystal, the Tudor Black Bay 36 sports the traditional Rolex/Tudor dive watch indices setup — an inverted triangle at 12, bars at 3, 6, and 9, and dots at all other hours. Applied with polished surrounds, the indices are maxi-sized and benefit from being filled with liberal amounts of green Super-LumiNova lume. As per usual, the BB36 employs Tudor's trademark snowflake hands with diamond tips for the second and hour hands and a pencil-shaped minute hand. Like the indices, the hand-set is oversized and has been hit with a more than generous amount of green lume.
Encompassing the indices is a white printed chapter ring, bestowing the timepiece with some unmistakable vintage flair while still looking fairly understated. Printing on the dial is somewhat spartan yet well-balanced, consisting of Tudor's shield logo and "Tudor Geneve" positioned just under the 12 o'clock index and "Rotor Self Winding" printed above the bar at 6 o'clock. Rather than utilizing straight typography, the words "self winding" on the dial follow its curve, giving the impression of a smile — a divisive design decision, though one that we admittedly appreciate.
Swiss Links
The Black Bay 36's Bracelet
As a more affordable sister brand to Rolex, some elements on Tudor's watches fail in comparison in to the Crown's level of quality, craftsmanship, and/or fit and finish, however, this isn't the case with the Black Bay 36's bracelet. Tapering in from the Oyster-style case, the BB36's bracelet sports a fully polished finish aside from the outer edges, providing a nice bit of contrast, especially as light passes over the watch. The bracelet's link spacing also sports a vintage-inspired vibe and does so without featuring the controversial faux rivets used on some of Tudor's other Black Bay divers. Additionally, the bracelet articulates well and falls flush from the end links with no overhang — traits that together make for an incredibly comfortable watch that can be worn all day, hugely bolstering the watch's conduciveness to everyday use.
Just as impressive as the bracelet's links is its clasp. Secured via a series of ceramic ball bearings that ensure the bracelet won't wear down or loosen over time, this fold-over clasp features a signed safety lock that sits perfectly flush against the clasp, with the folded-over piece combining with the rest of the bracelet to form Tudor's shield logo when closed. And, while this little easter egg is a minor detail, it does speak to the overall attention to detail poured into the design of this watch. Having said that, as much as we do appreciate the BB36's bracelet and clasp, we wouldn't mind seeing it jettisoned in favor of the quick-adjust T-Fit clasp that's found on the Swiss brand's Black Bay Pro watch.
In-House Modified
The Black Bay 36's Movement
At the heart of the Tudor Black Bay 36 is the brand's self-winding Calibre T600 mechanical movement — an in-house-modified version of the ETA 2824-2 or Sellita SW200-1. Waterproof to 150m (or 500'), the movement features a 38-hour power reserve. Despite not being a certified chronometer like some of the motors found in Tudor's more high-end models, the brand still claims the BB36 will nonetheless be accurate to chronometer standards. We also found the watch's timekeeping to be fairly accurate in our experience, being off by only a few seconds a day.
Based on how high of a bar Tudor has set in practically every other regard when it comes to the Black Bay 36, the Calibre T600 movement does feel a tad underwhelming, though the Swiss-made mechanical motor is still a solid workhorse and is by no means something to scoff at. With that said, we are hoping that Tudor will swap it out for a more impressive in-house engine when it eventually opts to update the BB36.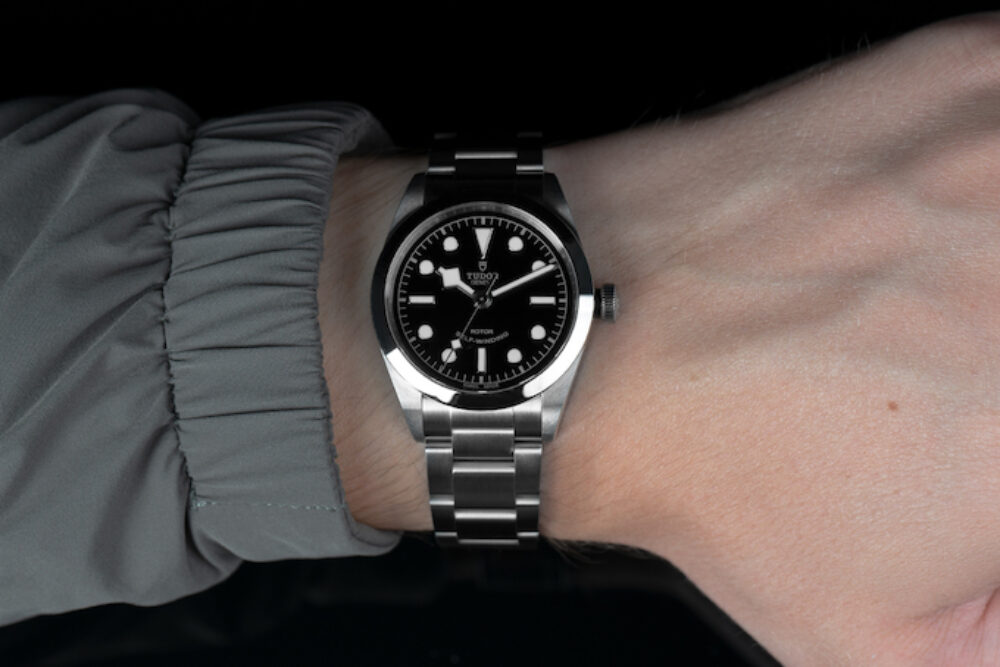 Everyday Excellence
Closing Thoughts On The Black Bay 36
While there are some minor areas that we would change on the Black Bay 36 — namely the movement, the clasp, and the protruding crown tube — the watch as a whole is objectively impressive. More importantly, it holds the distinction of being the best everyday watch Tudor currently makes — as well as one of the best GADA watches on the market, period. The time-only diver's build quality and rugged yet refined appearance together make for a wildly versatile timepiece that lends itself to practically any environment, outfit, or setting.
Between its bevy of quirks, fine attention to detail, and old-school Rolex-inspired design cues, the BB36 boasts gobs of character despite its overall minimalism. Couple that with an accurate movement, an absolutely stellar band, and a perfect middle-of-the-road case size, and you've got what's easily one of the best everyday watches ever produced.
The Best Everyday Watches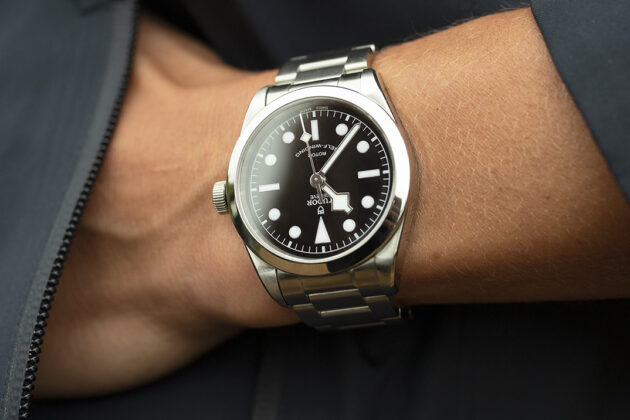 Interested in checking out some of our other favorite GADA timepieces? Then be sure to head over to our guide to the best everyday watches for a handpicked list of more than a dozen stellar EDC-ready references.