Rumors of a new iPhone and a new Apple Watch have been percolating over the last few months, and when Apple announced the mysteriously-named 'Wonderlust' event, it got fans even more curious. Now it's official, and Apple has unveiled the iPhone 15 models, the Apple Watch Series 9, and the Apple Watch Ultra 2. Not only that, but Apple has announced its goal toward carbon neutrality in 2030, and the Series 9 is the first carbon-neutral Apple product ever.
New Apple Product Releases Breakdown
iPhone 15 Pro and iPhone 15 Pro Max
Apple Watch Series 9
The Series 9 features the new S9 Apple silicone chip, the most powerful watch chip from Apple to date, and its GPU is 30% faster compared to the Series 8, and it comes with an 18-hour battery life. New wrist motions and gestures have been added, like being able to double-tap your fingers (on each other) to play and pause music or answer calls. A new machine learning algorithm detects movements and changes in blood flow to detect your finger tapping and wrist movements. Speaking of, you can now raise your wrist to talk to Siri, and Siri requests are now processed on the device instead of going through the cloud, meaning you don't have to rely on a good internet connection. Siri + Health now allows you to ask Siri direct health questions, and she'll help log and provide health data. Watch OS 10 lets you use Namedrop to simply raise your wrist to another Apple watch and exchange data. This new chip also provides a more precise way to track your iPhone, with haptic feedback to help you navigate. The edge-to-edge always-on retina display goes up to 2,000 nits (2x brighter than the Series 8) and goes down to 1 nit. The Apple Watch Series 9 will be available starting September 22nd for $399 and is Apple's first carbon-neutral product. It's available in 45mm and 41mm cases with up to 50 meters of water resistance.
Release Date: 9/22
Features: S9 chip, double-tap gestures, wrist gestures, Siri + Health, Namedrop
Case Sizes: 45mm or 41mm
Resistances: 50M water-resistant
Chip: S9
Battery: 18 hours
Starting Price: $399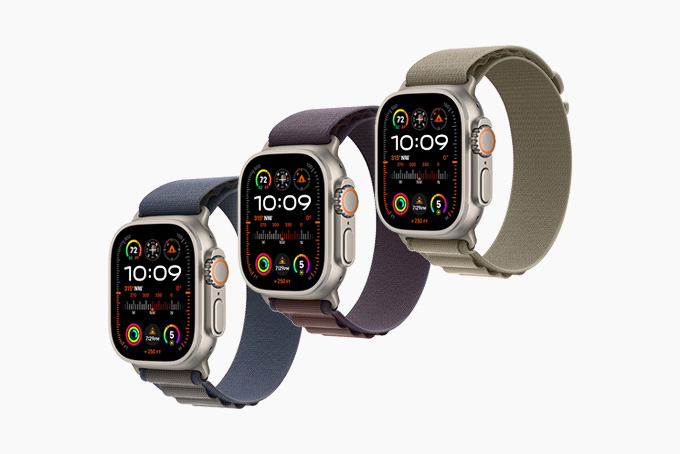 Apple Watch Ultra 2
The most advanced Apple Watch to date, The Apple Watch Ultra 2 also has the latest S9 chip, letting you double tap to control and use voice controls, along with the updated FindMy accuracy and directions. You get 3000 nits max brightness (brightest Apple display ever), and the Modular Ultra watch face is the first Apple watch face to reach the outer edge of the display, and it's meant to display as much info as possible. Night mode activates automatically when in the dark, and you can connect Bluetooth accessories to enhance other workouts to measure speed and power. It has 36 hours of battery life with 72 hours in low-power mode, and both the alpine loop and the trail loop band also make the Ultra 2 a carbon-neutral product. It's available in a 49mm case that's water-resistant up to 100 meters, tested to MIL-STD 810H, and IPX6 dust-resistant. The watch starts at $799 and will be available starting September 22nd; you can pre-order both the Series 9 and Ultra 2 today.
Release Date: 9/22
Features: S9 chip, 3000 nits max brightness, precise GPS, Modular Ultra watch face
Case Sizes: 49mm
Resistances: 100M water-resistant, MIL-STD810H, IPX6 dust resistance
Chip: S9
Battery: 36 hours
Starting Price: $799
iPhone 15 and iPhone 15+
The Dynamic Island from the 14 Pro is back (along with the A16 chip), with added features like being able to track multiple apps and better flight information. The Super Retina XDR display uses OLED technology, thinner borders, and Dolby Vision support, with a peak HDR brightness of 1600 nits (and peak brightness in sunny conditions is 2000 nits). A new contoured edge on the aerospace grade aluminum and colored embedded throughout the color-infused glass gives a more uniform look. Polished with nanocrystalline particles, the ceramic shield is tougher than any smartphone glass, and the entire phone is water and dust-resistant. It's made with 75% recycled aluminum and 100% recycled cobalt in the battery, and the A16 bionic chip from the iPhone 14 pro is also here, which features a 16-core neural engine, a 5-core GPU, and a 6-core CPU. The second generation Ultra Wideband chip allows the iPhone to connect to other devices up to 3x farther away, with guided directions directing you right to your friends or lost device. A new machine learning model can filter out background noise, and a voice isolation mode can make your voice even more clear, making calls much better. Roadside Assistance via Satteltie uses the same SOS satellite tech currently on iOS, allowing you to text roadside assistance without service. Finally, the iPhone 15 has the USB-C port everyone was expecting, meaning you can use the same cable for each (new) Apple device.
There's also a new camera system with a 48MP main camera featuring a quad-pixel sensor, and computational photography with a new sensor that balances light and detail, able to increase resolution and reduce file size. The 12MP 2x Telephoto option captures 4k images and video for crisp close-ups, and the True Depth front camera uses the new Smart HDR to give you brighter colors. Pre-orders start on September 15th starting at $799+, and it'll be available on September 22nd.
Release Date: 9/22
Features: Dynamic island, 48MP main camera, A16 bionic chip, roadside assistance, USB-C port
Chip: A16 Bionic
Cameras: 48MP main camera, 2x telephoto, Ultra Wide camera
Video Playback Time: 20 hours
Dimensions: 6.1″, 6.7″ (Plus)
Available Storage: 128GB, 256GB, 512GB
Starting Price: $799
iPhone 15 Pro and iPhone 15 Pro Max
The most advanced Apple silicone chip is housed in a premium titanium enclosure with the iPhone 15 Pro (the lightest pro model yet), with the same contoured edge from the 15. It's made with grade 5 titanium, the same alloy used in the Mars rover, which has one of the highest strength-to-weight ratios of any metal. The most notable addition is the A17 pro chip, the industry's first 3-nanometer chip, with a 6-core GPU, and the most efficient mobile CPU in the market. The 16-core Neural Engine is 2x as fast and uses machine learning, ProRes codec, Pro Display engine, and av1 decoder for better video quality. It also has the new USB-C port, with the option to use USB-C 3 cables for faster transfer speeds. The brand-new GPU has a design that's more energy efficient and can finally allow for ray tracing at high frame rates, which is pretty impressive for Apple. The iPhone 15 Pro has the fastest chip on any smartphone, making this a worthy gaming smartphone (something the iPhone couldn't always claim), as well as the most powerful iPhone from Apple yet.
The iPhone 15 Pro's camera system is the equivalent of having 7 camera lenses in your pocket, with the ability to shoot high-resolution images in 24mm, 28mm, and 35mm focal lengths. The 48MP camera, and improved 12MP Ultra Wide camera, are even more advanced than the already high-tech iPhone 15, using Smart HDR and featuring 2x better lowlight performance. It also has a 5x optical zoom at a 120mm focal length, the largest aperture of any smartphone in this optical range. This is the first smartphone in the world that supports ACES, an industry standard for color and clarity, and you can capture spatial videos (3-dimensional videos) to enjoy with Apple Vision Pro, making for a more immersive experience. Like the 15, pre-orders will be available on September 15th starting at $999+ ($1,199 for the Pro Max), and it officially releases on September 22nd.
Release Date: 9/22
Features: A17 pro chip, titanium body, Pro zoom, customizable action button, USB-C port
Chip: A17 Pro
Cameras: 48MP main camera, 3x or 5x telephoto camera, Ultra Wide camera
Video Playback Time: 23 hours, 29 hours (Pro Max)
Dimensions: 6.1″, 6.7″ (Pro Max)
Available Storage: 128GB, 256GB, 512GB, 1TB
Starting Price: $999, $1,199 (Pro Max)