Presented by
Often synonymous with antique tools and statues, brass is still highly prevalent in culture and utility today. Not only is it preferred in high-quality clothing, furniture, and footwear, but its natural color implies a sense of heritage and the material itself ages quite well. A combination of its resistance to corrosion and beautiful acoustic properties have made it optimal in instruments such as trumpets and French horns — also known as brass instruments. An alloy of copper and zinc, brass is the centerpiece of this style guide, which features pieces that utilize the metal in one way or another.
Billy Reid Theo Shirt Jacket
Tough, yet stylish and versatile, Billy Reid's Theo Shirt Jacket can double as either an evening long-sleeve outer layer or a durable work shirt. Crafted from a combination of linen and cotton, with 100% cotton body lining, this button-up is insulated with Comfortemp AIR polyfill — an alternative to down fill — that's made almost entirely from recycled polyester. The Alabama-based menswear brand prefers to meticulously craft each of its pieces rather than inundate the market with items that all function and/or look similar. As such, the beauty is in the details of this shirt, which is punctuated by antique brass snap buttons and a leather locker loop.
Satchmo: My Life in New Orleans by Louis Armstrong
Arguably the most important musician of the last 100 years, Louis Armstrong lived in New Orleans around the time jazz was invented. Prior to moving up to Chicago and eventually becoming recognized as an accomplished vocalist, the trumpeter helped mold the genre from ensemble performances along the lines of its orchestral roots to solo-focused. Originally published in 1954, this autobiography by Satchmo himself weaves its way through Armstrong's beginnings in the Big Easy.
Zippo Armor Tumbled Brass Lighter
Often taken for granted, Zippo lighters are still an industry standard for a reason. This Armor variant made from tumbled brass harkens back to the flagship reusable lighters popular during World War II. However, back then, the lighters were finished with steel due to metal shortages. This new version is windproof and made to last you as long as you live. For 90 years, America still hasn't lost its flame for this Pennsylvania-based legend.
Danner Catch & Release Belt
While Danner is well-known for its work boots, this Catch & Release belt proves the Oregon-based brand's versatility. Made from steer hide leather with an enhanced shrunken grain, this 1.5" strap is built with an antique brass buckle and a single keeper. Since 1932, Danner has built a reputation for making shoes and accessories for those who like to be active, whether in the shop or out on the trail, and this belt is no different.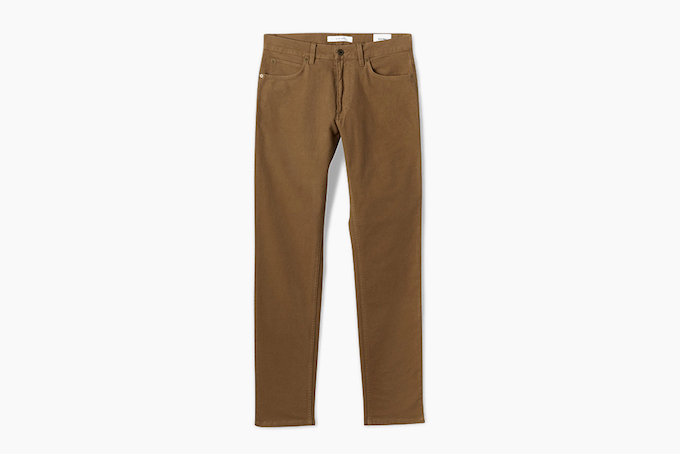 Billy Reid Moleskin Jean
For the past two decades, Billy Reid's flagship Moleskin Jean has remained impervious to passing fads with its timeless silhouette, capable of fitting in with most pieces in your wardrobe, both casual and business. Made from 98% moleskin brushed cotton and equipped with an antique brass button, these pants are incredibly comfortable and soft inside and out. Able to shape itself to your body, the Moleskin Jean is meant to last you for years, developing a visible character as time goes on like your favorite pair of denim.
Chippewa Edge Walker 8"
Founded in 1901, Wisconsin-based Chippewa is proof that traditional boot-making can still adapt to modern technology. Made from Goodyear flat welt haystack leather, the waterproof Edge Walker 8" is about as classic as you can get. However, the age-old silhouette gets some plus-ups thanks to tough Dri-Lex 2000 lining, a removable Ortholite insert, and a Newfound Complex outsole for extra grip in the field. The Sta-Tied waxed laces are held up top by anti-tarnish antique brass grommets.
Filson Large Rugged Twill Duffel Bag
Filson's quality-over-quantity approach has served it well for the past 125 years. It's crafted some of the finest clothing and accessories in the world, meant to endure all that you put them through and yet still chosen to be passed down to your offspring. For the past three decades, Filson's 75L duffel bag is water- and abrasion-resistant thanks to its industrial-strength rugged twill fabric. The bridle leather handles mold to your grip while wrapping around the bag for extra strength. Of course, there's all the propriety Filson construction that makes this the ultimate heirloom duffel.
Weiss 38mm Standard Issue Field Watch
Lifelong watch enthusiast Cameron Weiss launched his eponymous microbrand back in 2013 after spending time perfecting his craft and even getting certified by legacy watchmakers like Audemars Piguet and Vacheron Constantin. Each timepiece he sells is handmade by him personally using his in-house movements. This 38mm Standard Issue Field Watch pairs a surgical-grade 316L stainless steel case with a naval brass dial that's been painted in a variety of finishes. Customers can also mix and match the dial color and strap color, along with adding a custom engraving on the back.