Every auto enthusiast yearns for the day when they'll finally get to sit behind the wheel of their dream car, immersed in a swathe of finely aged leather and sheet metal, and bear witness to the glorious sound of the engine roar as they turn the key. But let's face it. No matter how patiently you wait or how persistently you save, classics aren't getting any cheaper. Quite the contrary, in fact. For as collectors become increasingly attached to their vaunted vehicles, fewer and fewer of them will come up for auction, driving up the demand for those that do and along with it their already-excessive asking prices. It's undoubtedly a tough pill to swallow because it means that many of us common folk might never see such legendary automobilia in person — let alone drive or own it.
Luckily, automakers are nothing if not opportunistic, for as the interest in their heritage models has grown, so too has their potential for profit. As such, they've been quick to take advantage of the newfound market, looking back to their past for cars they deem to be worthy of another run. Broadly known as "continuations," these revived classics are the spitting image of the original — sometimes even down to the smallest bolt. However, because they come straight from the factory, they have the added benefit of being both 100% mechanically functional and also aesthetically pristine. Some may consider it automotive heresy, but we're just happy to see these vehicles on the road again. If you find yourself of a similar sentiment, read on to see what we've picked for the best continuation cars you can buy.
WHAT IS A CONTINUATION CAR?
In an ideal world, a continuation would be classified as any vehicle that was built after assembly of the original platform ended. However, things are hardly that simple, for though some automakers will craft such cars based on the remaining serial numbers of an unfinished initial production run, others are content to use the blueprints and manufacturing methods of the period in order to give it a second go. In any case, for a car to be considered a true continuation, it should — at the very least — be produced in-house or through a licensed third party. An unsanctioned replica may appear to a near-perfect recreation (sometimes even complete with authentic parts) but, in reality, it's little more than a convincing knockoff.
It's also worth noting that road legality has long complicated the sale of these revived classics. Over time, automotive safety and emissions regulations have only become increasingly rigorous, so while the original cars were built to code at the time of their production, they're a bit lacking by today's standards. Thus, you'll find that many manufacturers will rely on some sort of loophole (if not several) for their vehicles to see production. On the one hand, Aston Martin only markets its redux DB's for "off-road" or show-and-display use, meaning that the opportunities to actually drive them are limited. On the other hand, Shelby exclusively sells its Cobra continuations as rolling platforms, leaving it up to the buyer (or a certified dealer) to install the supplied engine. In practice, this means that they're viewed in much the same light as a kit car, with the usual requirements for securing legal registration.
WHAT DO THEY MEAN FOR CLASSICS?
Continuation cars occupy an interesting niche within the auto industry, because they're both more authentic than a replica and also less so than a card-carrying classic — effectively real and yet at the same time not real. As you'd expect, their value falls somewhere between the two, meaning that even though they won't fetch the same exorbitant sums as an original, they're still capable of commanding a pretty hefty price tag. For instance, Jaguar's E-Type Lightweight continuation car cost $1.6 million from the factory, and the first production example sold for $1.71 million at an RM Sotheby's auction in October 2020. That's undoubtedly a lot of money, but it's still far more affordable than the nearly $11.5 million you'd pay for the actual thing. As such, in many ways, continuation cars are collectibles unto their own.
That being said, the segment is still evolving, so only time will tell how these cars will impact the classics market. Upon their initial conception, continuations proved to be quite the controversial topic, with collectors everywhere decrying automakers for selling out in order to make a quick buck. And that's not all — given their limited road legality, continuation cars have often been discounted as abominations, serving as little more than a trophy attesting to the performance of the real thing. Regardless of where you stand on the ethics of bringing classics back into production, the chance that they'll have any impact on the originals is highly unlikely. If anything, they serve as a stand-in for those once-in-a-million cars that hardly ever come up for auction.
ALVIS BERTELLI SPORTS COUPE
Alvis technically died off in 1967, but it left behind a factory chock full of enough parts and blueprints that Red Triangle could relaunch the brand in 2010. The Sports Coupe you see before you is one of the first models since the revival and it bears a design that dates all the way back to the 1935 Paris Motor Show. Under the hood, you'll find a 4.3L straight-six that's good for a top speed of 110mph and a 0-60mph time of under 10 seconds. Complemented by an interior decked out in ultra-luxe leather and walnut veneer, it cuts quite the pre-war classic.
ASTON MARTIN DB5 GOLDFINGER
Out of all famous movie cars, there are few that boast quite the same renown as 007's 1964 Aston Martin DB5. This Goldfinger-special continuation car takes the magic of the silver screen and translates it into real life. As such, each of the 25 cars built at AM's Newport Pagnell Works facility will come with many of the hidden gadgets that you'd find on Q's creation itself, such as a pair of replica Browning .303 machine guns, an 'oil slick' deployment mechanism, a rotating license plate, and even some tire slashers. Sorry, no working ejector seat — there is a red button, though.
BENTLEY BLOWER
When Bentley debuted the Blower back in 1929, it went from being an otherwise unknown automaker to being a serious industry contender. In celebration of the legendary race car, the British brand will be producing 12 exact recreations, each one built using 3D-scanning, more than 40,000 hours of expert labor, and 2,000 different specially designed parts. Powered by a 4.4L 16V inline-four, it's good for speeds up to 140mph — not bad for a car that's coming up on almost 100 years now.
CATERHAM SEVEN 310
Colin Chapman first designed the Seven in 1957 as an effort to create a do-it-yourself two-seater sports car for the masses. After acquiring the rights to build the platform in 1973, Caterham has since expanded the lineup to include five different vehicles, with everything from a 135hp 270 model all the way up to a supercharged 310hp 620 model. The 310 pictured here boasts a 152hp 1.6L Ford straight-four, an addition that'll take it from 0-60mph in 4.9s before climbing its 127mph top speed. It might not sound like much, but consider this: the Seven weighs just 1,190lbs.
CLASSIC RECREATIONS SHELBY MUSTANG GT500CR
While this particular Mustang skews a bit more towards restomod than it does continuation car, it's officially licensed by Shelby American, it comes with the signature stamp of Carroll Shelby, and it even earns a spot on the Shelby registry. Suffice to say — it's legit. Shod in a slew of carbon fiber, it comes in more than 600lbs lighter than the original. And that's not all — under the hood, it's been treated to a fuel-injected 7.0L Ford Ford V8 good for 545hp.
DELOREAN DMC-12
DMC may have folded after just two years of production, but the brand was revived when the (unrelated) Texas-based DeLorean Motor Company acquired the automaker's name and spare parts in 1997. At present, the outfit only offers parts support for the some-6,500 cars still on the road today. However, once the Low Volume Motor Vehicle Manufacturers Act was signed into law in 2015, the new DeLorean announced that it would be able to resume production. We're still waiting, so you may need to look into a flux capacitor and tell us if it ever comes to fruition.
ECURIE ECOSSE LM69
Ecurie Ecosse is a Scottish race team that's primarily known for its immense success campaigning Jags in the 50s. Their LM69 is a modern re-imagination of Jaguar's prototype XJ13, were it to have actually seen the production line. Made to meet the FIA homologation requirements of the period, everything about the car is as it would have been in 1969, including the chassis, running gear, and various other components. Limited to 25 hand-built examples, you can spec it with your choice of a 5.0L, a 5.3L, or even a massive 7.3L V12.
GTO ENGINEERING 250 SWB REVIVAL
Under normal circumstances, an authentic Ferrari 250 GT SWB would cost you somewhere in the range of $8 million to $10 million. However, thanks to GTO Engineering's '250 SWB Revival' project, you can have one for about a tenth of that figure. The product of over 200 years' worth of combined Ferrari mechanical expertise, it uses the actual blueprints from a 250 GT SWB in order to be a damn near-perfect replica. In addition to a 280hp Colombo V12, GTO Engineering has also fitted it with a newly-designed tubular frame as well as some improved suspension and steering.
JAGUAR C TYPE
Based on Jaguar's first-ever Le Mans-winning racer, this C Type recreation is the latest installment in the British automaker's crop of continuation cars. It's built to the same exact specifications as the 1953 model year, with a 220hp 3.4L straight-six, a hand-crafted tubular frame and aluminum body, as well as some powerful disc brakes of the period. But the best part is that each example is made to order, allowing customers to choose everything from the paint and livery to the badging and interior trim.
LAND ROVER DEFENDER SERIES I
If you're after a factory-fresh first-gen Defender, you're in luck. Back in 2016, Land Rover launched its 'Reborn' project in an effort to restore 25 Series I's back to their former glory. Crafted using the same parts and specifications as they were when new, each one is built out of Solihull's original Defender production center. With their purchase, customers have the choice of their preferred base platform, five period-correct paint colors, as well as interior finishing and trim. What's more, they even get to follow their truck's restoration from start to finish.
LISTER KNOBBLY
During the 1950s, the Knobbly was raced by some of the most renowned drivers in all of motorsport history, including none other than Archie Scott Brown and Stirling Moss. This modern continuation takes Brian Lister's actual working drawings and manufacturing jigs and pairs them with modern CNC machining and CAD design. What results is a car that's built to the same exact 1958 FIA specifications as its forbear, with a Jaguar-sourced, triple-carbureted 3.8L straight-six engine, 5″ x 16″ Dunlop racing peg drive alloys, and some stunning hand-formed aluminum bodywork.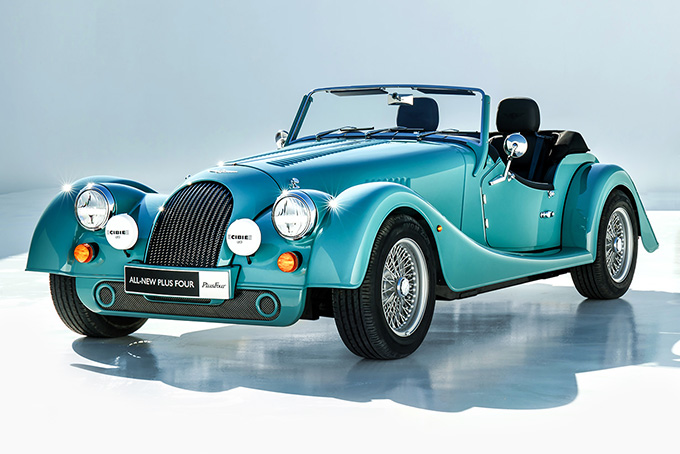 MORGAN PLUSFOUR
While Morgan's PlusFour platform isn't technically a continuation (it's been in production since 1950), we feel that it qualifies based on the many updates in materials and technology it's been given along the way. These days, it shares just 3% of its components with the outgoing model. So, while it may feature the same stunning bodywork of the original, underneath it hides such modern amenities as a bonded aluminum chassis, a 2.0L four-cylinder BMW TwinPower Turbo engine, and even a digital driver information display. If you're looking for a classically British tourer, it doesn't get much better than the PlusFour.
PUR SANG BUGATTI TYPE 35
Pur Sang is an Argentina-based automotive outlet that specializes in the recreation of vintage Alfa Romeos and Bugattis. And before you discount this as some over-priced kit car, consider this: only 40 Type 35's were originally produced and a significant number of them were raced into the ground, making those left on the road few and far between. So, while this example may a completely in-house build, it's been reversed from Ettore Bugatti's blueprints, meaning that it sports the same stunning visuals and thrilling performance as the real thing.
SHELBY 427 S/C COBRA CSX-SERIES 6000
Between kit cars, unlicensed replicas, and official recreations, Shelby continuation cars are a dime a dozen these days. Nevertheless, if you're after an authentic Cobra, it's only right that you go straight to the source. Resuming production in 1997, this CSX-Series 6000 variant sports an aluminum and fiberglass body, four-wheel coil-over independent suspension, as well as a 427 FE Ford Big Block V8. With 500-750hp on tap, it'll do 0-60mph in less than four seconds and a quarter-mile in 12 flat.
SUPERFORMANCE GT40
Given that Ford produced only a little over 100 examples of the GT40 during its 1964-1969 assembly run, the platform has since become a seven-figure collector's item. Never fret, for Superformance's continuation comes at a much more "reasonable" $125k. And because over two-thirds of the rolling chassis's parts are interchangeable with those of the original car, it bears a Shelby stamp of approval and can even be enrolled in the official GT40 registry. However, it's worth noting that due to today's safety regulations, it comes as a roller, meaning that you'll have to install the engine yourself.