Whether you live in an apartment, condo, mansion, an adventure van, or a shotgun shack out in the middle of the woods – everyone should have a first aid kit, without exception. Yes, there is a lot of emergency preparedness gear many folks can do without; but a first aid kit (FAK, for short) is not one of those things. These little packs are hardly cumbersome when you consider that their contents can sometimes mean the difference between life or death both in major disasters and personal emergencies.
While you can certainly purchase a pre-made first aid kit, good ones can sometimes be fairly expensive. And more often than not you have little to no control over what actually goes into them. Rather than shelling out a bunch of cash for a FAK that has a ton of extra unnecessary stuff, however, it is possible to build your own. But you can't simply stuff a few boxes of adhesive bandages into a plastic bag and call it a day. Putting together a useful emergency FAK takes much more careful planning – including some basic staples and some area-specific gear for your intended venue. We've done our best to put together the following how-to guide on building your own first aid kit from scratch. That way you can be ready for just about anything.
Pick Your Pack
A Mixed Bag
Do not, under any circumstance, underestimate the importance of the bag into which you pack your first aid kit. After all, if you don't have a worthwhile carrying case, you could end up without anything useful inside. There are a few things you should look for when choosing your FAK bag. Namely, you want to watch out for its size, layout, and structural/material resistances – as these can make or break exactly how helpful your first aid kit is in emergencies.
Size is an important metric to pay attention to depending upon the number of people you expect to be with you in case of an emergency. For instance, if you are putting together a FAK for your car, you likely only need something small – because only so many people can pile into a motor vehicle. Similarly, if you've got a big family or network of friends that live nearby your place of residence,Watch out for its size, layout, and structural/material resistances – as these can make or break exactly how helpful your first aid kit is in emergencies. you might want to opt for a larger bag to suit a larger amount of supplies.
The layout is more of a personal preference than a make or break decision. A bag that has no internal organization of which to speak isn't going to stop the gear from being useful, but it will definitely take longer to get the first aid equipment you need, since you could be rifling through random piles of stuff. A well-prepared survivalist will tell you to get something with internal pouches and pockets and segregate your gear by type – for instance, bandages will go in one pocket, gels and ointments in another, and miscellaneous in yet a separate compartment.
Finally and, perhaps, most importantly: structural/material resistances. Regardless of whether you live in a swamp or the desert, each and every FAK should be kept in (at the very least) a water-resistant bag. A pack of bandages isn't going to do you any good if they've completely soaked through, as the adhesive won't work and the sterility will be compromised. Similarly, it's a good idea to opt for a relatively tough material with a bit of puncture and tear-resistance. Nylon, especially high-denier, is generally both water-resistant and won't rip or tear easily. Thankfully, there are plenty of worthwhile packs made from highly resistant materials.
Keeping all of these metrics in mind, we've picked out the following three examples of worthwhile first aid kit bags in which you can confidently store your emergency supplies. Each varies slightly in regards to size, format, and resistances, but all three will get the job done in the right situation.
Orca Tactical MOLLE EMT Utility Pouch
Designed specifically to house first aid gear, this MOLLE-compatible modular pack is not dissimilar to those used on the battlefield by the U.S. military. It's easy to strap to a larger pack, is small enough that it can be stashed under a car seat, and has plenty of organization inside for a decent amount of gear. It's also water-resistant and has a full clamshell-style opening for complete and quick access.
Topo Dopp Kit
For simplicity at its best, you can always repurpose a dopp kit (yes, the same kind you store your toiletries in when you travel) into a pretty solid first aid kit. Typically they are small, offer some measure of puncture- and water-resistance, and are easy to transport. This one from Topo has all those bases covered and looks good, too.
Matador Freerain24 Backpack
If you think you need to opt for a larger bag, that doesn't mean you have to sacrifice on capabilities. For instance, Matador's Freerain24 is both puncture-resistant and waterproof, but still has a whopping 24 liters of internal storage space. It also has a large main compartment and a smaller externally-accessible zippered pouch for smaller gear. Best of all, when it's empty it can collapse down to about the same size as a coke can – making for an excellent grab-and-go pack in any situation.
The Basics
What Every Kit Needs
There are a number of must-haves every single first aid kit should include, bar none.Regardless of where you live, what your accommodations are like, or to where you are traveling – there are a number of must-haves every single first aid kit should include, bar none. And that's because there are a number of absolutes when it comes to treating human ailments. One of the best resources out there for information regarding first aid and first aid education is the American Red Cross – and they recommend a number of basics to put into each and every FAK you have, all of which you should be able to find at a local grocer or pharmacy (or even online). Those basics (as outlined for a family of four) are as follows:
2 absorbent compress dressings (5 x 9″)
25 adhesive bandages of assorted sizes
1 adhesive cloth tape (10yd x 1″)
5 antibiotic ointment packets (approx. 1g)
5 antiseptic wipe packets
2 packets of aspirin (81mg each)
1 space blanket (mylar or similar)
1 breathing barrier (with one-way valve)
1 instant cold compress
2 pair of non-latex gloves
2 hydrocortisone ointment packets (approx. 1g each)
1 pair of scissors
1 roller bandage (3″ wide)
1 roller bandage (4″ wide)
5 sterile gauze pads (3″ x 3″)
5 sterile gauze pads (4″ x 4″)
1 oral thermometer (non-mercury/non-glass)
2 triangular bandages
1 pair of tweezers
Now, you might look at this list and think you could do without some of these items. But that's exactly the kind of thinking that will put you in dire straits in the case of a serious emergency. Do yourself and the people you care about a favor and don't skip a single one of these items. Because if you have it and never need it, it's a couple bucks down the drain, but if you do need it and don't have it,Many of these items have expiration dates and require occasional replacement. it could spell certain death for you or someone you care about.
One final note: you can't just put together a basic first aid kit and be done with it. You need to keep in mind that many of these items have expiration dates and require occasional replacement. Whether it's medication or ointment, an expired emergency product means it has lost its effectiveness and won't do you any good. Check your FAK every year or more to make sure nothing is on the brink of going bad.
Venue Specific
Know The Lay Of The Land
Having the basics in your first aid kit is only the beginning of making sure you're prepared for medical emergencies. That's why they're called the basics – because you'll more than likely need more to keep all the bases covered. One of the most important things you can do to properly prepare your FAK is consider any medical supplies that might help in your specific situation.
For instance, if you or someone that lives with you suffers from any serious allergies, stashing a couple of EpiPens in your kit is more than just a good idea – it can mean saving that person's life. Similarly, mild allergies might seem like little more than an annoyance, but in an emergency controlling your sneezes can make your life a whole lot easier.Consider any medical supplies that might help in your specific situation. So, it might be worth keeping a packet of antihistamines in your FAK.
Just as you'd want to keep person-specific extras in your first aid kit, you'll also want to stash things in it that address issues which might arise according to the landscape in which you find yourself. If you're camping in the desert, you'll probably want to bring along some sunscreen, aloe vera, and maybe even burn gel in case someone gets a severe enough sunburn. By the same token, if you're going out and engaging in physically strenuous activity on rocky terrain, keeping a splint in your FAK is a good idea, in case you need to brace a wounded limb.
Unfortunately, there's no hard and fast rule for what kinds of things you should add to your first aid kit basics. Your best bet, however, is to look up the experiences of other adventurers and preppers that have found themselves in similar circumstances. After all, everyone sees 20/20 in retrospect and you might glean some important and/or useful information from their shortcomings and triumphs.
Contingencies
Extras Just In Case
Just as it's a good idea to prepare your FAK depending upon the location to which you are traveling, readying for unexpected contingencies that could occur before you ever arrive is equally valuable. For example, if you're going to be spending a lot of time in a Southwest desert region, having some kind of rattlesnake anti-venom can be indispensable. But, if you're on a cross country road trip that cuts through the area, it also might be worth packing the same anti-venom. Sure, you might not plan to stop and spend any time in Arizona, but – in the off chance that you do – isn't it better to be prepared than not? We think so.
Yes, it sounds like we are being overly cautious. In fact, we know we are. The truth is, however, that the utmost importance should be put on your personal safety and the safety of those around you. As we've already said, if you have extra emergency supplies, you might not need them – but if you don't have them and you end up requiring them, you likely won't be around to tell the tale. Sure, that's a fatalist outlook – but is the risk really worth it?
First Aid Certification
Only As Good As Your Training
Especially when it comes to more comprehensive FAKs, there's a lot of emergency medical gear that might be included in a kit but still requires some measure of preparedness in order to utilize properly. The American Red Cross recommends that every first aid kit includes their Emergency First Aid Guide, which outlines a number of emergency procedures from treating a burn to suturing a deep gash. And while we agree that the booklet is an excellent first step,We recommend that everyone educate themselves in the basics of practical first aid. we don't think it's necessarily enough to get you through anything and everything.
If you're going to opt for the instruction manual, make sure you familiarize yourself with its contents before you ever need to use it – as trying to learn the procedures within its pages in a pinch can be a herculean task in an of itself, not to mention the stress of an emergency. Furthermore, we recommend that everyone educate themselves in the basics of practical first aid – meaning you need some hands-on experience to be ready in an emergency. Now, there are a number of different ways to do this, but some are better than others.
As you might imagine, YouTube features a wealth of channels dedicated to teaching people first aid (though many are amateur at best). In fact, even the American Red Cross has a video channel with numerous how-to videos detailing emergency medical practices. While these videos are certainly better than nothing, we believe taking an actual first aid crash course is a better option.
Again, the American Red Cross also offers a number of courses and certifications that can better prepare you to utilize your first aid kid of choice. It's also worth noting that, even if you've taken classes in the past, best first aid practices change fairly regularly – especially when it comes to things like CPR. So, even if you think you know how to perform a first aid act, we think it's better to refresh yourself every couple of years. After all, your FAK is only as good as your own training.
Pre-Made Packs
Pick Your Poison
There are a lot of pre-made FAKs you can purchase, rather than going through piece by piece on your own.We're aware that putting together a first aid kit, keeping in mind every possibility and preparing for all contingencies, is a daunting prospect. There's a lot of information to track and prepare for. So, if you're a little overwhelmed, that doesn't mean you can't still be prepared. There are a lot of pre-made FAKs you can purchase, rather than going through piece by piece on your own. We've picked out a few of our favorites below. Just remember, even though you're not building these yourself, you still want to pay close attention to what's inside them, so you can be sure it's everything you need – or at least a close enough approximation.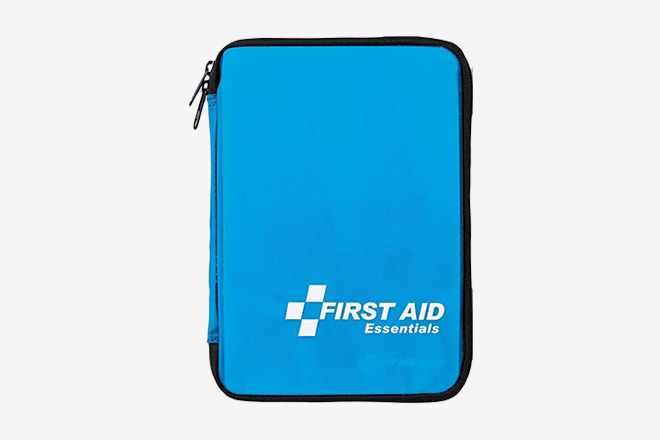 First Aid Essentials
Loaded with 299 different first aid items, this is an excellent and easy first aid kit for your home or office – especially if you share that space with multiple people. It helps, too, that is relatively inexpensive, easily identifiable if kept in a storage area, and easy to snatch at a moment's notice.
Bratpacker Travel Medical Kit
When backpacking, hiking, or just traveling in general, staying light on your feet is of the utmost importance. But that doesn't mean you should go without first aid supplies. The Bratpacker Travel Medical Kit isn't as comprehensive as others out there, but it does feature a handy pack-friendly format and comes in a waterproof zippered bag for durability and safety in any weather.
Best Made Large Metal First Aid Kit
Not only does this handsome metal FAK house 43 individual first aid items, but it's also OSHA certified and made right here in the USA. Specifically designed for woodsmen and loggers, this is an excellent kit for the outdoorsman – especially to keep in your cabin or in the cab of your truck or adventure vehicle.
MyMedic The Medic FirstAidKit
The ultimate first aid kit, this monstrous backpack is stuffed to the gills with over 700 individual first aid and trauma items. It's practically a surgical suite you can wear on your back. And it's all housed in a water-resistant modular-friendly backpack with rust-free zippers and the whole thing is OSHA, ANSI, and FSA/HSA approved.
Survival Skills Everyone Should Know
When it comes to keeping yourself alive, a first aid kit is only a part of the puzzle. If you really want to be ready for anything, you need to learn the 8 basic survival skills everyone should know.