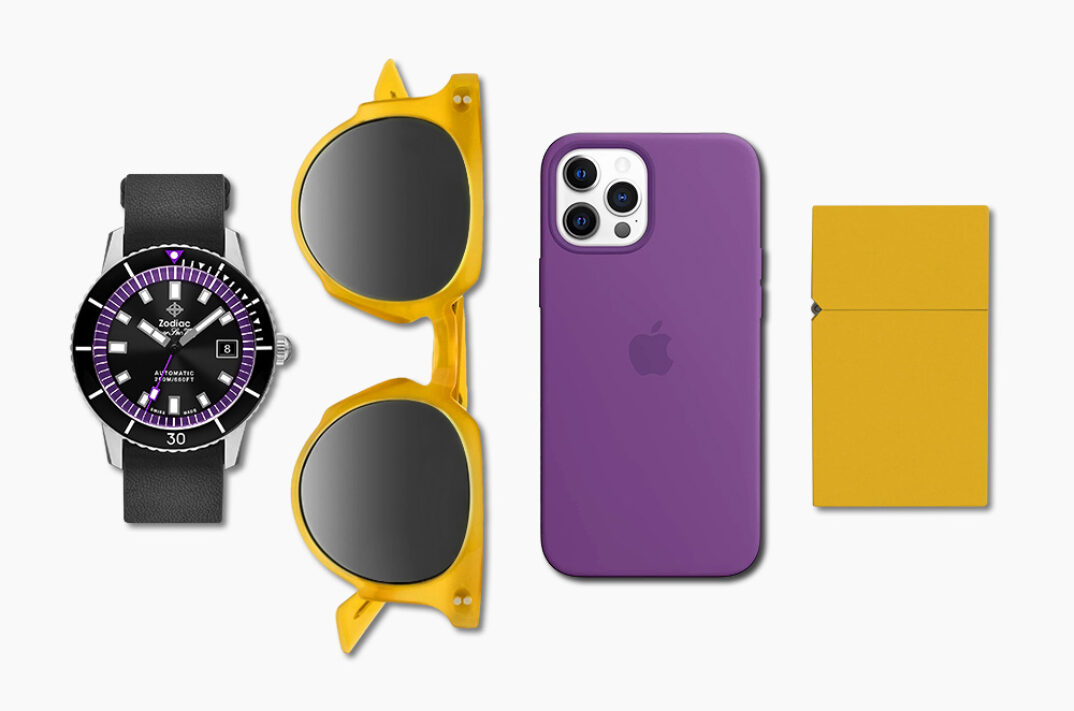 While knowing the true definition of a "Laker" isn't necessarily important, it's often worth noting that the storied franchise got its humble start in Minneapolis, the land of ten thousand lakes, though the now-L.A.-based team clearly couldn't be any further removed from its frigid roots. No matter how many retro-inspired jerseys they may wear to recognize its original city, the Lakers are as Hollywood as it gets, thanks in large part to the iconic star-studded '80s-era roster and its aptly-dubbed "Showtime" offense. In the decades that followed, the polarizing team has employed an unforeseeable sum of household names. From Magic and Kareem to Shaq and Kobe to LeBron and AD, there is far more that comes with being a member of the Lakers than playing pro basketball, including arguably being the biggest star in a city built on them. With that in mind, this week's glitzy array of everyday carry gear pays homage to the purple and gold in the most appropriate way possible: a quartet of show-stopping accessories coated in the world-famous team's color scheme.
LCD Hard Edge Lighter
This eye-popping stylish lighter comes courtesy of Tsubota Pearl, a Tokyo-bred manufacturer that has specialized in crafting leather and metal goods for 70 years. It is encased in a colorful matte polycarbonate shell accentuated by a steel interior, and it even comes equipped with a handy cotton wick.
Apple Silicone Case with MagSafe
Apple's patented MagSafe tech has made a clear imprint since coming about in late 2020, and that much has been proven by a countless number of compatible cases coming from the Silicon Valley-bred band of self-proclaimed geniuses. One of Apple's standout options is its simple yet relatively sturdy silicone case.
Cutler and Gross 1383 Round Sunglasses
One can never overstate how vital a pair of good sunglasses is, let alone when you're in Los Angeles. As one of the countless, top-notch opticians the world of eyewear has to offer, the Knightsbridge-bred Cutler and Gross always offers something worth looking at. These particular shades from the world-class brand take inspiration from highlights of post-modern architecture, like the M2 Building and Piramedes. Composed of entirely 3D-milled acetate, these are as state-of-the-art and unique as they are stylish and sturdy.
Zodiac Super Sea Wolf 'Liberty London' Edition
Zodiac's Super Sea Wolf dive watch is no stranger to dressing itself up with bright color palettes, and this falls right in line with that. In collaboration with the flamboyant clothiers at Liberty London, the Swiss watchmaker has embraced Liberty London's signature shade of deep violet with purple accents on the dial, bezel, and seconds hand. The watch also includes a trio of straps: one black leather, one stainless steel jubilee bracelet, and one matching purple "tropic" rubber strap.  This gorgeous timepiece serves as the second joint effort between Zodiac and Liberty London and is limited to a mere 300 pieces.