Every single person's experience on this planet is unique. And that means, no matter how similar two people might seem on a surface level (take identical twins, for example), their needs, wants, desires, and abilities are unique. Just as no two people are exactly alike, no two everyday carry loadouts should be, either. And that's what makes putting together purpose-driven loadouts so interesting — because there are as many potential loadouts as there are people on this planet. In fact, because each day calls for different potential gear, every individual could theoretically have dozens of appropriate EDC kits. For instance, a person that works in the city by day might want something a bit sleeker and more urban-friendly. However, if they head out to the wetlands on waterfowl hunting trips over their weekends, a loadout like the one you see here — complete with a duck call — might be more desirable and certainly more well-suited to such an adventure.
Carhartt Mossy Oak Passcase Wallet
It should surprise nobody that Carhartt, the legendary workwear brand, has collaborated with Mossy Oak on anything. Still, the Carhartt Mossy Oak Passcase Wallet will likely turn heads in the right company. It's crafted from a rugged canvas; boasts six card slots, a clear ID sleeve, two smaller pockets, and a large bill slot. It doesn't break any molds, but it really doesn't have to.
Fallkniven GP Gentleman's Knife
Traditionally-styled but boasting modern materials, the Fallkniven GP is the best of both worlds when it comes to gentlemen's knives. That includes a blade crafted from laminated cobalt steel, cocobolo wood handle scales, a secure liner lock and traditional bail, and the whole thing comes in a presentation case.
Suunto Traverse Alpha Smartwatch
If you're an avid hunter, the Suunto Traverse Alpha might be the best outdoor-ready smartwatch around. Not only does it have everything in it that you'd expect, like GPS and fitness tracking, but it even has a shooter mode that can track your travels and even drop virtual breadcrumbs where you shoot.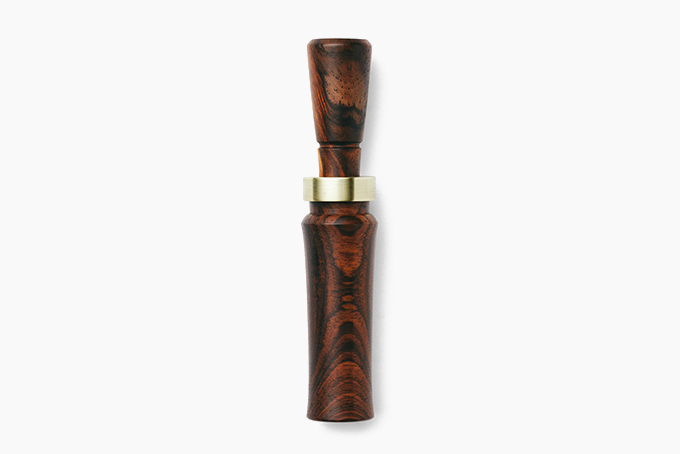 Filson Custom Duck Calls
An absolute necessity for hunting waterfowl, Filson — for the first time — is offering a handcrafted duck call made by master craftsman Josh Raggio. It's crafted from a combination of cocobolo wood and brass and, while it is remarkably beautiful, it's also a useful tool for hunters old and new everywhere.