First popularized in the 1960s and 1970s, Brutalism was actually an architectural movement that hinged on raw materials, sharp angles, and minimalism — and it was actually championed to go up against the softer, more whimsical European architecture of the era. At a glance, many brutalist works appear cold, harsh, and even unforgiving. However, if you look a bit closer at the tenets and the style, you may come to appreciate Brutalism's commitment to truth. This style of architecture — and, over time, product design — isn't so much about toughness as it is about honesty. These designs put the materials and functionality before the overall form and, as such, often result in greater veracity and candor. There are no fancy facades hiding a rough framework or slapdash paint jobs crafted to draw your attention away from flaws. With brutalist architecture, what you see is what you get. And that, to us, is beautiful. This ethos is also what has inspired this week's everyday carry pocket dump. As with the architectural movement, all of this pocketable gear is honest and to the point — lacking in purposeless flourish and, instead, boasting a dedication to usefulness.
WESN CB Titanium Carabiner
Crafted from a single piece of solid titanium, WESN's CB carabiner is both ultralight (only 0.5 ounces) and practically indestructible. It also still has a spring-loaded gate, boasts enough space for all your keys and keychain tools, and it even comes with a lifetime warranty.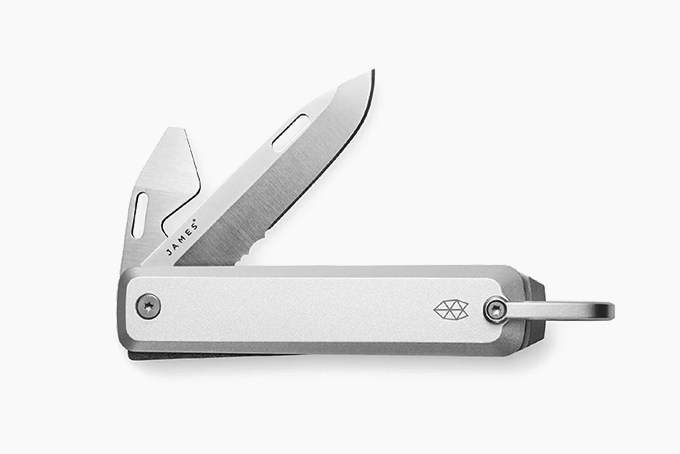 The James Brand Ellis Multi-Tool Knife
One part dedicated EDC blade and one part multifunctional tool, The James Brand's Ellis is the perfect in-between for those that want access to both top-notch cutting power and a few other useful functions. It's not as busy and bulky as more traditional folding multi-tools, but it still has a few handy tricks up its sleeve — like an onboard bottle opener, flathead driver, and scraper/pry bar. Of course, it also comes with a Sandvik 12C27 steel partially-serrated blade. And it comes with a lifetime warranty.
The Ridge Titanium Wallet + Money Clip
A titanium version of the wallet that revolutionized minimalist cash and card carriers, this front-pocket hauler can fit up to 12 cards, has an integrated money clip for a wad of cash, boasts RFID-blocking technology, and more — all while taking up about as much space as a credit card and weighing just 2.5 ounces. For minimalists everywhere, you'll be hard-pressed to find a wallet this useful and uncompromising.
Eone Bradley Watch
Even with just a cursory glance, it's clear that the Eone Bradley watch is a stunning piece of hardware. Take a closer look, however, and you'll notice that this ultra-minimalist timepiece can actually be read by touch — making it ideal for those with a visual impairment or who want to gauge the time without being rude. It's also powered by a reliable Japanese quartz movement, comes with a metal mesh bracelet, and has a solid titanium case.