Since the early days of Prop 215 in 1996, a growing number of states in America have been decriminalizing, if not outright legalizing the possession, use, and cultivation of medical and recreational marijuana. While this was a slow and hard-won process that's taken decades, it's ultimately resulted in weed becoming markedly more mainstream, with society increasingly accepting the use and sale of THC and CBD products. In addition to flowers, edibles, topicals, and concentrates becoming widely available, the decreased social stigma associated with these items has also prompted a growing number of design-conscious companies to enter the space, producing accessories and other pot-focused peripherals to cater to the emerging cannabis industry — four of which we've rounded up for this special 4:20-edition everyday carry spread.
Houseplant Rolling Papers + Tips
Made by Seth Rogan and Evan Goldberg's upscale flower and accessories brand House Plant, this pack of rolling papers features 50 ultra-thin, slow-burning, unbleached rice papers in classic 1 ¼ size (45mm x 75mm) — the same as traditional Zig-Zag papers — with a natural Arabic gum glue line. Alongside the 50 papers, each pack also includes 50 170g craft liner crutches (rolling tips). Exclusively sold in packs of two, these papers and tips come in magnetically-sealed packaging that's made from recycled materials.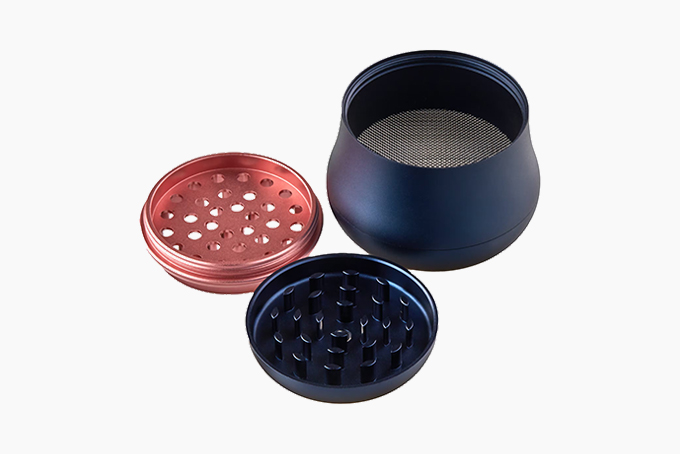 Ouid Flower Mill Grinder
A more design-forward take on a traditional herb grinder, Ouid's Flower Mill Grinder boasts a royal blue-anodized aluminum construction with a bulbous hourglass shape. The top of this grinder opens to reveal a pink-anodized set of inner teeth that grind up buds and allows them to fall through to the flower collector on the next layer. The bottom of said flower collector is also lined with a fine mesh screen that allows trichomes (Kief) to slowly collect and build up over time. And, at 2.4" tall and 2.6" in diameter, this grinder is big enough to break up enough flower for even king-sized Ls or blunt wraps, while still being small enough to fit in the palm of your hand.
DISSIM Inverted Soft Flame Lighter
The overall design of lighters has evolved very little over the last century, with the Zippo being introduced in 1933, the Cricket butane lighter hitting the market in '61, the Bic coming onto the scene in '73, and frankly, not much changing since. In 2020, however, new life was breathed into the lighter space with the release of the DISSIM Inverted Lighter. Backed by a lifetime warranty, this lighter features a patented circle grip design, an adjustable low-temperature candle flame, an angled flame port, an electronic trigger ignition, and a refillable butane cell with a transparent fuel-level window. And while it wasn't made specifically for lighting smoking devices, its inverted form works especially well at preventing burned fingers when used for that purpose.
PAX 3 Handheld Vaporizer
Though it's been on the market since late 2016, the PAX 3 remains one of the best portable handheld vaporizers that money can buy, being compatible with both flower and concentrates, and featuring four temperature modes, a battery that affords 2.5 hours of continuous use, and a ten-year warranty. Available in five color options, the PAX 3 is offered in either an entry-level Basic Kit or a more robust $80 Complete Kit, the latter of which includes a half-pack of oven lids, a concentrate insert, a keychain multi-tool, and a trio of oven screens — in addition to the Basic Kit's flat and raised mouthpieces, USB charger, and maintenance kit.