A staple of pocketable gear since long before "everyday carry" was even a cohesive idea, the Swiss Army Knife is about as classic and historically-significant as EDC gear gets. In fact, at least as far as modern sentiments are concerned, it could be argued that the SAK is the original pocket multi-tool — or at least the first to be mass-produced and used widely around the world. Better still, there are so many different variations, there's a SAK fit for just about anyone. Of course, if you want a Swiss Army Knife but haven't yet found the perfect one for you, there are other options.
One of the bigger benefits of a SAK — besides their wide-ranging functionality and availability — is also one of their lesser-known qualities. You see, Swiss Army Knives are actually quite easy to customize, which is a positive symptom of their carefully-considered construction. That means, so long as you know where to look, you can craft the perfect Swiss Army Knife for you and your everyday carry loadout. It can be tough to know where to start, however, which is why we've put together the following comprehensive guide to custom Swiss Army Knives — outlining their history, significance to the EDC world, which parts can be customized, and how to go about it.
A Brief History Of The SAK
An Everyday Carry Icon
As mentioned, the Swiss Army Knife has existed for more than a century. In fact, its history dates back to well before EDC was even a concept. As you might've already guessed — based on its rather obvious name — these devices were originally created for use by Swiss soldiers. However, their overall history has probably had a few more twists and turns than you may suspect.
Late 1800s
It's important to note that, despite its age, the Swiss Army Knife was not the first folding multi-tool. In fact, there are anthropological records showing that soldiers were using metal folding tools in the field as far back in history as the Holy Roman Empire (or further) — though they were primarily cutlery-focused. Even more recently, Herman Melville's Moby Dick references a folding-style tool equipped with "screw-drivers, cork-screws, tweezers, awls, pens, rulers, nail-filers, countersinkers." And that was first published in 1851. However, as far as folding multi-tool knives are concerned, the unveiling of the very-first SAK would be a game-changing advent.
The official, original Swiss Army Knife wasn't actually created until the late 1880s — after the Swiss Army began searching for a new standard-issue pocket knife for its soldiers. Dubbed the Modell 1890, the knife was actually not produced by a Swiss company, as there were none that could deliver the Swiss Army's order for 15,000 knives at that time. Instead, the Swiss turned to a German company called Wester & Co. for the inaugural batch. Shortly thereafter, a Swiss-based company helmed by one Karl Elsener began producing the same knife on Swiss soil — though the process nearly bankrupted the man and his company.
Thankfully, he and his company introduced an improved version unveiled in 1897 that, while it wasn't picked up for use by the Army, had success in international markets and helped save his company. In 1909, Elsener began using the Swiss cross as his company's logo and changed the name to "Victoria" to honor his late mother. Then, in 1893, another Swiss company called Wenger began manufacturing a product remarkably similar to his original SAK. Rather than there being a clear victor, however, both brands were chosen to build SAKs for the Swiss Army.
1908-2005
Interestingly, it was a decision made by the Swiss Army that would set the tone for the greater part of the next century. Rather than picking one of the two brands to craft SAKs, the Swiss Army split the contract in twain, giving half of the allotted unit orders to both Victoria and Wenger — with Victoria calling theirs the "Original Swiss Army Knife" whereas Wenger's would be known as the "Genuine Swiss Army Knife." Things would continue in roughly this fashion until the mid-aughts.
Renamed to Victorinox (adding the "inox" suffix as a reference to the French term for stainless steel, acier inoxydable) in 1921, the original SAK-making brand would eventually come out on top as, nearly a century later in 2005, they would actually end up purchasing Wenger. Though both brands still operated independently (at least as far as the public is concerned), they were no longer friendly rivals but, rather, sister brands.
2005-Present
At first, Wenger continued to operate as a "separate" brand. However, in 2013, Victorinox chose to absorb Wenger almost entirely into the Victorinox brand — even going so far as to re-brand Wenger products as those made by Victorinox. The remaining portion of Wenger would go on to craft watches, luggage, apparel, and accessories under the name SwissGear.
Parts Of An SAK
Customization Options
For broad strokes purposes, there are five ways one can customize a Swiss Army Knife. Each comes with its own challenges and drawbacks, as well as its own rewards. As a quick reference, we've outlined the methods/parts below:
Scales: By far the simplest and most common method, the handle scales of a SAK are quite easily swapped for alternative colorways, materials, textures, styles, or whatever else. In fact, you don't even really need to follow a tutorial (though they can help quite a bit). All you have to do is remove any tools (like tweezers that are commonly installed in the handles) pry the scale (usually a type of plastic called cellidor) from the tool with a pry bar or flathead screwdriver or something similar (you can use the tweezer channel for this). Then, you just need replacement scales that are the same size, shape, and format and they should snap right into place — although some might need a bit of all-purpose adhesive (AKA glue) to get them to stay in place. We'd suggest straying away from anything too permanent unless you're certain you don't want to swap the scales ever again. That being said, you may discover some play in your handle scales without some kind of adhesive, especially if you're reattaching the scales you just removed for cleaning or otherwise.
Tools: A bit more complicated than swapping out handle scales, switching a tool isn't as straightforward a change to be made in a Swiss Army Knife, but it is possible (though you're probably better off paying an expert to do such a swap, most of the time). Most SAKs utilize a sandwich-style construction, meaning each tool (or collection of a few tools) is its own "unit" that's wedged between a pair of liners — which are all held together via a series of rods or pins. To replace these units, the process is fairly involved and requires that the bushings are taken off the rods, then the liner plates can be taken off the tool units, and so on and so forth until you make it down to the other handle scale (we may be oversimplifying for the sake of brevity). As mentioned, this is not a particularly complicated process, but it is rather extensive in the time and effort and, if done incorrectly, you might ruin your SAK. Still, it is possible to remove and replace the tool units for customization's sake and, if you have a dream SAK that doesn't quite exist, this is a method of making that happen. It's worth mentioning that not all tool units fit in the same slots. For instance, a corkscrew requires a cutout in the handle — making it impossible to put a corkscrew in a slot not designed for one.
Liners: As mentioned above, removing the liners and removing the tool units requires basically the same process. The liner plates can be replaced all the same and swapped for those of a different color, material, etc. Often, people will swap the standard stainless steel plates for those made of alternative metals, like brass, or even synthetic materials, like G10.
Hardware: Typically, this is of greater concern to custom makers, but it still needs to be said. There isn't much in the way of replaceable hardware, but the brass pins that hold the tool together can be swapped — usually in favor of screws — that make the tool easier to take apart, easier to service, and — in some cases — even thinner than before.
Complete: Though they're not entirely easy to find, there are some craftsmen out there that will craft fully-customized Swiss Army Knives. It's worth keeping in mind that, inherent to the in-depth customization process, this means they're significantly more expensive than out-of-the-box SAKs. The upside is you'll be getting exactly what you want down to the letter — from the scales to the liners and everything in-between — which might be enough to warrant the inevitably high price of a full-custom Swiss Army Knife.
Where To Customize Your SAK
Personalization-Focused Services
Whether you're looking simply to swap out your handle scales for something a little more premium or you want a fully-customized, no-expense-spared completely unique SAK, getting that handled is as easy as knowing where to look. Of course, if you want it done right, you might want to check out the following 10 Swiss Army Knife customizers and their offerings before you go spending your well-earned cash.
Brasswerx
Offering both full custom SAKs and scales, Brasswerx — as you might imagine — specializes in crafting brass versions of Swiss Army Knife parts, but also trades a bit in titanium. At the time of this writing, the brand's store is pretty limited (and much of it is sold out), but you can always reach out via the contact page for more information on when more will become available or potential custom jobs.
Chris Custom Works
Headquartered in Germany, Chris Custom Works is definitely the SAK customizer you'll want to turn to and/or consider if you've got a taste for premium woodworking in your everyday carry. They're open to accommodating other requests, but a quick glance at their past works definitely shows that their mastery is in crafting absolutely gorgeous hardwood scales of varying types. All you have to do is email CCW to trade your ideas and their pricing and you'll have a heritage-level custom SAK in no time.
Daily Customs
When it comes to custom Swiss Army Knife scales, perhaps no brand is more well-known or well-respected than Daily Customs. In fact, they're at the top of the Google search results for custom SAKs — which should go far in telling you just how impactful they are. If that's not enough, you can have a gander at their exceptional catalog — which includes CNC precision-machined scales made from materials such as titanium, inox, Damascus steel, etc. And they offer even smaller, detail-oriented parts like inlays, pocket clips, and lanyard beads.
MetonBoss
Operating out of Orange, California, MetonBoss — listed on Etsy — does some pretty spectacular things with titanium handle scales for Swiss Army Knives. Truly, if you've ever wanted to know just how versatile titanium can be as a crafting material, just take a glance at this maker's online shop. Better still, there are specialty scales here for just about any budget. Of course, the most striking offerings found here are also the most expensive — but that's what you pay for perfection.
rain.z_knives
If you have a flavor for natural materials other than hardwood, then this might be the Swiss Army Knife customizer you're the most interested. Located in China and perhaps the only SAK modder in the entire country (until we discover otherwise), rain.z_knives utilizes materials like abalone, stag antler, pearl, and more. Of course, if you prefer metal or synthetics, they can handle that too — and do an absolutely stunning job. The demand is quite high, however, so be prepared for a long wait if you want one of these SAKs.
SAK Custom 58mm
As mentioned, swapping out SAK parts is a relatively simple feat but requires some know-how and can't always be managed without a bit of elbow grease and cleverness. And those are qualities that SAK Custom 58mm has in spades. In fact, this craftsman has actually modded Swiss Army Knives to contain parts from other knifemaking brands. For instance, he recently fused a SAK body with a Spyderco knife blade — which is a vast improvement over just about any SAK knife blade and makes for an incredibly unique pocket tool. If you want a fully-custom, completely unique Swiss Army Knife, stop here.
SAKModder
Sitting somewhere between purism and innovation, you'll find Canadian craftsman Robert Lessard — better known as SAKModder. Crafting custom SAKs and their constituent parts for nearly a decade now, SAKModder is heralded by many as unrivaled in the custom SAK space. And he does soup-to-nuts, ground-up builds that are some of the most gorgeous and interesting folding tools in the entirety of the everyday carry world. If you're interested in one of his spectacular offerings, simply reach out via email or DM.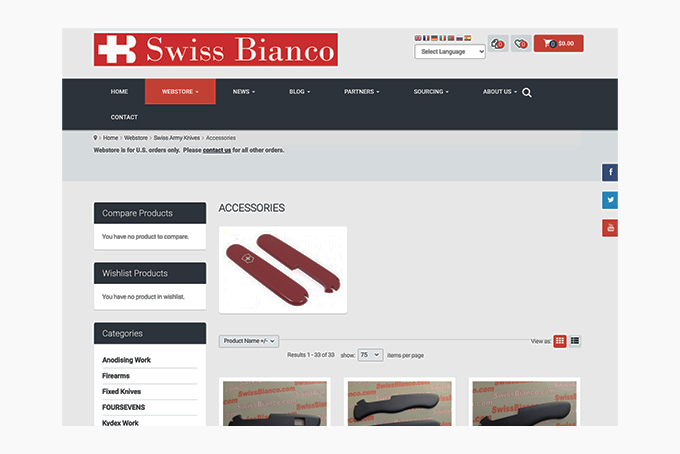 Swiss Bianco
If your favorite SAK is nearly perfect, but just needs a touch of modification in the form of a simple scale swap, you might find what you're looking for from Swiss Bianco. They offer a much wider catalog than just Swiss Army Knife scales, but if you want a simple scale swap for an alternative color or material, then you'll find what you're looking for here. It helps, too, that this brand was founded and is still run by an actual ex-Swiss Army MP — so you can trust that they know what they're doing.
Woro Knives
Andrzej Woronowski has been making professional custom knives since the mid-2000s — and his talent is evident in every facet of his work, especially when it comes to Swiss Army Knife parts and accessories. Working alongside his brother in Gdansk, Poland, this duo makes 100% custom parts on their own CNC machine out of materials like brass, copper, titanium, and more. They're also heavily inspired by TV, movies, and video games, which sometimes comes out in their work — which makes them an even more unique prospect than much of their competition.
Victorinox
We'd be remiss in our duties if we didn't mention that the brand responsible for building SAKs for the last 100+ years actually offers their own customization program. This does come with a couple of caveats. For instance, you're limited to the scope of how much you can customize; you can pick out the baseline tool, the color and/or pattern of the handle scales, and even have letters and/or symbols engraved onto the handle, but you can't make tool or material swaps. That being said, your custom is almost guaranteed to be of exceptional quality, as it is coming from the brand directly — and that might be enough to make the investment worthwhile despite the downsides.
The Complete Guide To Pocket Knife Handle Materials
One of the most easily and commonly customized parts of a SAK is the scales. However, before you go out and snatch any replacements for your EDC blade, make sure you familiarize yourself with our complete guide to knife handle materials.