A big part of the ethos behind everyday carry is the idea that we are preparing ourselves for any situations that might occur in our day-to-day activities. While a standard complement of gear – a wallet, knife, keychain, pen, etc. – is usually more than enough, what happens when the day comes that it isn't?
Well, if you're worried about stuff hitting the fan in a big way, you might want to look into infusing your EDC with some survival-focused gear. We're not saying that you should be carrying around a beefy backpack full of provisions to get you through the nuclear winter. But you can certainly fill your pockets with some items that will give you an edge should you find yourself in a survive-or-die situation. So whether you're getting ready for the end of the world or you just want to be prepared for a worst-case scenario, these are the 15 survival EDC essentials you need.
Last Man Ultimate Paracord Survival Kit
Disguised cleverly as a paracord bracelet, this clever kit actually hides away 16 useful tools in its construction. They include safety pins, fishing line, hooks, weights, a fire starter set, a small saw, and – obviously – paracord. It also comes equipped with a compass, should you find yourself out in the wilderness trying to make your way back home.
LifeStraw Personal Water Filter
The most important thing you can have in any emergency survival situation is water. But you might not want to add a bunch of weight to your hiking pack by carrying around some massive jugs of the life-giving liquid on top of your normal water bottle. In that case, you'll want to get your hands on this personal water filter, instead. It's lightweight, unobtrusive, and removes over 99% of all bacteria and waterborne protozoan parasites from any water source. And a single straw can filter up to 1000 liters without the aid of any chemicals.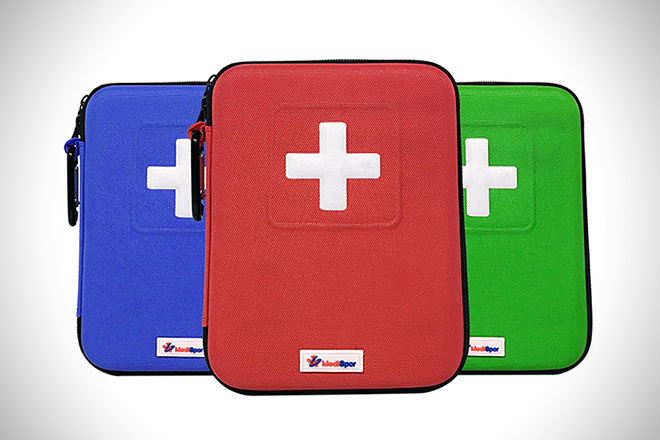 MediSpor First Aid Kit
One of the worst-case scenarios within a survival situation is having to deal with an injury on top of everything else. In order to mitigate that possibility as best you can, we recommend keeping on your this surprisingly small pack-friendly first aid kit. It carries 30 items that range from alcohol prep pads, to bandages, to gauze, to scissors, and everything in-between. It even comes with a carabiner clip if you can't find any room inside of your bag in which to carry it. Do not find yourself stuck in an emergency without access to a basic first aid kit.
Gearward Keychain Duct Tape
Never, under any circumstances, should you underestimate the value of some duct tape. This incredibly versatile material can be used to help bandage wounds, build shelters and tools, and will allow you to make some much needed on-the-spot repairs. But carrying around a giant roll everywhere is hardly a reasonable thing to do. Instead, this tiny everyday carry keychain attachment will allow you to carry up to 18″ of Gorilla Tape or 24″ of gaffer tape everywhere you go. It's hardly a burden and you'll be happy you have it when the need arises.
Soto Pocket Torch
Especially in the colder months, it is an extremely good idea to keep on you something to make fire. Fire can keep you warm, help you signal for rescue, cook your food, sterilize water and wounds, etc. But those regular disposable lighters don't throw the flame very far or hold up in windy conditions. Instead of trying to cup the flame, pop that disposable lighter into the Soto Pocket Torch and enjoy a 60% longer lighter lifespan, temperatures up to 2,300 degrees Fahrenheit, and a wind-resistant flame.
The Tin Mill Key Safe
This little keychain EDC tool is an excellent vessel in which to stash some emergency cash – especially if you have a propensity for forgetting or losing your wallet. But it's also a lot more versatile than that. It can be used to keep medication or small scraps of paper – really anything small enough to fit inside. And since it's also waterproof, you can count on it to keep its contents safe and dry.
Exotac Waterproof Match Case
If you don't want to carry around a lighter with you, you should at least have some matches. And the best way to haul those fire starters is in this waterproof match case. It has room enough for up to 20 matches, is water resistant up to 5 meters, and is built from very sturdy and lightweight 6061 anodized aluminum. It also has a loop attachment that fits 550 paracord or any traditional keyring.
Schrade Survival Pen
While we believe everyone should always have on them an everyday carry pen, this one is far superior for any survival type situations. And that's because it functions perfectly well as a pen, but also houses a removable ferro rod and striking plate, has an emergency whistle cap, and – since it's made from 6061 aluminum – can also be used as a self-defense weapon should the need arise.
Victorinox Huntsman Swiss Army Knife
The Swiss Army Knife is a favored tool of outdoorsmen for its versatility. And this one has it in spades. It is equipped with 15 tools that include a knife,saw, scissors, bottle opener, can opener, screwdriver, corkscrew, and more. While we wouldn't suggest that you replace your favorite EDC pocket knife with it, this compact folding multi-tool will definitely help you get yourself through the worst of times.
Tru Nord Key Ring Compass
Bottom line: everyone should own and know how to use a compass. Because if you're ever lost out in the wilderness and your technology fails you, it can be the difference between surviving and dying. And while that might seem like an unnecessarily grim prospect, it's true. This key ring attachable compass from Tru Nord is made from tough 360 brass, is water resistant, has a reliable space-age cobalt steel magnet within, and has a phosphorescent dial for easy reading even in the dark.
EDC Card
Boasting an astonishing 30 functions, this comprehensive wallet multi-tool is about the same size as just two credit cards. But, since it's constructed from military grade S35VN blade steel, it's also incredibly tough. The tools included in its construction include a litany of hex wrenches, screwdrivers, a bottle opener, a miniature hammer claw, metric and imperial rulers, and more. You don't even have to worry about taking it out of your wallet when you travel, as it is completely TSA compliant.
Jackfish Survival Wallet
More of a comprehensive survival kit than an everyday carry wallet, the Jackfish can hold up to 4 credit cards and also houses a full complement of handy tools. They include a compass, an emergency whistle, a tiny Spyderco folding knife, iodine for water purification, hex bits, an SD card, and more. And it's built from your choice of either black aluminum or gray titanium.
FourSevens Bolt Mini Flashlight
About the same size as a standard pen, this EDC flashlight offers an output range of 5 to 100 lumens, is constructed from aircraft-grade anodized type 3 aluminum, and runs on a single AAA battery. Most importantly, however, this small-form flashlight offers a runtime of up to 20 hours on a single battery – which is especially helpful in unforeseen emergency situations. It also features three brightness modes and 5 different configurations – including an SOS beacon.
RattlerStrap Paracord Belt
Ask any survival expert and they'll tell you that paracord is one of the most useful tools anyone can have in an emergency situation. It can be used to make animal traps and shelters, can help you brace broken limbs, and can even help in fire starting if you incorporate it into a bow drill. Well, the RattlerStrap belt is made almost entirely of the stuff. For reference, that's over 80 feet of 550 paracord in a wearable that will also help keep your pants up.
Casio G-Shock Rangeman Solar Watch
Because your electronics will eventually run out of battery, can be damaged by the elements, or will break when dropped, it's good to have a backup plan. This incredibly tough G-Shock watch can help tremendously in regards to survival. And that's because its equipped with a lot of helpful environmental tools, including a thermometer, barometer, altimeter, digital compass, and more. Best of all: it's solar powered, so all you have to do is find some sunlight and it'll charge the battery.