Presented by
There's a reason why companies strive towards the "American made" distinction and make it known when their products are crafted right here in the States. Often accompanied by remarkable stories of determination and will, gear originating in the United States transcends the romanticized cachet to emblemize the quality care and construction that go into crafting these goods. This holiday season, take a look at our guide to some of the best American-made gifts for the man in your life.
Leatherman FREE P4 Multitool
If you survey the landscape, it's quite obvious that Leatherman has heightened and perfected the art of the multitool. One of the highlights of its dynamic range is the FREE P4, a 21-tool device that expands upon the P2 with the addition of a saw, a 420HC serrated knife, and a 420HC straight-edge blade rather than the combo knife of the P2. Despite its unbelievable capability and robustness, the P4 weighs just 8.6oz with a 4.25-inch length when closed. Leatherman's Free P4 is designed and manufactured in Portland, OR.
Field Notes National Parks
Field Notes is one of our favorite EDC brands for its dedication to aesthetic creativity and its delineation of every individual piece that goes into each product. This particular set celebrates America's National Parks, with unique artwork highlighting 18 different locales available in packs of three. The covers utilize a five-color printing process by eDOC Communications in Illinois on a 100-pound paper stock from Michigan's famed French Paper Company.
Lodge x Yellowstone Cast Iron Skillets
For over 125 years, Tennessee-based kitchenware mainstay Lodge has become a household name for its quality cast iron skillets. Its latest release is a collaboration with the neo-Western TV show Yellowstone, featuring two seasoned cooking pans, each sporting a different embossed design on the back: the Dutton Ranch's steer logo or the family's "Y" monogram.
Buck Mason Long Sleeve Slub Curved Hem Tee
Give your loved ones a classic crewneck shirt that goes with literally anything. Buck Mason's versatile Long-Sleeve Slurb Curved Hem Tee is the perfect go-to shirt, especially for the cooler months, and features American-grown 145 GSM cotton with the brand's trademark curved hem at the bottom.
Dango D01 Dapper Wallet
Amidst an understandably crowded space for wallets and card carriers, one of the brands that continues to stand out is Dango. Its RFID-blocking D01 Dapper Wallet holds up 12 cards, features a bottle opener, and comes in a variety of colors and styles, including top-grain leather or the company's proprietary DTEX, each balancing sophistication with assertiveness.
Filson Bridle Leather Dog Harness
With the Bridle Leather Dog Harness, Seattle-based Filson has transposed its expertise in making quality clothing and accessories to the pet world. Made from tanned North American saddle-grade hide, this strap sports three points of adjustment so you and your dog will be more comfortable out on the trail or in the city. It also sports brass adjustment clasps and a top-fitted O-ring.
Tactile Turn Bolt Action Pen
It's no longer a novelty to aspire for a top-grade writing utensil that will last you a lifetime. And despite a new wave of contenders, boutique brand Tactile Turn has been climbing to the top of that list since it first launched a decade ago. Proudly made entirely in Texas, this Bolt Action Pen in either titanium, copper, bronze, or zirconium comes with a lifetime warranty, opens in a single motion, and feels great in your hand.
RANDOLPH Engineering Aviator II Sunglasses
Suppliers of aviators to the U.S. military since 1978, Randolph Engineering makes its specs entirely Stateside abiding by strict MIL-S-25948J standards. The Aviator II shades are a modern take on the classic silhouette, made in 200 steps with a 23k gold frame finish and SkyTec lenses with Vector anti-reflective and Blue Wave tech to reduce eye strain.
Flint and Tinder Flannel-lined Waxed Trucker Jacket
Using Martexin 7oz sailcloth from New Jersey that was cut, sewn, and finished in Los Angeles, this Waxed Trucker Jacket from Flint and Tender is lined with flannel for extra warmth during the chilly months and waxed on both sides for added water resistance.
Booker's Bourbon "The Lumberyard Batch"
Originally launched as a way for Booker Noe to give his family and friends a taste of his own private reserve barrels, Booker's Bourbon is a fantastic cask-strength bourbon whiskey for those who want to give their loved ones a high-end liquor bottle this holiday season. As the 2nd release from 2022, this Lumberyard Batch is a blend of 7-year barrels from 7 different Kentucky warehouses.
GORUCK GR1 Heritage USA
Part of the brand's USA Built collection, this Heritage version of GORUCK's flagship GR1 bag is made of heavy waxed duck canvas. Retro yet supremely durable, the bag uses leather that was sourced from the same Minnesota tannery that supplies leather for the U.S. military.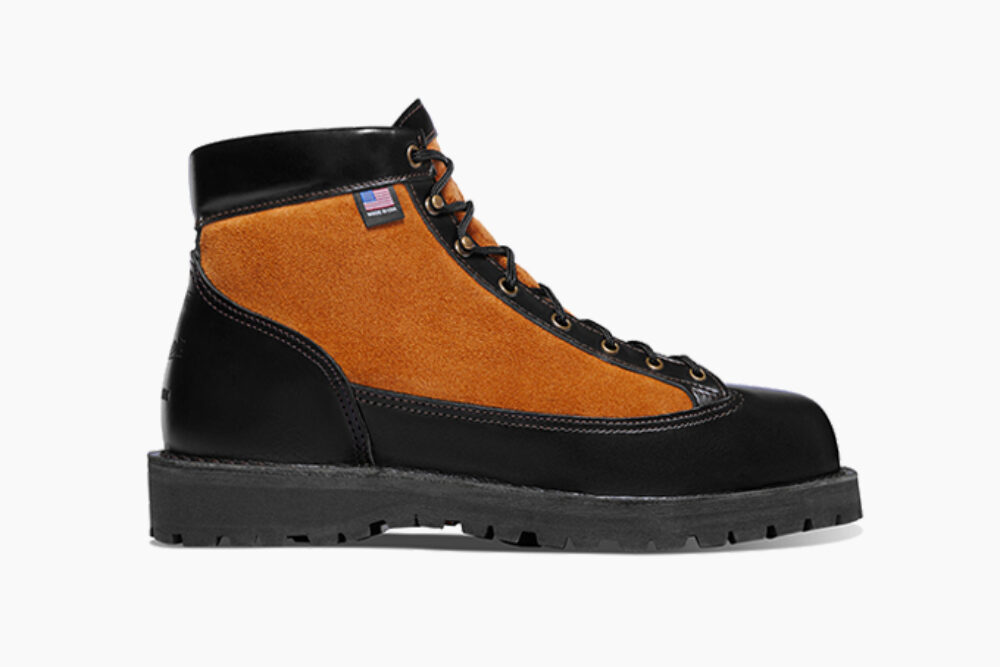 Danner Light Revival
Hailing from the Pacific Northwest, Danner has a lot of quality work boots and hiking boots to choose from. However, this Danner Light Revival is one of its most interesting. Based on the classic silhouette introduced in 1979, the company sought out similar leather as the ones used back then and then equipped it with suede panels.
Alpacka Classic Packraft
Coming from a father who worked in the National Parks Service and a mother who owned a custom outdoor clothing shop in Wyoming, Thor Tingey started Alpacka after returning from an Alaskan rafting trip and giving ideas to his mom about constructing a better packraft. This Classic model is based on the original version that debuted in 2000 and is one of the most versatile rafts available.
Taylor Stitch The Moto Jacket in Whiskey Steerhide
Handmade using 3.5oz full-grain steer leather from San Francisco's own Golden Bear, this 2022 edition of Taylor Stitch's ever-popular Moto Jacket taps into the same traditional construction that's made it one of the best leather jackets in the game.
Vortic The Boston Railroad 002 Watch
Each Vortic watch is made from antique American watch parts and is available until it's sold out. Part of its American Artisan Series, the restored movement on this Boston Railroad 002 timepiece was made over 100 years ago from a pocket watch popular by employees during the railroad's heyday.