Presented by
Between their fixation on chunky sneakers and their passion for plaid shorts, dads often get a pretty bad rap when it comes to what they wear. But we're here to set the record straight. Although there are many men around the world who do subscribe to such questionable fashion choices, there are plenty of others whose taste is decidedly more informed. In fact, we'd even go so far as to say that some dads aren't just well-dressed; they're downright dapper.
If the father figure in your life happens to take interest in his appearance, then you'll know how hard it can be to find the perfect gift. After all, his personal style is one that he's nurtured over the years like a finely-aged wine, experimenting only when necessary to ensure that he doesn't lose it all in one fell swoop. However, we happen to know a thing or two about dressing for success, which is why we've put together this handy roundup. From top-notch timepieces to suave sunglasses, there's bound to be something that'll tickle his fancy in our guide to the best Father's Day gifts for the dapper dad.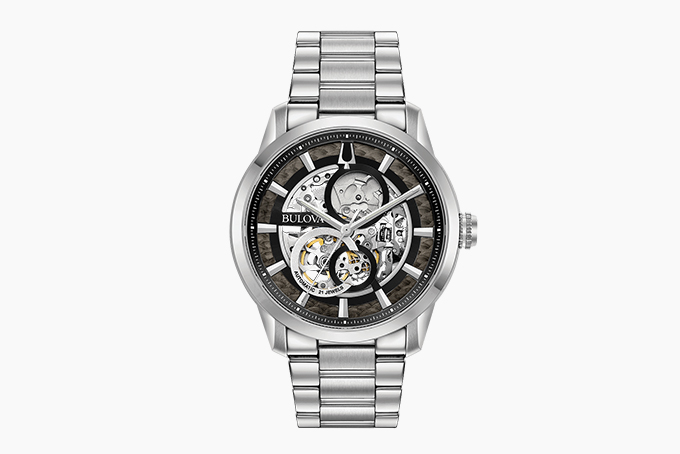 Bulova Sutton Watch
Any dad with an eye for watches is sure to appreciate this handsome timepiece from Bulova. Beneath its 43mm stainless steel case and domed mineral crystal, you'll find an intricate skeletonized black dial. In addition to adding a touch of sophistication to any outfit, it also puts the inner workings of the 21-jewel 8N26 movement on full display.
Kiriko Burgundy Asanoha Bandana
When giving dad a tie for Father's Day seems a bit too on-the-nose, try mixing things up and surprise him with this bandana instead. An essential piece for warm summer weather, it features a heritage Asanoha fabric that's first sourced from Japan and then sewn right here in the USA.
Fisher Space Bullet Pen Titanium
Even as the world continues to become more digitized, there's still good cause to write things out analog style. IF dad's an adherent of pen and paper, he'll love this robust functionality of this Fisher Space Pen — it works no matter the angle and will even write in underwater and zero-gravity environments.
Phillips Norelco Bodygroomer
Look, we like the grizzled look as much as the next guy, but letting dad go full Big Foot isn't doing him any favors. Instead, grab this Norelco Bodygroomer from Phillips; it comes with a dual-sided handle and five adjustable lengths that make it easy to get a clean cut from head to toe.
Chanel Blue de Chanel Parfum Spray
A thoughtful fragrance doesn't just make for the perfect finishing touch; it can take any outfit over the top. When the father figure in your life is looking to get gussied up for those extra special occasions, be sure that he's smelling his best with this woody spray cologne from Chanel.
GREATS The Royale Eco Leather
No matter if dad's a certifiable eco-warrior or even just someone who's after a bit of sustainable style, these planet-conscious kicks from GREATS are sure to please. Made from 70% recycled leather and fibers, they look and feel just like their cowhide counterparts while being both 5x more durable and 40% lighter.
Gitman Vintage Voil Camp Shirt
Given that the Gitmans opened their first garment factory back in 1932, it's safe to say that the family knows its way around a quality shirt. With this vintage-inspired short-sleeve button-down, you're getting a classic cut, a lightweight cotton voile construction, and a distinctive stripe pattern — made right here in the US of A.
Filson Waterproof Leather Travel Kit
Dopp kits are essential carry for keeping one's grooming tools together, and this offering from Filson is a true cut above the rest. Crafted from waterproof vegetable-tanned leather, it comes lined with soft 6oz cotton fabric and bound by heavy-duty antique brassware. In other words, it'll last a lifetime.
Persol PO3260S Sunglasses
If dad's a movie buff, he's sure to appreciate these shades — they're the very same silhouette worn by Jude Law in The Talented Mr. Ripley. While it's unfortunate that they don't come with a trip to the Amalfi coast, at least you don't have to worry about him winding up in a scuttled boat.
Richard Brendon Fluted Cut Crystal Decanter
Decanters are an easy way to elevate any drinking experience, no matter if it's a bottom-shelf bourbon or a several-hundred-dollar scotch. The product of a partnership with Scotland's Gleneagles Hotel, this fluted crystal decanter is one offering that's oozing with 1920s art deco style.
Buck Mason Bomber
At the end of the day, there's nothing like a classic bomber jacket to show the dapper dad in your life how much you appreciate his signature style. Buck Mason's take on the trusty surplus staple features a premium sheep-skin construction with a unique topical dye that'll develop its own unique patina over time.
The 20 Best Men's Style Basics
However confident we are that one of these gifts will go over well with the dapper dad in your life, we also recognize that he has his particular tastes. If you're on the hunt for other fashion-forward essentials, take a gander at our guide to the best men's style basics. It's bound to have something up his alley.