Presented by
Often associated with water, serenity, melancholy, and so much more, blue is one of the more versatile colors of the spectrum — at least as far as its meaning is concerned. In fact, one of its darker, richer hues has even been associated, for quite a long stretch of time, with royalty. Nowadays, the nobility — lords, ladies, and the like — have largely fallen off (we're not slaves to feudal systems anymore, after all). However, the depth and beauty of Royal Blue are still very much in play in the worlds of both fashion and gear. Of course, that includes everyday carry gear, which brings us to this week's handsome and profound loadout. While the highlight of this complement of gear may very well be its noble color, it's also worth noting that all of this gear is still tremendously useful, durable, and made to last — as is one of the overarching points of EDC.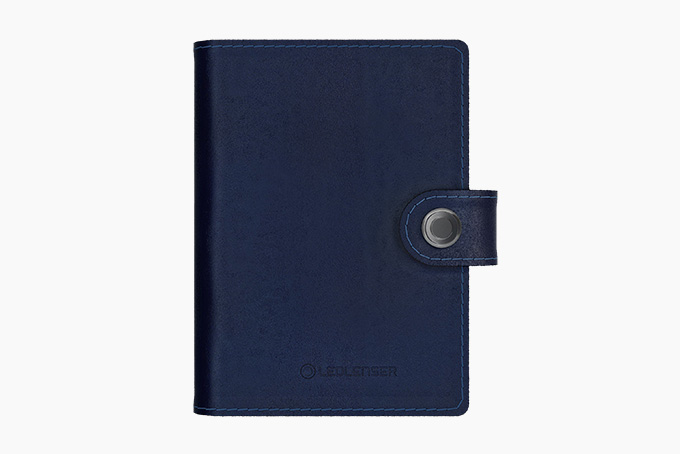 Ledlenser Lite Wallet
Most wallets hold your cards and cash and that's it — that's all they do. However, if you're a fan of maximizing your everyday carry while keeping the weight down, you might want to check out the Ledlenser Lite Wallet. This bifold can still contain your daily haul of cash and cards — and keep them secure with its snap-button closure — but it also has a hidden talent: a wirelessly-chargeable, 10-150-lumen, built-in flashlight good for up to 12 hours of straight operation. Best of all, it's still got an IP54 waterproof rating.
Orbitkey 2.0 Premium Leather Key Organizer
Jingling, bunched up keys can be frustrating, unsightly, and can even wear out the fabric of your pants pockets given the right amount of time. But you can curb those issues with a simple piece of everyday carry gear: the Orbitkey 2.0 key organizer. This handy device will keep up to 7 keys in order, it comes with a removable key fob d-ring attachment, and it boasts its own integrated locking mechanism for added security.
Benchmade 4400-1 Casbah Knife
Complete with a Grivory handle, automatic deployment mechanism, and CPM-S30V steel, the Benchmade 4400-1 Casbah Knife is tough and reliable enough to fall under the tactical umbrella, but handsome enough that you'd certainly be satisfied adding it to your everyday carry loadout. Brilliantly balancing functionality, speediness, and safety, this handsome cutting tool is not one to pass up.
NOMOS Tetra neomatik 39 Watch
A unique, angular take on a style accessory staple, the NOMOS Tetra neomatik 39 watch boasts an eye-catching square stainless steel case with a deep blue dial, automatic movement, Horween leather strap, and a 3ATM waterproof rating. If you want timekeeping precision in a watch that breaks the mold from the more traditional round-case competition, go no further than this one.